printer friendly version
End-to-end communication and monitoring
Issue 5 2021 Mining (Industry), IT infrastructure
Mining environments pose many challenges due to their widespread nature, multiple operational zones and huge perimeters. Pulling together all the elements that are required to ensure uninterrupted inter-personal communication, proactive monitoring of mine assets and equipment and the security of human and material resources often requires separate, specialised services.
SS Telecoms (SST) offers a number of synergistic services and products that work together to resolve these issues. Careful consultation with stakeholders and in-depth analysis of problem areas forms the starting point of each individually-customised solution.
Wireless digital connectivity networking solutions
A wireless communication network is the ideal solution for the mining environment as it eliminates the costs normally associated with laying of network cables. SS Telecoms offers:
• Scalable wireless WAN infrastructure that allows data and information to be transmitted from various mine sites to a centralised command centre. This is the backbone of the entire network solution.
• Fixed/mobile wireless access. From each of the mine sites connected on the backbone, the network can be extended wirelessly throughout the mine, to connect vehicles, mobile devices, surveillance cameras, machinery sensors and fixed devices.
Smart and rugged devices
"The mining environment is extremely harsh, with excessive dust and temperature extremes being common environmental inhibitors that can play havoc with smart electronic communications equipment. Keeping people constantly connected with 24/7 communication capabilities provides mining operations with ongoing sustainability and ensures the safety of employees," says James Peters, enterprise manager at SS Telecoms.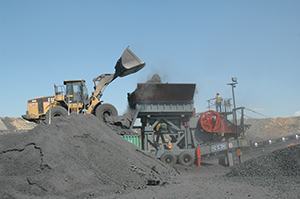 SS Telecoms offers a range of customised communications devices that includes a ruggedised tablet, a floor-standing electronic information board/kiosk and ruggedised mobile phones. The ruggedised phones and tablet can be used as a logical extension of a mine's PABX system.
Conveyor belt monitoring to optimise operations
Poor outdoor connectivity, legacy equipment, mine location and the harshness of the terrain are just a few of the stumbling blocks preventing mines from operating optimally. SS Telecoms offers a bespoke mobile wireless solution that addresses these pain-points to provide increased productivity and optimisation of business operations.
Mines are prone to intrusion, theft, as well as health and safety risks, all of which can result in huge losses. An efficient warning system is crucial for security personnel to quickly detect suspicious or unauthorised individuals and vehicles before they ever reach the perimeter, thereby offering early intervention.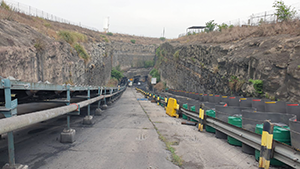 "A smart surveillance solution is critical to monitoring all aspects of a mine by focusing on human and vehicle features. Using deep learning algorithms, users benefit from the intelligent functions, simple configuration and inclusive products. This will transform regular monitoring to a whole new level," says Peters.
A CCTV solution is the first step in addressing security issues at mines due to perimeter intrusion, theft and safety for employees and equipment. A CCTV solution allows users to reduce false alarms due to non-human or non-vehicle factors such as animals, weather and lighting conditions. This helps to increase control room operator efficiency and productivity, ensure employee safety and streamline the health and safety reporting process.
SST's site-wide surveillance solutions are customised to the mine's specific requirements and address various risks. These solutions address a number of challenges:
• Detecting perimeter intrusion – using thermal cameras – in day and night lighting conditions, along perimeter fence lines and open areas and in outdoor no-light conditions.
• Tracking of vehicles and humans using smart tracking cameras based on alarm events. Monitoring activities within a vehicle with the use of in-vehicle surveillance technology linked to a control room.
• Reducing false alarms, from various sites, using deep learning AI technology that filters out false alarms.
Credit(s)
Further reading:
Rack-mounted, three-phase online UPS
Security Services & Risk Management IT infrastructure Products
The new Eaton 93PX 15-20 kVA UPS combines high efficiency with a compact footprint, lower TCO, and improved cybersecurity to provide stable power for critical IT, industrial, manufacturing, and medical applications.
Read more...
---
Five reasons why your board should push cybersecurity 'boundaries'
Security Services & Risk Management IT infrastructure
From a technological perspective, micro-segmentation of your IT security environment can be viewed as a way to identify, isolate and curtail the reach of any threat – even once it is in your network.
Read more...
---
Plan to use AI? Get your data ready
Integrated Solutions IT infrastructure
Artificial Intelligence (AI) is often perceived as an intelligent system that can handle any task. However, this notion crumbles when the AI is given poorly formatted or incorrect data. You cannot simply provide a few spreadsheets or databases to AI and expect it to work flawlessly.
Read more...
---
Paratus signs re-seller agreement with Starlink for Africa
News IT infrastructure
Pan-African telco and network services provider Paratus Group announced it has entered an agreement as a distributor for Starlink's high-speed services across the African continent, available immediately in Mozambique, Kenya, Rwanda and Nigeria.
Read more...
---
Client satisfaction boosted by 85% at Thungela Mine
Thorburn Security Solutions News Security Services & Risk Management Mining (Industry)
Thorburn Security, a division of Tsebo Solutions Group, has announced its recent collaboration with Kwa-Zulu Natal security company, Ithuba Protection Services, as part of its Enterprise Supplier Development (ESD) initiatives across Africa.
Read more...
---
The state of edge security report
News IT infrastructure
Edge computing has grown from being a niche use case in a handful of industries to offering a major opportunity for enterprises across industries to spread computing power around the world.
Read more...
---
Manage security systems remotely
Hikvision South Africa CCTV, Surveillance & Remote Monitoring IT infrastructure Products
Hikvision launched a new generation of smart managed switches that, in conjunction with the Hik-Partner Pro mobile app, enable installers to remotely deploy and configure security systems with comprehensive operation and maintenance capabilities.
Read more...
---
Synology enhances functions for advanced surveillance integration
Technews Publishing CCTV, Surveillance & Remote Monitoring IT infrastructure Products
With the capability to function as both an API client and server, Surveillance Station offers a versatile platform for integration, whether it's embedding video streams into other platforms or overlaying external data onto recorded video.
Read more...
---
Elvey Group and Technoswitch part ways
Elvey Security Technologies Fire & Safety News
The Elvey Group (a division of the Hudaco Group of Companies) is relinquishing its distributorship of the Technoswitch brand, following Hudaco's acquisition of Brigit Fire.
Read more...
---
Simplify adoption of Generative AI
News IT infrastructure Products
Nutanix simplifies adoption of Generative AI with Nutanix GPT-in-a-Box, an AI infrastructure solution that accelerates customers' path to GPT and LLMs while keeping organisations in control of their data.
Read more...
---