printer friendly version
Effective, resilient underground wireless communications
Issue 5 2021
IT infrastructure
Underground mines and tunnels are some of the most challenging environments in which to deploy network systems. Connectivity and throughput demands are high, but circular ramps and declines, stopes and mine layout place limitations on how far wireless signals can travel.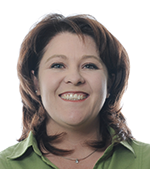 Teresa Huysamen.
Many mines therefore depend on fibre to achieve reliable underground communications, but installing fibre in active drives, panels and declines is difficult to schedule and can create operational and maintenance nightmares.
In addition, development and drill and blast areas can rarely support any fibre infrastructure. It is not uncommon for trucks to accidentally catch and rip down sections of fibre and when that happens connectivity across the entire underground mine can be lost.
"Rajant provides a robust alternative to fibre and traditional single radio wireless systems using its multi-radio, multi-frequency BreadCrumb nodes combined with wide-band, bi-directional, circular polarised antenna system, powered by Poynting," says Teresa Huysamen, business unit manager for Rajant at Duxbury Networking.
Low latency, reduced degradation
BreadCrumbs maintain multiple simultaneous connections between peers for inherent redundancy and can simultaneously send and receive information on different frequencies, mitigating issues due to interference, congestion and equipment outages. This also increases transceiver capacity to ensure low latency and enables mines to cascade BreadCrumbs together as many as 10 hops or more without throughput degradation.
The antennas, powered by Poynting, provide bi-directional coverage with dual-frequency Wi-Fi connections to assist in propagating signals around tunnel bends and to and from moving machinery.
"Together they create a complete underground and tunnel-wide wireless network for mission-critical data, video and voice communications. The system can also be used to supplement existing fibre and cable 'hot spot' networks, provided via vertical shaft access levels, portals and tunnels," says Huysamen.
With the Rajant-Poynting solution, underground mines can enhance network capacity and mobility to run advanced applications that power greater safety, efficiency and autonomy – all without the use of expensive fibre. Part of this performance comes from Rajant's patented InstaMesh networking software, which is loaded onto every BreadCrumb node. InstaMesh enables the network to dynamically and automatically adapt to quickly- or constantly-moving network elements, providing reliable network-wide mobility.
The protocol directs traffic via the fastest path over the multi-hop network, switching radios at each hop for minimal latency over long distances to enable and support applications, including: operations and fleet management, automated haulage, conveyor and train equipment, automated drilling, personnel and asset tracking, AeroScout tags, seismic and gas monitoring, ventilation control, mobile surveying and scanning and mine-wide scada/pumps and control monitoring.
Autonomous systems
Underground mines are also looking to leverage autonomy to meet increasingly stringent safety and productivity mandates. The challenge is that autonomous applications are not only bandwidth-intensive, but most require continuous uninterrupted communication otherwise the autonomous vehicle has to stop due to safety reasons until communications is re-established.
"Rajant is the only wireless network that is designed to provide continuous connectivity and consistent high throughput across multiple hops. It uniquely delivers on this demand because in the Rajant network, no connections need to be broken for new ones to be made.
"BreadCrumbs can be deployed on moving autonomous equipment to dynamically form multiple connections with other fixed infrastructure nodes as they come into range and InstaMesh selects the best available path to maintain high throughput and low latency, even due to a signal blockage. This is especially applicable in a block cave autonomous haulage operation at draw points and in panels," Huysamen points out.
Unlike some alternatives which offer no security, Rajant provides AES-256, FIPS, xSALSA-256 network security. InstaMesh security spans across the wireless mesh and integrates to the data centre core (Automatic Protocol Tunnelling).
"Together with Rajant, we can provide comprehensive surface and underground solutions to mines seeking to make transformative gains in safety, efficiency and cost savings on their path to mine digitalisation," says Huysamen.
Credit(s)
Further reading:
The future of innovative business lies at the edge
IT infrastructure
Connectivity issues previously limited Edge's potential, but innovations like 5G and IoT have made it seamless. The data generated by connected devices enhances analytics, and AI improves customer experiences.
Read more...
---
AI-powered cyber protection for consumers
IT infrastructure Cyber Security
Acronis Cyber Protect Home Office is designed for the evolving landscape of cyber threats by integrating Acronis' cyber protection and secure backup solutions, combining AI-powered defence mechanisms, robust data backup, remote management tools, and mobile device protection.
Read more...
---
Paratus signs re-seller agreement with Starlink for Africa
News IT infrastructure
Pan-African telco and network services provider Paratus Group announced it has entered an agreement as a distributor for Starlink's high-speed services across the African continent, available immediately in Mozambique, Kenya, Rwanda and Nigeria.
Read more...
---
What is the 3-2-1 rule
IT infrastructure
Data corruption is a bit like a car accident. It does not happen often to a person, but when it does, even a minor fender bender can create inconvenience, and a major smash can cause months, even years, of problems.
Read more...
---
Undersea cable incidents highlight need for network resilience
IT infrastructure
South Africa's undersea cable network is an indispensable digital lifeline, tethering the country to the global digital community. Daily, these cables process terabytes of data, underpinning near every local sector.
Read more...
---
Secure backup strategies imperative for business continuity
IT infrastructure Cyber Security
Cybercrime is on the rise, and businesses need to adjust how they manage their data to fend off attackers, or risk irreparable damage, writes Lisa Strydom, Senior Manager Channel and Alliance for Africa at Veeam Software.
Read more...
---
The state of edge security report
News IT infrastructure
Edge computing has grown from being a niche use case in a handful of industries to offering a major opportunity for enterprises across industries to spread computing power around the world.
Read more...
---
Managing the allure of Azure (without the costs)
IT infrastructure
Microsoft Azure has proven an appealing digital solution for organisations wanting to embed digital and embrace digital transformation, but the cost has to be carefully managed.
Read more...
---
Migrating to the cloud? Beware the many hurdles
IT infrastructure Security Services & Risk Management
While there are undoubtedly many benefits, there are also numerous hurdles to cloud adoption. Some of the biggest challenges revolve around managing cloud spend, understanding the cost components of cloud infrastructure, and how those costs can scale.
Read more...
---
How managed services keep the edge ecosystem afloat
IT infrastructure
A survey by the Uptime Institute found that the impact of data centre downtime has grown in severity, making the availability (of data centres), at the core and at the edge, a key concern for organisations.
Read more...
---