printer friendly version
Johnson Controls enters SA smart home security market
Residential Security Handbook 2021: Secure Living Residential Estate (Industry), Perimeter Security, Alarms & Intruder Detection, Products, Smart Home Automation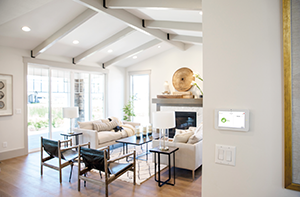 Following the completion of its acquisition of US-based Qolsys in the latter part of 2020, Johnson Controls is now broadening its offering in South Africa. As the company behind the DSC and Visonic security brands, Johnson Controls has a large foothold in the local residential and commercial intrusion security market.
Now, with the Qolsys products added to its portfolio, the company is expanding into the growing market in South Africa for smart home security with the introduction of the IQ Panel smart home security system. Originally developed by Qolsys and proven in installations across North America and other global markets, the IQ Panel integrates Johnson Control's PowerG wireless security technology. It features a 7-inch touchscreen control panel with a mobile operating platform and future-proof features supported by over-the-air software updates, a built-in 5 MP panel camera, Bluetooth disarming and innovative installation and diagnostic tools that reduce costs and increase user engagement and satisfaction.
In South Africa, Johnson Controls is partnering with Alarm.com to provide the interactive monitoring and automation platform.
Smart home security solution
Julian Seiderer, country manager for intrusion in sub-Saharan Africa at Johnson Controls, says the IQ Panel offers advanced security and smart building technology for residential and SMB/commercial installations. "IQ Panel is a true all-in-one panel for smart living and security. It is integrated with PowerG wireless security technology, supporting the full range of PowerG devices, including DSC devices and works with Z-Wave Plus home automation devices – which allows you to use up to 128 smart home devices like lights, locks, thermostats, garage openers and more via the panel.
"With a built-in 5 MP camera, the IQ Panel can take disarm photos and send them to the homeowner's phone. The mobile app also provides users with full accessibility and visibility into their smart homes at any time, from wherever they are, making the device useful for those travelling or that need to monitor staff or contractors in their homes. Alarm notifications also capture videos and record intrusion activity."
The IQ Panel also includes dual-path communications, meaning that both Wi-Fi and LTE connectivity are used to connect the panel to the cloud for added resilience. It includes two microphones and a quad core processor, as well as software that leverages both of these as a built-in glass break detector.
Some key capabilities of the IQ Panel include:
• Smart home ready: Pairing with cameras, lights, locks, thermostats, garage openers and more.
• Panel glass-break detection.
• Live answer: View people at the door and unlock it directly from the touchscreen (panel or mobile).
• Fast and easy installation using the technician-friendly setup wizard.
• High speeds and high reliability: LTE and Wi-Fi dual-path connectivity.
• Automatic over-the-air updates.
More than securit
Eskom announced in April that electricity tariffs would rise by 15%, dealing a new blow to consumers, particularly with so many people already feeling the pinch of Covid-19 job losses, wage cuts and business disruptions, as well as the riots in July 2021. Steps like improving insulation, switching to LED lighting, updating electrical appliances to models with high energy-efficiency ratings can all help. However, this is not always easy or affordable, especially for renters. Families and businesses need to think outside the box and look for additional ways to reduce energy consumption.
With the IQ Panel, Johnson Controls also enables households and businesses to use smart devices to monitor, control and reduce electricity usage.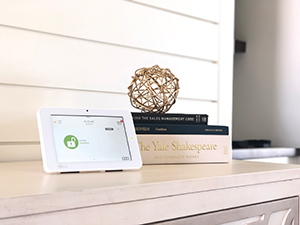 "For example, Johnson Controls' PowerSeries Neo and PowerSeries Pro security systems and the IQ Panel smart home security system can also be connected to a range of wireless smart devices, such as thermostats, lights and presence detectors and more," adds Seiderer. "Rules set by the user in the security system enable automatic turning off/down smart devices according to specific conditions. With a mobile app, users can see energy consumption information and trends over time, as well as control the devices from anywhere."
What's more, Seiderer notes that PowerG devices have an energy consumption footprint of less than 2 µA. "They use technology that allows a low-power downlink channel and their communication channel is mostly dormant, waking up only for a fraction of a second to transmit a message. They also avoid repeated transmissions, resulting in an energy saving system."
Johnson Controls makes it easier to manage your smart home, ensuring lights are turned off, doors are locked and the alarm is set from the IQ Panel or your mobile. "Users can check the alarm is armed, turn off the air conditioner and peek inside the house to check what the kids or staff are up to, all from the same app. Even simpler, a user could set up a simple command in the app covering multiple routine actions for security and energy savings, such as: make sure the door is locked, the alarm system is armed and that lights are off after a certain time at night."
For more information, contact Julian Seiderer, Johnson Controls, julian.seiderer@jci.com
Credit(s)
Further reading:
Securing a luxurious residential estate
Turnstar Systems Residential Estate (Industry) Access Control & Identity Management
Turnstar Systems recently partnered with Balwin Munyaka Residential Estate to secure the entrance to its Crystal Lagoon, ensuring only authorised residents and guests can access the site.
Read more...
---
Long-distance connectivity with Simplex ES Net Life Safety
Johnson Controls Global Products Fire & Safety Products
ES Net Network Bridge allows fire alarm system data to be transmitted across distant buildings via a customer's existing network infrastructure, improving system-wide monitoring and control in facilities and campuses where life safety networks are often widely dispersed.
Read more...
---
Visitor management via QR code
ATG Digital Access Control & Identity Management Products
ATG Digital has launched its QR Code Reader to enhance access control's security and efficiency. The new QR Code Reader enables seamless, contactless access control, creating an efficient user journey.
Read more...
---
District secures activity centre
Paxton Access Control & Identity Management Products
Paxton's Net2 access control solution is a user-friendly and flexible networked access control system, which made installing and managing access control security at an activity centre straightforward.
Read more...
---
Manage security systems remotely
Hikvision South Africa CCTV, Surveillance & Remote Monitoring IT infrastructure Products
Hikvision launched a new generation of smart managed switches that, in conjunction with the Hik-Partner Pro mobile app, enable installers to remotely deploy and configure security systems with comprehensive operation and maintenance capabilities.
Read more...
---
From overwhelm to oversight
Editor's Choice Cyber Security Products
Security automation is vital in today's world, and Microsoft Sentinel is a widely adopted, but complex answer. ContraForce is an easy-to-use add-on that automatically processes, verifies and warns of threats round-the-clock.
Read more...
---
Synology enhances functions for advanced surveillance integration
Technews Publishing CCTV, Surveillance & Remote Monitoring IT infrastructure Products
With the capability to function as both an API client and server, Surveillance Station offers a versatile platform for integration, whether it's embedding video streams into other platforms or overlaying external data onto recorded video.
Read more...
---
Simplify adoption of Generative AI
News IT infrastructure Products
Nutanix simplifies adoption of Generative AI with Nutanix GPT-in-a-Box, an AI infrastructure solution that accelerates customers' path to GPT and LLMs while keeping organisations in control of their data.
Read more...
---
June Coetzer joins Olarm as Partner Manager
News Perimeter Security, Alarms & Intruder Detection
Armed with a solid background in sales and business development, June Coetzer recently joined Olarm as an additional Partner Manager covering Gauteng and the surrounding areas.
Read more...
---
Transportation security and efficiency
Dahua Technology South Africa CCTV, Surveillance & Remote Monitoring Products
The city of Jesús María in Argentina has invested in a 114-camera monitoring system from Dahua to help provide safety to residents and to support security and emergency assistance departments in case of emergencies.
Read more...
---