printer friendly version
ONVIF releases Profile M
Issue 3 2021 News, CCTV, Surveillance & Remote Monitoring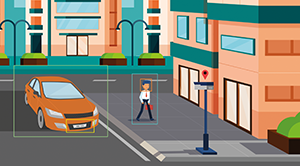 ONVIF has released Profile M, which standardises metadata and events for analytics applications. This new profile addresses the dynamic video analytics market as well as expands the pathways for the use of metadata and event handling into other systems such as access control, cloud services and IoT platforms.
Profile M provides a standard way of communicating metadata and events between analytics-capable services and devices like IP cameras and clients like video management software or server- or cloud-based services. It allows systems integrators and end users to flexibly combine solutions from different providers of edge devices or services that produce metadata and events, with video management software or cloud services and IoT applications, into one system.
"ONVIF recognises that the need for interoperability has evolved beyond the traditional relationship between a hardware device and software client from different vendors," said Sriram Bhetanabottla, chair of the Profile M Working Group. "The flexibility to include cloud- and server-based services as 'conformant devices' makes Profile M interesting also for independent developers of software-based analytics solutions. It will help drive the growth in the number and types of security, safety and operational efficiency applications available to end users."
In the context of video, analytics metadata – which can be a variety of object classifications – has a number of uses. They can be used to highlight certain objects in a video stream, trigger automatic responses, and effectively store and search for video content of interest. Other uses include heat mapping in a retail store using human and geolocation metadata and vehicle mapping in a parking lot using vehicle and geolocation metadata.
Profile M also supports event handling interfaces for object counting and face and licence plate recognition analytics, as well as JSON-formatted events over MQTT, a protocol for IoT applications. An example of an IoT use case can be for room temperature control, where a Profile M camera (with MQTT support) detects humans in a room and sends an ONVIF event over MQTT to an IoT platform or application that, in turn, triggers a smart thermostat to adjust the room temperature.
Profile M can be combined with other ONVIF video and access control profiles for an integrated system based on ONVIF interfaces.
Further reading:
Paxton opens first experience centre in South Africa
Paxton News Access Control & Identity Management
The new Paxton Experience Centre in Johannesburg is now open and welcoming security installers and end users who want to see Paxton's products in action.
Read more...
---
Brighter, greener, and smarter
Dahua Technology South Africa Products CCTV, Surveillance & Remote Monitoring
Dahua Technology released its new Dahua CH II Series Indoor Fine Pixel Pitch LED display, providing visual clarity and promoting energy efficiency and sustainability.
Read more...
---
Paratus signs re-seller agreement with Starlink for Africa
News IT infrastructure
Pan-African telco and network services provider Paratus Group announced it has entered an agreement as a distributor for Starlink's high-speed services across the African continent, available immediately in Mozambique, Kenya, Rwanda and Nigeria.
Read more...
---
4IR is opportunity
News
In South Africa, digitalisation remains 'at a nascent stage' which means significant work still has to be done when it comes to addressing skills development around 4IR in the country.
Read more...
---
Helping retailers optimise monitoring and security
Guardian Eye Retail (Industry) CCTV, Surveillance & Remote Monitoring
From a smart retail perspective, it is crucial to understand that monitoring stock and other assets through camera surveillance and a variety of Internet of Things (IoT) sensors stretches further than the stores themselves.
Read more...
---
Five ways to reduce your cyber insurance premiums
Security Services & Risk Management News
With the global costs of cybercrime expected to soar to $13 trillion within the next five years, cyber insurance is booming as organisations try to mitigate the risk of financial losses.
Read more...
---
Client satisfaction boosted by 85% at Thungela Mine
Thorburn Security Solutions News Security Services & Risk Management Mining (Industry)
Thorburn Security, a division of Tsebo Solutions Group, has announced its recent collaboration with Kwa-Zulu Natal security company, Ithuba Protection Services, as part of its Enterprise Supplier Development (ESD) initiatives across Africa.
Read more...
---
Fidelity SecureFire steps into critical fire response space
News Fire & Safety
With the majority of fire stations around the country being crippled by a lack of resources to offer effective responses, Fidelity Fire Solutions has launched its own 'first responder' model, Fidelity SecureFire.
Read more...
---
The state of edge security report
News IT infrastructure
Edge computing has grown from being a niche use case in a handful of industries to offering a major opportunity for enterprises across industries to spread computing power around the world.
Read more...
---
CHI selects NEC XON as trusted cybersecurity partner
News Cyber Security Industrial (Industry)
CHI Limited, Nigeria's leading market player in fruit juices and dairy products, has engaged in a strategic cybersecurity partnership with NEC XON, a pan-African ICT systems integrator.
Read more...
---