printer friendly version
Improved incident response
Issue 3 2021
CCTV, Surveillance & Remote Monitoring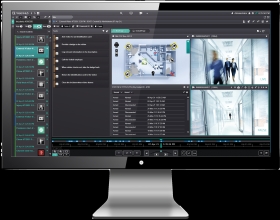 Qognify has launched VisionHub 6.0, a VMS+ that enables organisations in critical and highly regulated environments to effectively and efficiently respond to security threats and mitigate the impact of incidents. VisionHub is built around the core of a high-performance video management system (VMS). It centralises, integrates and organises core physical security systems and sensors into a single video-centric interface, providing control room operators with heightened situational awareness and powerful incident response management capabilities.
Many operators find themselves overwhelmed and pressurised by the sheer volume of information they are expected to use in the control room. A single incident can require an operator to toggle between real-time data streams from the VMS, access control, video analytics, third party platforms, radio systems and mapping data. With each data source stored in disparate silos, it is the job of the operator to put the pieces of the puzzle together in order to understand the unfolding situation and take the required action – all of this at a time when every second counts and decisions need to be made fast and acted upon quickly.
Steve Shine, CEO of Qognify, states: "In recent years, investment in physical security technology has centred around providing control rooms with more and more sources of data, including greater numbers of cameras, systems and sensors. What has been missing is the integration that enables operators to ingest, interpret and act upon these sources of information, to improve how security incidents are dealt with. This is exactly where VisionHub comes in. It breaks down the data silos, providing the control room with a centralised management of its core physical security systems based on a powerful VMS+ platform."
With core security systems tightly integrated through VisionHub, operators have immediate access to the information they need to make the right decisions and take the right course of action at the right time, all from a single user interface. This is achieved through a combination of pre-defined workflows that guide operators to manage every incident in-line with best practise and regulatory requirements and a powerful bidirectional integration that enables operators to take action, such as open or close an access point directly through VisionHub.
Chen Porat, vice president of research and development at Qognify, explains: "For most organisations video surveillance is at the heart of their physical security ecosystem, so the logical next step in the evolution of the VMS is to be a video-centric management platform that peels away the layers of complexity for both operator and administrator. VisionHub is a next generation VMS+ that enables control rooms to realise the true potential of their technology investments and the skills of their operators, to deliver optimal performance for the organisation, when it matters most."
Further reading:
Turkish university installs IDIS surveillance
CCTV, Surveillance & Remote Monitoring Products
IDIS video streamlines complex surveillance systems for learning institution, upgrading a 350-camera system with 24/7 control room monitoring to transform security for Social Sciences University of Ankara (ASBU).
Read more...
---
Brighter, greener, and smarter
Dahua Technology South Africa Products CCTV, Surveillance & Remote Monitoring
Dahua Technology released its new Dahua CH II Series Indoor Fine Pixel Pitch LED display, providing visual clarity and promoting energy efficiency and sustainability.
Read more...
---
Smart water management
Axis Communications SA CCTV, Surveillance & Remote Monitoring Integrated Solutions
South Africa is currently facing a water crisis, with scarcity and inefficient water management posing significant challenges to sustainable, consistent access to water. Smart technology and powerful partnerships may offer a proactive solution to SA's water crisis.
Read more...
---
Helping retailers optimise monitoring and security
Guardian Eye Retail (Industry) CCTV, Surveillance & Remote Monitoring
From a smart retail perspective, it is crucial to understand that monitoring stock and other assets through camera surveillance and a variety of Internet of Things (IoT) sensors stretches further than the stores themselves.
Read more...
---
Empowering Istanbul's public transportation
Dahua Technology South Africa CCTV, Surveillance & Remote Monitoring Integrated Solutions
Dahua's intelligent transportation solution, using technologies like DSM and AI-based passenger flow counting, has facilitated an intelligent system upgrade for nearly 6 400 minibuses and electric buses in Istanbul.
Read more...
---
Smart manufacturing redefined
Hikvision South Africa CCTV, Surveillance & Remote Monitoring Industrial (Industry)
AI and intuitive visualisation technology allows managers to monitor manufacturing sites, production, and operational processes, and to respond in real time in the event of an issue – helping to drive efficiency and productivity.
Read more...
---
AI is getting smarter, and critical infrastructure is set to benefit
Axis Communications SA CCTV, Surveillance & Remote Monitoring
With technology advancing at an astonishing pace, AI has emerged as a defining trend in today's business arena. Enterprises across all sectors are prioritising this technology, embracing its transformative potential to drive change and growth.
Read more...
---
Collaboration delivers integrated and holistic security
Guardian Eye CCTV, Surveillance & Remote Monitoring News Integrated Solutions
Guardian Eye and Lytehouse have partnered to integrate their speciality solutions and provide a holistic security offering that overcomes the fragmentation of security systems and services.
Read more...
---
Manage security systems remotely
Hikvision South Africa CCTV, Surveillance & Remote Monitoring IT infrastructure Products
Hikvision launched a new generation of smart managed switches that, in conjunction with the Hik-Partner Pro mobile app, enable installers to remotely deploy and configure security systems with comprehensive operation and maintenance capabilities.
Read more...
---
Synology enhances functions for advanced surveillance integration
Technews Publishing CCTV, Surveillance & Remote Monitoring IT infrastructure Products
With the capability to function as both an API client and server, Surveillance Station offers a versatile platform for integration, whether it's embedding video streams into other platforms or overlaying external data onto recorded video.
Read more...
---