printer friendly version
New addressable fire control panels
Issue 3 2021
Fire & Safety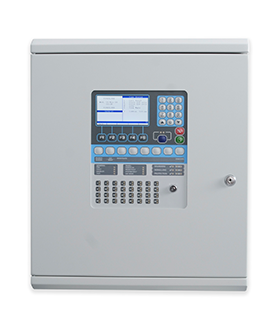 Johnson Controls Global Products has released the FireClass FC600 line of addressable fire control panels to the UK and South African markets. The two new panels, FC602S and FC604S, each have a 4,3-inch (109,2 mm) colour LCD screen with 32 fire and fault zonal LEDs integrated into a simple interface.
These features help users identify and locate potential fire events and system issues quickly. The panels offer easy installation and maintenance while allowing intuitive operation with minimal error for installers, contractors, facility management and other building staff.
The FC602S Addressable Fire Control Panel is a two-loop panel with options to run two standard-power loops or one high-power loop with a maximum of 250 addresses. The FC604S Addressable Fire Control Panel is a four-loop panel with the option to run four standard-power loops or two high-power loops with a maximum of 500 addresses. Each panel offers a 10 000 event log and comprehensive point management and disable functions to give users full control and reduce service and maintenance efforts.
The FireClass FC602S and FC604S Addressable Fire Control Panels feature shallow ancillary housing for a sleek appearance and better fit in smaller areas. For added aesthetics and branding opportunities, the programmable quiescent display offers two lines of customisable text when in screensaver mode. The launch of these panels also includes new available design software with a clean modern look to simplify the project design process
Peter Hauser, senior global product manager, Johnson Controls, says, "Features such as automatic battery tests, manual and automatic walk tests, reporting and detector service functions help further reduce maintenance needs over the life of the panels."
FireClass addressable fire control panels work alongside other Johnson Controls fire protection, life safety and connected building technologies to help keep people and buildings healthy and safe.
Credit(s)
Further reading:
Fidelity SecureFire steps into critical fire response space
News Fire & Safety
With the majority of fire stations around the country being crippled by a lack of resources to offer effective responses, Fidelity Fire Solutions has launched its own 'first responder' model, Fidelity SecureFire.
Read more...
---
Long-distance connectivity with Simplex ES Net Life Safety
Johnson Controls Global Products Fire & Safety Products
ES Net Network Bridge allows fire alarm system data to be transmitted across distant buildings via a customer's existing network infrastructure, improving system-wide monitoring and control in facilities and campuses where life safety networks are often widely dispersed.
Read more...
---
Elvey Group and Technoswitch part ways
Elvey Security Technologies Fire & Safety News
The Elvey Group (a division of the Hudaco Group of Companies) is relinquishing its distributorship of the Technoswitch brand, following Hudaco's acquisition of Brigit Fire.
Read more...
---
From one month to 10 minutes
Dahua Technology South Africa Fire & Safety
Dahua has integrated technology with the inspection mode of the photovoltaic power station in order to create a robust system that can monitor the fire situation in the power plant and its surrounding areas 24/7.
Read more...
---
Protecting poultry processing plant
Technoswitch Fire Detection & Suppression Fire & Safety
Grain Field Chickens, based in Reitz in the Orange Free State Province, features all the typical fire detection challenges one would expect to encounter in a food processing facility.
Read more...
---
Fire prevention for energy systems
Technoswitch Fire Detection & Suppression Fire & Safety
With the significant push towards renewable energy, such as wind and solar, the demand for battery energy storage systems has grown exponentially, as has the need for fire safety solutions for these environments.
Read more...
---
Fire risks in solar panel installations
Technoswitch Fire Detection & Suppression Fire & Safety
Installed global solar capacity doubled in three years from 2018, and the expectation is that in the next three years, it will more than double. In South Africa, the year-on-year growth from 2021 to 2022 was 24,90%.
Read more...
---
Smart firefighting
Fire & Safety IT infrastructure
By integrating smart radios, innovative wireless technologies, fusion field networks, and IoT sensors, firefighters can respond faster and coordinate better during emergencies, protecting lives, property, and their own safety.
Read more...
---
Compliant with the National Building Regulations?
Fire & Safety
Over the past few years, there has been a surge in building fires, increasing the risk for loss of life and damage to structures and property.
Read more...
---
Make sure your alternative power solutions are not a fire hazard
Fire & Safety
While alternative heating and energy devices fulfil a crucial role in the current energy crisis, Fidelity Fire Solutions reminds users that such devices can pose a risk if not installed, stored and used properly.
Read more...
---