printer friendly version
Innovation drives secure eSignature solutions for Africa
Issue 3 2021
News
Both demand and need for eSignature solutions have increased exponentially on a global scale over the last two years. The use of eSignatures was already gaining interest but grew dramatically with the onset of the Covid-19 Pandemic. Due to 'new-normal' remote work requirements and the necessity of secure online operations, the popularity of eSignature solutions rose rapidly.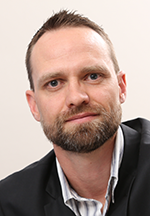 Brent Haumann.
Since 2002, when the Electronic Communications and Transactions Act (ECTA) took effect in South Africa, eSignatures have been recognised as an acceptable means of signing most documents. While some used this new, valid means to obtain legally binding signatures, others were hesitant due to concerns around security and validity. Since the onset of the pandemic, however, many have been left with no other choice but to find reliable eSignature solutions in a transformed world.
According to the Fortune Business Key Market Insights, the digital signature market is expected to be worth more than $7 billion by 2027, which is a drastic increase from its market worth in 2019, which was $1,09 billion. This sharp rise in worth is indicative of the need and growing demand for eSignatures.
Impression Signatures (a provider of secure eSignatures in South Africa) and Striata (a provider of digital customer communications solutions) recognised the need for secure, efficient and easily manageable eSignature solutions. Realising the power of joining forces within the regional market, these organisations have partnered to ensure easy access to safe, efficient eSignature solutions.
"This new partnership is going to strengthen our ability to provide the most secure and effective eSignature solutions to the public," explains Warren Blackbeard, sales and channel manager at Impression Signatures. Impression Signatures and Striata not only recognise this need, but understand that eSignature offerings need to be convenient and protected; both for those signing documents and for those requesting that documents be signed.
"Protection against fraud and repudiation goes both ways; customers need the assurance that they are transacting with their service provider and that any agreement they enter into will be honoured. Just as those service providers need assurance that they are entering into an agreement with their customer and not someone posing as that customer," advises Brent Haumann, managing director, Africa, Striata. Ensuring that both parties to an agreement are safely identified and able to consent to a transaction is a critical step in any customer journey.
"Utilising effective eSignature solutions not only provides vital security and ease-of-use for organisations, but can also offer companies reduced costs and time expenditure," continues Blackbeard. "In a Forrester study on the economic impact of electronic signatures it was estimated that organisations gain an average of 410% return of investment on time and resources. This equates to an average of R100 saved per document."
Through this new partnership, Impression Signatures and Striata ensure users enjoy increased return of investment and absolute peace of mind, dealing with secure and confidential documents. Now businesses can confidently embrace digital transformation, while ensuring customer and business data protection, confidentiality and security.
Impression and Striata take document security very seriously. "With this partnership, customers enjoy the utmost protection, offered alongside the convenience of mobility. Our digital document delivery and signature solutions are easily embedded into the business's existing web and mobile applications," confirms Blackbeard. This effectively strengthens customer satisfaction, allowing for a convenient and seamless customer experience across various channels."
"Partnering with Impression has added a missing piece of the puzzle to our solution. When two organisations that value security, customer experience and high-quality technology at their core team up, it creates a formidable offering to the market. With Striata's expertise in automated customer communication and secure delivery and Impression's expertise in non-repudiation and identity assurance, there is an obvious synergy that has resulted in an easy to implement, highly relevant solution for our customers," concludes Haumann.
Further reading:
Paxton opens first experience centre in South Africa
Paxton News Access Control & Identity Management
The new Paxton Experience Centre in Johannesburg is now open and welcoming security installers and end users who want to see Paxton's products in action.
Read more...
---
Paratus signs re-seller agreement with Starlink for Africa
News IT infrastructure
Pan-African telco and network services provider Paratus Group announced it has entered an agreement as a distributor for Starlink's high-speed services across the African continent, available immediately in Mozambique, Kenya, Rwanda and Nigeria.
Read more...
---
4IR is opportunity
News
In South Africa, digitalisation remains 'at a nascent stage' which means significant work still has to be done when it comes to addressing skills development around 4IR in the country.
Read more...
---
Five ways to reduce your cyber insurance premiums
Security Services & Risk Management News
With the global costs of cybercrime expected to soar to $13 trillion within the next five years, cyber insurance is booming as organisations try to mitigate the risk of financial losses.
Read more...
---
Client satisfaction boosted by 85% at Thungela Mine
Thorburn Security Solutions News Security Services & Risk Management Mining (Industry)
Thorburn Security, a division of Tsebo Solutions Group, has announced its recent collaboration with Kwa-Zulu Natal security company, Ithuba Protection Services, as part of its Enterprise Supplier Development (ESD) initiatives across Africa.
Read more...
---
Fidelity SecureFire steps into critical fire response space
News Fire & Safety
With the majority of fire stations around the country being crippled by a lack of resources to offer effective responses, Fidelity Fire Solutions has launched its own 'first responder' model, Fidelity SecureFire.
Read more...
---
The state of edge security report
News IT infrastructure
Edge computing has grown from being a niche use case in a handful of industries to offering a major opportunity for enterprises across industries to spread computing power around the world.
Read more...
---
CHI selects NEC XON as trusted cybersecurity partner
News Cyber Security Industrial (Industry)
CHI Limited, Nigeria's leading market player in fruit juices and dairy products, has engaged in a strategic cybersecurity partnership with NEC XON, a pan-African ICT systems integrator.
Read more...
---
Collaboration delivers integrated and holistic security
Guardian Eye CCTV, Surveillance & Remote Monitoring News Integrated Solutions
Guardian Eye and Lytehouse have partnered to integrate their speciality solutions and provide a holistic security offering that overcomes the fragmentation of security systems and services.
Read more...
---
Kaspersky appoints new GM for Africa
News Cyber Security
Kaspersky has announced the appointment of Andrew Voges as the new General Manager for Africa to boost regional market positioning and enterprise protection.
Read more...
---