printer friendly version
Data protection is a top priority
Issue 3 2021
IT infrastructure
The global Covid-19 pandemic significantly accelerated the adoption of cloud technologies around the world, but particularly in South Africa. Where many businesses may have been lagging behind when it came to adopting cloud-based solutions, being forced to lock down and enable a remote workforce was the final push they needed. However, in a digital world, data arguably becomes a business's most valuable asset. Effective cloud data protection to enable disaster recovery (DR) and facilitate business continuity is more important now than ever.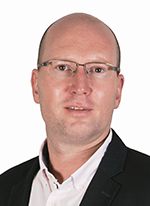 Gerhard Fourie.
Without data, digital business does not exist
With digital transformation efforts fast-tracked and the flexibility, scalability and availability of the cloud making it the ideal solution to many pandemic challenges, the shift to the cloud and Software-as-a-Service (SaaS) happened quickly in 2020. This means that protecting data in the cloud has become a critical business priority. As the year went on, this became increasingly clear.
A Commvault cloud data protection customer survey undertaken in 2020 revealed that DR preparedness is the top data protection priority during and as a result of the global pandemic. Initial survey results in May had 80% of businesses listing this as their most important consideration. As the situation became protracted, this number increased to 89% when the survey was repeated in October.
The pandemic has revealed the importance of DR and the need for businesses to recover data fast from any location, whether users are working from home, from an office or anywhere in between. Data and workloads need to be restored quickly to ensure businesses remain up and running in an 'always on' digital world.
Held to ransom
Another thing that became more evident over the course of 2020 is the need to effectively protect businesses from ransomware. While initially this was listed as a priority by only 61% of businesses, by October, 83% identified preventing ransomware as a top concern. The reality is that the shift toward a remote workforce and the speed at which cloud solutions were adopted exposed business systems more than ever. This created new vulnerabilities for cybercriminals to exploit, as evidenced by the multitude of high profile, highly publicised attacks that occurred over the course of the year.
Ransomware is a constantly evolving threat that can do significant harm to businesses in the event of a successful exploit. Ransomware prevention should be a top priority and should form a central component of data management, whether their data is stored in the cloud, on premises or in a hybrid environment. Encrypted backups, alerting and rapid data recovery are critical to effectively dealing with ransomware attacks.
Digital transformation and the cloud
Faster digital transformation and increased cloud adoption were also listed as priorities for business as a result of Covid-19. In May 2020, 49% of businesses surveyed responded that this was a concern and in October the number was still high at 47%. The rapid move to work from anywhere shifted technology priorities to enabling productivity while ensuring security, including protecting virtual machines, cloud-based applications and all data sets.
The migration into the cloud gained traction over the course of the year. By October, 34% of survey respondents indicated that their cloud migrations had accelerated due to the pandemic, compared to 29% in May. Cloud-based solutions and workloads have been a crucial enabler over the course of the past year, enabling organisations to transform quickly and delivering the agility and flexibility they needed to survive.
Surviving and thriving in a digital world
There is no doubt that cloud and hybrid scenarios are enablers for success now and in the future. However, while cloud vendors offer high availability, enterprise backup and recovery remain the responsibility of the business. Cloud-based workloads need to be protected with effective third-party solutions that manage backups, enable rapid recovery and provide a single pane of glass view over all data, wherever it is located. The ability to streamline, scale and protect data at speed is key to surviving and thriving in the post-pandemic digital world.
Further reading:
The future of innovative business lies at the edge
IT infrastructure
Connectivity issues previously limited Edge's potential, but innovations like 5G and IoT have made it seamless. The data generated by connected devices enhances analytics, and AI improves customer experiences.
Read more...
---
AI-powered cyber protection for consumers
IT infrastructure Cyber Security
Acronis Cyber Protect Home Office is designed for the evolving landscape of cyber threats by integrating Acronis' cyber protection and secure backup solutions, combining AI-powered defence mechanisms, robust data backup, remote management tools, and mobile device protection.
Read more...
---
Paratus signs re-seller agreement with Starlink for Africa
News IT infrastructure
Pan-African telco and network services provider Paratus Group announced it has entered an agreement as a distributor for Starlink's high-speed services across the African continent, available immediately in Mozambique, Kenya, Rwanda and Nigeria.
Read more...
---
What is the 3-2-1 rule
IT infrastructure
Data corruption is a bit like a car accident. It does not happen often to a person, but when it does, even a minor fender bender can create inconvenience, and a major smash can cause months, even years, of problems.
Read more...
---
Undersea cable incidents highlight need for network resilience
IT infrastructure
South Africa's undersea cable network is an indispensable digital lifeline, tethering the country to the global digital community. Daily, these cables process terabytes of data, underpinning near every local sector.
Read more...
---
Secure backup strategies imperative for business continuity
IT infrastructure Cyber Security
Cybercrime is on the rise, and businesses need to adjust how they manage their data to fend off attackers, or risk irreparable damage, writes Lisa Strydom, Senior Manager Channel and Alliance for Africa at Veeam Software.
Read more...
---
The state of edge security report
News IT infrastructure
Edge computing has grown from being a niche use case in a handful of industries to offering a major opportunity for enterprises across industries to spread computing power around the world.
Read more...
---
Managing the allure of Azure (without the costs)
IT infrastructure
Microsoft Azure has proven an appealing digital solution for organisations wanting to embed digital and embrace digital transformation, but the cost has to be carefully managed.
Read more...
---
Migrating to the cloud? Beware the many hurdles
IT infrastructure Security Services & Risk Management
While there are undoubtedly many benefits, there are also numerous hurdles to cloud adoption. Some of the biggest challenges revolve around managing cloud spend, understanding the cost components of cloud infrastructure, and how those costs can scale.
Read more...
---
How managed services keep the edge ecosystem afloat
IT infrastructure
A survey by the Uptime Institute found that the impact of data centre downtime has grown in severity, making the availability (of data centres), at the core and at the edge, a key concern for organisations.
Read more...
---