printer friendly version
Backup-as-a-Service
Issue 3 2021
Integrated Solutions
With an ever-growing number of people working from home, primarily due to the global Covid-19 pandemic, cybersecurity attacks are on the rise, meaning that dealing with security risks is an ongoing journey for enterprises.
IDC predicts that by 2023, 60% of data will be generated at the edge by people working from home and from devices outside the corporate firewall. While at the same time, many corporate cloud services are already being rendered from locations outside the data centre.
This has given rise to ransomware attacks as many employees who are working remotely have their firewalls and access points configured to allow remote access. This has also seen an increase in ransomware attacks against Software-as-a-Service (SaaS) applications. While SaaS applications are generally secure, hackers are able to get through an end user's compromised operating system and attack the cloud services themselves.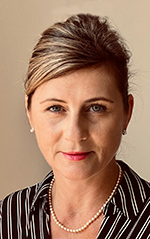 Kate Mollett.
Enterprises need to realise that security is an ongoing process, starting with being proactive and putting the right security measures in place to protect their data. This should be followed by monitoring their IT environments routinely for abnormalities, such as a massive change in data capacities. Organisations should also be in a position to recover their data and be recovery-ready in case of data loss due to a ransomware attack.
Traditional backup not good enough
However, many organisations are finding that their current backup solutions do not fulfil their needs, as traditional on-premise data backup solutions are often costly. In addition to this high cost, traditional solutions require significant maintenance, impact production time and put businesses at risk of data loss.
Backup-as-a-Service (BaaS) is the modern alternative approach to traditional data backup solutions, as it allows enterprises to purchase backup and recovery services from cloud-based providers, instead of having to build and maintain in-house data backup solutions.
For organisations that have reached the limits of their on-premises backup capabilities and for those who don't want to invest money into an in-house IT infrastructure in the first place, BaaS is proving to be the ideal solution.
In essence, enterprises that use BaaS solutions purchase backup and recovery services from outside providers. BaaS is able to connect systems to a private, public or hybrid-cloud environment, depending on an organisation's current backup or storage strategy and is entirely managed by the outside provider.
The most important advantage of BaaS when comparing to a traditional on-premises data backup solution is ease-of-management. It removes the need to rotate storage devices, manually moving data to off-site locations and performing integrity checks and deduplication. All of this is managed by the BaaS provider.
Less expensive
In addition, BaaS is less costly than tape drives, servers and other hardware and software elements that are necessary to perform a backup. Enterprises will spend less on backup media, transportation of media to remote locations for safekeeping and on costs associated with managing backup systems.
Some BaaS solutions also provide the necessary regulatory data compliance. This includes the right to be forgotten, also known as the right to erasure and the ability to remove data along with the full content index. It also enables enterprises to back up from any cloud environment, with ransomware protection, processes and services bundled in.
A BaaS solution also offers organisations a greater degree of ease-of-recovery, due to multiple levels of redundancy. Should data be lost or deleted, backups are available and easily located and multiple levels of redundancy mean that BaaS stores multiple copies of data in locations independent of each other.
When taking into account the advantages and benefits offered by BaaS, it is no longer advisable for most enterprises to invest in on-premise data backup solutions. Cloud-based backup solutions are more cost-effective, require less maintenance and are proven to be safer and more reliable than traditional backup solutions.
Further reading:
Smart water management
Axis Communications SA CCTV, Surveillance & Remote Monitoring Integrated Solutions
South Africa is currently facing a water crisis, with scarcity and inefficient water management posing significant challenges to sustainable, consistent access to water. Smart technology and powerful partnerships may offer a proactive solution to SA's water crisis.
Read more...
---
Empowering Istanbul's public transportation
Dahua Technology South Africa CCTV, Surveillance & Remote Monitoring Integrated Solutions
Dahua's intelligent transportation solution, using technologies like DSM and AI-based passenger flow counting, has facilitated an intelligent system upgrade for nearly 6 400 minibuses and electric buses in Istanbul.
Read more...
---
Collaboration delivers integrated and holistic security
Guardian Eye CCTV, Surveillance & Remote Monitoring News Integrated Solutions
Guardian Eye and Lytehouse have partnered to integrate their speciality solutions and provide a holistic security offering that overcomes the fragmentation of security systems and services.
Read more...
---
Smart obsession: Cities within security
Business Connexion Integrated Solutions IT infrastructure
Rebatho Madiba, from BCX, explores the security and connectivity considerations that define the development of smart city foundations, naturally, with connectivity and security the most important considerations.
Read more...
---
Project services to best-practice standards
Mustek Security Technologies Integrated Solutions
Mustek Security Technologies is dedicated to providing security solutions and distributing the full spectrum of blue-chip surveillance solution-driven products, primarily for the government and corporate arena.
Read more...
---
Rapid deployment video surveillance
Blacklight Group CCTV, Surveillance & Remote Monitoring Integrated Solutions
Kelly McLintock explores the importance of implementing rapid deployment video surveillance systems on construction sites to enhance safety, minimise losses, eliminate downtime, and promote productivity.
Read more...
---
Cultivating safer and smarter cities
CCTV, Surveillance & Remote Monitoring Integrated Solutions
As a provider of video management software (VMS) and physical security information management (PSIM) solutions, AxxonSoft enables cities to anticipate and respond swiftly to security threats through advanced video analytics and intelligent surveillance capabilities.
Read more...
---
Overcoming resistance to changing your current operating model
Editor's Choice Integrated Solutions
Business survival goes beyond cutting costs and driving efficiency, it's about using data and technology as strategic assets to develop speed, agility and resilience, keep up with customer demands, beat the competition and grow the business.
Read more...
---
Access to sustainability
Gallagher Integrated Solutions
With access control and mobile solutions rapidly advancing, businesses have an unprecedented opportunity to exceed expectations with frictionless experiences, while also cutting costs on energy efficiency and supporting sustainability efforts.
Read more...
---
Cloud for security and operational optimisation
Secutel Technologies Retail (Industry) CCTV, Surveillance & Remote Monitoring Integrated Solutions
With the abundance of services available to retailers, SMART Security Solutions asked Andre Vermeulen, GM at Secutel Technologies about what the company's SecuVue cloud services can do for this market.
Read more...
---