printer friendly version
Cash services with a difference
Issue 3 2021
Financial (Industry)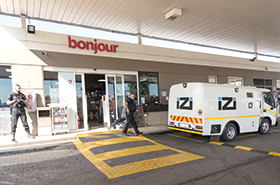 South African consumers remain loyal to cash. In fact, according to a recent Deloitte study, although 80% of South Africans have a bank account, most consumer transactions are still cash-based and cash usage in the economy continues to grow at an annual rate of between 6% and 10%. "These statistics underline the need for secure, reliable and efficient cash services," says Albert Erasmus, founder and CEO of iziCash Solutions, which specialises in cash management services for the retail industry.
The volume of cash in the economy is, however, not the only reason why expert cash management is essential. Security and operational efficiency are of paramount importance, especially to the retail sector that cannot trade without cash.
Established in 2016, iziCash distinguishes itself in both the range and quality of services it offers, particularly in terms of security and the precision with which cash is handled.
"Our culture and approach of executing cash services with absolute precision and strict security are testament to the expansion of business," says Erasmus. iziCash provides cash logistics and cash management services to businesses in Cape Town, Johannesburg, Pretoria, Durban and Pietermaritzburg, with an expansion programme into other areas in the near future.
Cash management services for retailers and other businesses that require cash to trade is the backbone of iziCash's offering. Depending on the client's needs, iziCash is geared to collect, deliver, process and insure cash. Included in the range of cash management services, iziCash also lends its expertise to clients for the management of ATMs, which includes cash replenishment, balancing and first line maintenance.
A noteworthy partnership is the one iziCash holds with Brinks Global Services, arguably the largest global CIT company, specialising in secure transportation and the handling of valuable goods in South Africa. IziCash is the primary subcontractor for all the Brinks CIT and armed escort services in Gauteng, KwaZulu-Natal and the Western Cape.
iziCash uses Transtrack software to manage the entire cash cycle This is an end-to-end cash management system used in the CIT and cash centre operations to track cash bags and to process customer deposits on a daily basis. This meticulous tracking of cash significantly improves operational efficiencies, optimises and streamlines every stage in the cash logistics process.
This end-to-end tracking capability is enhanced by Fleetcam, an integrated surveillance and intelligent vehicle tracking system, enabling real-time monitoring of the iziCash fleet and personnel. Each cash-in-transit vehicle within the iziCash fleet is fitted with seven CCTV cameras that feed real-time footage to the company's control rooms where the fleet is monitored around the clock and audio-visual recordings are stored for at least 60 days.
Further reading:
Is AI the game-changer for streamlining anti-money laundering compliance?
Financial (Industry) Security Services & Risk Management
In the aftermath of South Africa's recent grey listing, companies are now confronted with the imperative to address eight identified strategic deficiencies, while simultaneously reducing their financial crime risk through anti-money laundering compliance processes.
Read more...
---
FutureBank and IDVerse partner to fight cybercrime
Cyber Security Financial (Industry)
Generative AI is breeding different fraud types, and cybercrime is predicted to become the biggest economy in the world in the next 18 months. FutureBank and IDVerse have joined forces to keep their customers safe.
Read more...
---
Capitec installs Speedgate turnstiles
Turnstar Systems Financial (Industry) Access Control & Identity Management Products
Capitec's Head office in Cape Town recently took its security measures to the next level with the installation of three Speedgate secure lanes manufactured and installed by Turnstar Systems.
Read more...
---
Banking the unbanked comes with security risks
Financial (Industry) Security Services & Risk Management
As grim as it was, the pandemic of recent years and its resultant global economic crisis were a prime catalyst for record number of first-time bank users, the previously unbanked.
Read more...
---
Combating South African financial crime with RegTech
Financial (Industry) Security Services & Risk Management
RegTech South Africa is an emerging and dynamic industry with new regulations being consistently added and the need for compliance being more important than ever. With the recent Greylist announcement of South Africa, by FATF, compliance with international standards and regulations cannot be ignored.
Read more...
---
Integrating existing technology and AI
Secutel Technologies Financial (Industry) Access Control & Identity Management Products
Financial institutions require strict security processes governing staff and visitors (including unwanted visitors), from the perimeter, right into their campuses and buildings; however, replacing all existing security systems with new technology is not always viable.
Read more...
---
Smart remote monitoring
Thorburn Security Solutions Financial (Industry)
Thorburn Security Solutions provides a smart remote monitoring and cost-effective solution that will increase efficiency and, most importantly, mitigate risk.
Read more...
---
An online accountant talks cybersecurity
Technews Publishing Financial (Industry) Cyber Security
Hi-Tech Security Solutions talks to Hennie Ferreira, CEO of Osidon — a company offering businesses an online accountant — about the company and the cybersecurity solution developed to support the number cruncher.
Read more...
---
Innovating integrated banking security
Financial (Industry) Integrated Solutions
To counter intelligent criminals requires integrated, intelligent security solutions that not only protect assets and people, but support business processes as well.
Read more...
---
Biometrics in financial services
ZKTeco Financial (Industry) Access Control & Identity Management
Today, it is possible to verify our identity using a selfie, our voice or by placing our finger on the fingerprint reader of our mobile phone.
Read more...
---