printer friendly version
The reality of farm attacks
Issue 3 2021
Security Services & Risk Management
Farm attacks, including attacks on farms and smallholdings, refer to acts aimed at residents, workers and visitors to farms and smallholdings, whether with the intent to murder, rape, rob or inflict bodily harm. In addition, they include all actions aimed at disrupting farming activities as a commercial concern, whether for motives related to ideology, labour disputes, land issues, revenge, grievances, racist concerns or intimidation.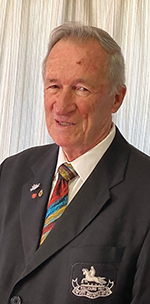 Laurence Palmer.
Nowhere in the world are people being as brutally attacked and murdered like farmers in South Africa (including a number of black emerging farmers and black farm labourers that have been attacked and injured or killed).
Victims are overpowered, ambushed and surprised inside their places of residence in many of the cases. Attackers gain entry by breaking open security doors, burglar bars, doors or windows, or through doors or windows that were left open.
Police statistics do not separate farm attacks, taking into account the above definition, from other murders and GBH incidents. The NGOs that are involved do their best with limited resources to monitor and record incidents and progress with the investigations and prosecutions. Moreover, the statistics published by the different NGOs and the Police differ greatly.
NGO statistics indicate 50 to 60 farm murders per year, much more than the 47 indicated by the Police. Arrests are only made in 20% of the incidents and court proceedings can take years to finalise and many cases become cold cases and are never solved.
One NGO likened the justice served situation relating to farm attacks to running the Comrades marathon of 89 km and the parameters around each case to 6.3 km. Average progress to date is at around 2 km.
The position in KZN is better due to very active and strong NGOs, such as KZN Agriculture and Conservation Safety Centre and SACan supporting the Police and authorities. They claim an 83% successful prosecution rate over the period 2010 to 2019. This, of course, refers to matters that actually found their way into court in the first place.
The South African Police Service refuses to designate farm attacks as Priority Crime.
When the Commando Reserve Force Units were closed down, the Police were tasked to prepare a rural protection plan that they would execute in order to take over from the commandos and to ensure the continued safety and protection of the rural areas and their occupants, namely the farmers and their workers. Although a white paper was published with all sorts of promises and wonderful intentions, nothing was approved or ratified and the plan did not materialise. The bottom line is that the Police do not have the manpower or the resources to mount an effective rural safety and protection plan.
For some or other reason, which I do not understand to this day, the farmers, who were mostly members of the Commando Units and as a result, members of the safety and protection plan, did not just continue with the commando structures and plans in their private capacity.
But the reality is they did not and victims of farm attacks were left more vulnerable as they have to rely on reaction services rather than prevention – as I mentioned in the first article in Issue 2 of Hi-Tech Security Solutions (www.securitysa.com/12770r).
Reaction is necessary and may, if rapid enough, lead to the saving of lives and the capture of the attackers. But one must question what can be achieved by the presence of half a dozen police vehicles and an equal number of farm security vehicles after the event. That many people around a crime scene just serves to contaminate the scene and render potentially critical evidence useless.
As mentioned in the previous issue, farmers are encouraged to become involved with security networks within their community and other structures within the area. However, a general analysis of the state of security and preparedness on farms at this present time is one of neglect and poor standards.
The reality is, to adapt the MOTH prayer, "At the going down of the sun and in the morning", the owner/resident is ultimately responsible for the safety and security of himself/herself and the people, assets and property that are in his/her care and control.
This article is the opinion of the author and is based on the latest information available and his previous and current efforts to prevent farm attacks. For more information, contact Laurence Palmer, +27 73 954 4450, unicornnlpconsulting@gmail.com.
Credit(s)
Further reading:
Key timelines to ensure compliance
Security Services & Risk Management
Regulations to the Occupational Health and Safety Act that apply to major hazard installations require that certain actions be taken to manage health and safety risks – some with timelines for compliance that must be monitored.
Read more...
---
Best practice tips for strengthening data privacy system
Security Services & Risk Management Cyber Security
International cybercriminals are increasingly targeting South African organizations, making data privacy more difficult to maintain. A standardization expert offers insight to help combat this threat.
Read more...
---
Is AI the game-changer for streamlining anti-money laundering compliance?
Financial (Industry) Security Services & Risk Management
In the aftermath of South Africa's recent grey listing, companies are now confronted with the imperative to address eight identified strategic deficiencies, while simultaneously reducing their financial crime risk through anti-money laundering compliance processes.
Read more...
---
Five ways to reduce your cyber insurance premiums
Security Services & Risk Management News
With the global costs of cybercrime expected to soar to $13 trillion within the next five years, cyber insurance is booming as organisations try to mitigate the risk of financial losses.
Read more...
---
What South Africans need to know about smart devices
Technews Publishing Editor's Choice
We live in a world surrounded by smart devices, from our pockets to our driveways and living rooms.
Read more...
---
Client satisfaction boosted by 85% at Thungela Mine
Thorburn Security Solutions News Security Services & Risk Management Mining (Industry)
Thorburn Security, a division of Tsebo Solutions Group, has announced its recent collaboration with Kwa-Zulu Natal security company, Ithuba Protection Services, as part of its Enterprise Supplier Development (ESD) initiatives across Africa.
Read more...
---
Migrating to the cloud? Beware the many hurdles
IT infrastructure Security Services & Risk Management
While there are undoubtedly many benefits, there are also numerous hurdles to cloud adoption. Some of the biggest challenges revolve around managing cloud spend, understanding the cost components of cloud infrastructure, and how those costs can scale.
Read more...
---
Key strategies for businesses in the face of cyber threats
Cyber Security Security Services & Risk Management
Businesses face severe financial and reputational consequences due to data breaches and daily website hacks, and not all organisations are adequately prepared to combat these escalating threats.
Read more...
---
Synology enhances functions for advanced surveillance integration
Technews Publishing CCTV, Surveillance & Remote Monitoring IT infrastructure Products
With the capability to function as both an API client and server, Surveillance Station offers a versatile platform for integration, whether it's embedding video streams into other platforms or overlaying external data onto recorded video.
Read more...
---
Planning for the worst is key to success
Technews Publishing Security Services & Risk Management
Planning for the worst is key to success when disaster strikes. Amidst frequent load shedding and often unpredictable stages of power outages, many businesses are concerned about the possibility of a total blackout.
Read more...
---