printer friendly version
Physical access solutions for banks
Issue 3 2021
Financial (Industry)

There is a fine balance between maintaining suitable security levels and ensuring complementary aesthetics in the financial services sector. When one of South Africa's fastest growing banks recently expanded into new offices in the Western Cape, they required a physical access control solution that would match regulated access with sleek looks and high quality finishes.
"Turnstar was an integral part of the security for the new building and provided six Velocity traffic barriers and nine Speedgate Secure lanes," says Craig Sacks, CEO of Turnstar.
The Turnstar Velocity automatic industrial vehicle barrier is the perfect solution for providing controlled access to the perimeter of office premises. Suitable for applications requiring high-volume vehicular access, the Velocity features intelligent collision detection and seamless, precise speed control with dynamic braking and slow stop for enhanced safety.
Four adjustable raise and lower speed settings allow financial institutions to tailor operation to suit their specific needs. Further evidence of the flexibility provided by the design of the Velocity are the adjustable compression springs for barrier arm balancing and the easy change of handing.
The Velocity is designed for extended operation with a number of elements contributing to its reliability:
• Wireway through the centre of the shaft for LED indicator lights.
• Harmonic motion lever arm mechanism.
• No motor rear-mounted brake reduces costs and maintenance.
• No worm gear.
• No proximity sensors or micro-switches required for positioning.
• SwiftMove brushless DC motor with planetary gearbox
The Speedgate Secure lanes – a mix of 550 mm and 900 mm wide lanes – were installed at two office entrance points at the financial service provider's premises. The 900 mm wide lanes are suitable for wheelchair and special needs access. The Speedgates offer high-speed and secure access and are manufactured from stainless steel and 1.8 m toughened glass.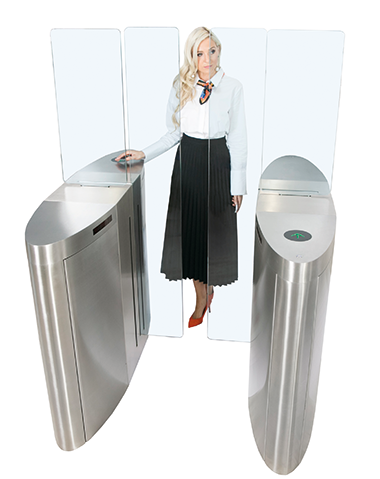 The glass wings seamlessly and noiselessly retract into the brushed stainless steel cabinet for non-obtrusive ease of operation. Sacks points out that all cabinet components are 3D designed, laser cut and handmade with expert welding and polishing for the highest quality finish and operability.
The optical motion detection safety sensor array allows dynamic following of the pedestrian through the Speedgate Secure. This feature ensures that pedestrians will not be accidentally trapped in the closing envelope between the glass wings.
"We have a number of products that have proven very popular in the financial services sector and are able to customise solutions based on the specific needs of each client, to ensure maximised security levels and productivity," says Sacks.
.
Credit(s)
Further reading:
Is AI the game-changer for streamlining anti-money laundering compliance?
Financial (Industry) Security Services & Risk Management
In the aftermath of South Africa's recent grey listing, companies are now confronted with the imperative to address eight identified strategic deficiencies, while simultaneously reducing their financial crime risk through anti-money laundering compliance processes.
Read more...
---
Securing a luxurious residential estate
Turnstar Systems Residential Estate (Industry) Access Control & Identity Management
Turnstar Systems recently partnered with Balwin Munyaka Residential Estate to secure the entrance to its Crystal Lagoon, ensuring only authorised residents and guests can access the site.
Read more...
---
FutureBank and IDVerse partner to fight cybercrime
Cyber Security Financial (Industry)
Generative AI is breeding different fraud types, and cybercrime is predicted to become the biggest economy in the world in the next 18 months. FutureBank and IDVerse have joined forces to keep their customers safe.
Read more...
---
Capitec installs Speedgate turnstiles
Turnstar Systems Financial (Industry) Access Control & Identity Management Products
Capitec's Head office in Cape Town recently took its security measures to the next level with the installation of three Speedgate secure lanes manufactured and installed by Turnstar Systems.
Read more...
---
Banking the unbanked comes with security risks
Financial (Industry) Security Services & Risk Management
As grim as it was, the pandemic of recent years and its resultant global economic crisis were a prime catalyst for record number of first-time bank users, the previously unbanked.
Read more...
---
KWAL raises a glass to security upgrade
Turnstar Systems Access Control & Identity Management Products
The Kenya Wine Agencies Limited (KWAL) was in need of an integrated security upgrade. This is where Turnstar came into the picture to provide a solution that would keep KWAL secure and efficient.
Read more...
---
Combating South African financial crime with RegTech
Financial (Industry) Security Services & Risk Management
RegTech South Africa is an emerging and dynamic industry with new regulations being consistently added and the need for compliance being more important than ever. With the recent Greylist announcement of South Africa, by FATF, compliance with international standards and regulations cannot be ignored.
Read more...
---
Integrating existing technology and AI
Secutel Technologies Financial (Industry) Access Control & Identity Management Products
Financial institutions require strict security processes governing staff and visitors (including unwanted visitors), from the perimeter, right into their campuses and buildings; however, replacing all existing security systems with new technology is not always viable.
Read more...
---
Smart remote monitoring
Thorburn Security Solutions Financial (Industry)
Thorburn Security Solutions provides a smart remote monitoring and cost-effective solution that will increase efficiency and, most importantly, mitigate risk.
Read more...
---
An online accountant talks cybersecurity
Technews Publishing Financial (Industry) Cyber Security
Hi-Tech Security Solutions talks to Hennie Ferreira, CEO of Osidon — a company offering businesses an online accountant — about the company and the cybersecurity solution developed to support the number cruncher.
Read more...
---