printer friendly version
Intelligent management of security officers
Issue 3 2021 Security Services & Risk Management, Products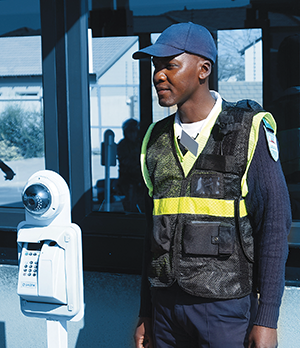 The private security industry in South Africa has become one of the fastest growing industries. With the advent of the Internet of Things (IOT) and under the umbrella of Industry 4.0, following the rapid advancement of wireless communication technologies, there is no shortage of new technology solutions that are launched into the security industry on a daily basis.
Many of these solutions are driven by the engineering fraternity that sees a technological opportunity as a result of the advancement in the electronic component industry. But for solutions to be meaningful, the technology needs to attract widespread use and provide new benefits to all stakeholders that are exposed to it.
Betatrac is a local South African firm that, as far back as 2010, looked at the increasing reliance on the private security sector. The firm had been at the forefront of mobile GPS and GSM geolocation solutions since 2002 and decided to use its expertise to apply it to the conceptualisation of wearable geolocation technology in the private security guarding sector.
The firm has always been aware that there are numerous products available in the market that track vehicles, assets and people. While many security companies make use of one or other tracking product, the key emphasis that underpins Betatrac's design philosophy, is on how the data is gathered and what value is extracted from the data. A successful solution has to meet the needs of all stakeholders and provide tangible and commercial benefits.
It all starts with the security guard and how he or she is expected to perform his or her duty. A security guard cannot be burdened with additional equipment that requires the use of his or her hands during the course of duty. Providing technology that becomes part of the guard's uniform and is worn on the body was one fundamental requirement that Betatrac aimed to achieve from the start of the development phase.
Another key aspect was that of the patrolling route, this cannot be too rigid and prescribed and has to be altered at a moment's notice. Hence the concept of virtually defined, rather than physically defined waypoints, was introduced by the firm.
An additional, important element in the complex chain of a guarding service is the guard's supervisor. Supervisors are responsible for multiple guarding sites and the effectiveness of their role does benefit from an electronic supervision system on their own performance as well.
Most importantly, the data that is collected by the devices has to be exhaustively analysed in order to provide meaningful and tangible benefits to the organisation. In order to survive, a modern business has to be able to rely on data driven decision-making. The Betatrac AIMSS (Analytical Intelligent Management of Security Systems) platform has been developed to integrate data streams from any Betatrac product into a single user environment.
From here the system provides alerts and automated performance reports that remove the requirement for continuous platform monitoring and manual data analysis and reporting. More than just an asset or personnel tracking system, the software provides a digital workforce management tool and service quality assurance platform. A security service provider is thus able to concentrate their efforts towards their customer base, knowing that the crucial tasks of service management and quality assurance are automatically taken care of in the background.
Credit(s)
Further reading:
Turkish university installs IDIS surveillance
CCTV, Surveillance & Remote Monitoring Products
IDIS video streamlines complex surveillance systems for learning institution, upgrading a 350-camera system with 24/7 control room monitoring to transform security for Social Sciences University of Ankara (ASBU).
Read more...
---
Key timelines to ensure compliance
Security Services & Risk Management
Regulations to the Occupational Health and Safety Act that apply to major hazard installations require that certain actions be taken to manage health and safety risks – some with timelines for compliance that must be monitored.
Read more...
---
Best practice tips for strengthening data privacy system
Security Services & Risk Management Cyber Security
International cybercriminals are increasingly targeting South African organizations, making data privacy more difficult to maintain. A standardization expert offers insight to help combat this threat.
Read more...
---
Is AI the game-changer for streamlining anti-money laundering compliance?
Financial (Industry) Security Services & Risk Management
In the aftermath of South Africa's recent grey listing, companies are now confronted with the imperative to address eight identified strategic deficiencies, while simultaneously reducing their financial crime risk through anti-money laundering compliance processes.
Read more...
---
Five ways to reduce your cyber insurance premiums
Security Services & Risk Management News
With the global costs of cybercrime expected to soar to $13 trillion within the next five years, cyber insurance is booming as organisations try to mitigate the risk of financial losses.
Read more...
---
Client satisfaction boosted by 85% at Thungela Mine
Thorburn Security Solutions News Security Services & Risk Management Mining (Industry)
Thorburn Security, a division of Tsebo Solutions Group, has announced its recent collaboration with Kwa-Zulu Natal security company, Ithuba Protection Services, as part of its Enterprise Supplier Development (ESD) initiatives across Africa.
Read more...
---
Long-distance connectivity with Simplex ES Net Life Safety
Johnson Controls Global Products Fire & Safety Products
ES Net Network Bridge allows fire alarm system data to be transmitted across distant buildings via a customer's existing network infrastructure, improving system-wide monitoring and control in facilities and campuses where life safety networks are often widely dispersed.
Read more...
---
Migrating to the cloud? Beware the many hurdles
IT infrastructure Security Services & Risk Management
While there are undoubtedly many benefits, there are also numerous hurdles to cloud adoption. Some of the biggest challenges revolve around managing cloud spend, understanding the cost components of cloud infrastructure, and how those costs can scale.
Read more...
---
Visitor management via QR code
ATG Digital Access Control & Identity Management Products
ATG Digital has launched its QR Code Reader to enhance access control's security and efficiency. The new QR Code Reader enables seamless, contactless access control, creating an efficient user journey.
Read more...
---
Key strategies for businesses in the face of cyber threats
Cyber Security Security Services & Risk Management
Businesses face severe financial and reputational consequences due to data breaches and daily website hacks, and not all organisations are adequately prepared to combat these escalating threats.
Read more...
---