printer friendly version
Secure end-to-end fintech solutions for SA retail industry
Issue 3 2021
Financial (Industry)
At its heart, the retail industry is all about the efficient management of time and money. It's about offering customers choice in payment method while securely managing the cash that flows into the retail store. It's about quick access to working capital necessary to pursue trading opportunities as they arise. And it's about finding new ways to improve profit margin and increase revenues.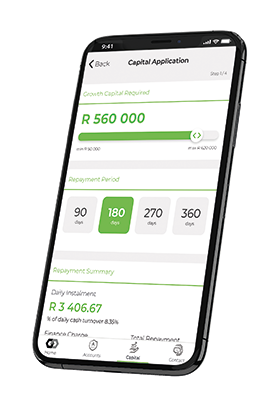 Get up to R2,5million business finance from Capital Connect in just 24 hours via the Connected App.
According to Steven Heilbron, CEO of the Connect Group, retailers have a key role to play in rebuilding the economy in the wake of the devastation of the COVID-19 pandemic. However, to succeed in these difficult operating conditions, small- and medium-sized retailers need to improve efficiencies, streamline cash flow and exploit new revenue streams.
It is the mission of the Connect Group to enable retail merchants with innovative, tech-driven solutions focused on efficient cash management, access to capital, card payment solutions and prepaid value-added products and services. "By harnessing smart and secure technology, retailers can boost their operating efficiency, reduce costs and safeguard their business," says Heilbron. "Of course, it's critical to put in place systems, technology and adhere to strict security compliance standards in order to protect physical money and data alike. This gives our clients the peace of mind that their cash is secure and that their customers can transact with peace of mind.
The Connect Group addresses these needs through four main offerings.
Cash Connect offers an end-to-end cash management solution that is pretty much like putting the bank in a retail store. This solution encompasses a robust and automated cash vault, cash-in-transit logistics, cash processing, instant access to cash in the vault and ensuring a safer trading environment. Cash Connect manages more than R100 billion a year on behalf of its diverse retail customer base and is an approved service provider to retail leaders such as Spar Group, Shell, Engen, Pick 'n Pay and OK.
Cash Connect's range of automated cash vaults.
Cash Connect is South Africa's leader in automated cash management and payment solutions, with technology that has been proven to be the most effective deterrent to criminal attacks in the local retail market. Its automated cash vaults are built to minimum SABS category 4 standards. From the moment the cash is deposited into the cash vault, while in transit and until it reflects in the retailer's bank account, Cash Connect carries the risk and guarantees the funds in the retailer's bank account.
Capital Connect is a fintech solution designed to provide retailers with quick access to trading capital by allowing them to apply for business funding right from an app on their smartphone. An unsecured business loan can be obtained within 24 hours, meaning retailers can capitalise on time-limited opportunities such as bulk pricing promotions from suppliers because they can raise the necessary funding, hassle-free.
Card Connect provides mobile and countertop card acceptance devices for established and informal retail markets – providing retailers with card payment machines that have tap-and-pay/contactless payment functionality. They also allow for cash withdrawals at point-of-sale (POS) with a card transaction. Customers don't have to leave the store to go to an ATM, driving footfall, convenience and loyalty.
Kazang Connect makes it safe and simple for spaza shops and formal retail merchants to sell prepaid products and services from its mobile app and POS terminals. This can help them to attract and retain customers by offering convenient value-added services, as well as to generate additional revenues and boost cash flow.
"Our Fintech business solutions open doors for retailers, enabling them to grow and thrive. We are constantly expanding our set of solutions with the right security compliance, ensuring all data is secure and encrypted throughout each process of our offering and equally important, to help SMEs maximise their business potential. Whether that is achieved through smart retail cash management, quick access to working capital or value-added products and services that give their customers that extra edge of convenience," concludes Heilbron.
Find out more at www.connected.co.za
Further reading:
Protect your financial assets from unknown online threats
Products & Solutions Information Security Financial (Industry)
Malicious actors employ a myriad of sophisticated techniques, such as hacking, phishing, spamming, card theft, online fraud, vishing, and keylogging, among others, to exploit unsuspecting individuals and gain unauthorised access to their financial resources.
Read more...
---
Is AI the game-changer for streamlining anti-money laundering compliance?
Financial (Industry) Security Services & Risk Management
In the aftermath of South Africa's recent grey listing, companies are now confronted with the imperative to address eight identified strategic deficiencies, while simultaneously reducing their financial crime risk through anti-money laundering compliance processes.
Read more...
---
FutureBank and IDVerse partner to fight cybercrime
Information Security Financial (Industry)
Generative AI is breeding different fraud types, and cybercrime is predicted to become the biggest economy in the world in the next 18 months. FutureBank and IDVerse have joined forces to keep their customers safe.
Read more...
---
Capitec installs Speedgate turnstiles
Turnstar Systems Financial (Industry) Access Control & Identity Management Products & Solutions
Capitec's Head office in Cape Town recently took its security measures to the next level with the installation of three Speedgate secure lanes manufactured and installed by Turnstar Systems.
Read more...
---
Banking the unbanked comes with security risks
Financial (Industry) Security Services & Risk Management
As grim as it was, the pandemic of recent years and its resultant global economic crisis were a prime catalyst for record number of first-time bank users, the previously unbanked.
Read more...
---
Combating South African financial crime with RegTech
Financial (Industry) Security Services & Risk Management
RegTech South Africa is an emerging and dynamic industry with new regulations being consistently added and the need for compliance being more important than ever. With the recent Greylist announcement of South Africa, by FATF, compliance with international standards and regulations cannot be ignored.
Read more...
---
Integrating existing technology and AI
Secutel Technologies Financial (Industry) Access Control & Identity Management Products & Solutions AI & Data Analytics
Financial institutions require strict security processes governing staff and visitors (including unwanted visitors), from the perimeter, right into their campuses and buildings; however, replacing all existing security systems with new technology is not always viable.
Read more...
---
Smart remote monitoring
Financial (Industry)
Thorburn Security Solutions provides a smart remote monitoring and cost-effective solution that will increase efficiency and, most importantly, mitigate risk.
Read more...
---
An online accountant talks cybersecurity
Technews Publishing Financial (Industry) Information Security
Hi-Tech Security Solutions talks to Hennie Ferreira, CEO of Osidon — a company offering businesses an online accountant — about the company and the cybersecurity solution developed to support the number cruncher.
Read more...
---
Innovating integrated banking security
Financial (Industry) Integrated Solutions
To counter intelligent criminals requires integrated, intelligent security solutions that not only protect assets and people, but support business processes as well.
Read more...
---