printer friendly version
Suprema at the entrance
Issue 3 2021
Access Control & Identity Management
Effective security at the entrance should ideally allow for the quick, efficient and accurate entry of employees and visitors and should enforce predetermined access rules. Access control systems provide the means by which individuals are identified and these systems are used to specify such rules, whereas entrance control solutions provide the means of granting/preventing access.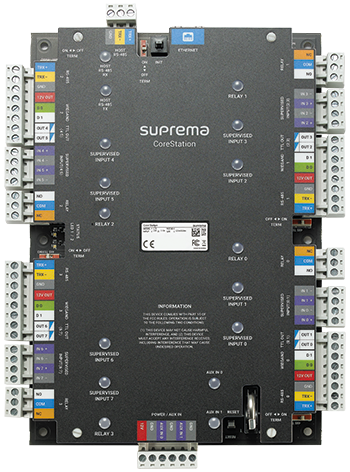 Suprema CoreStation.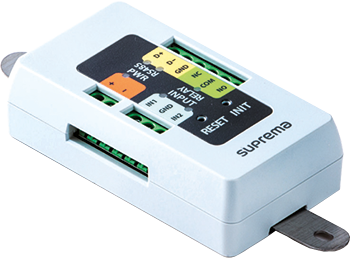 Suprema Secure Module.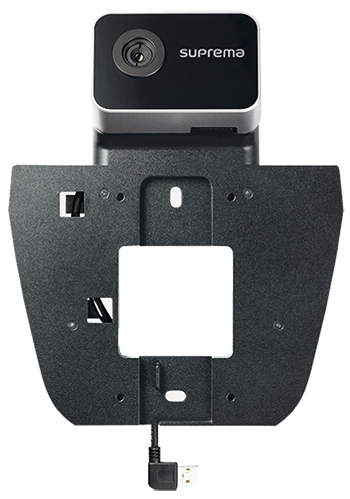 Suprema Thermal Camera with bracket.
Suprema's extensive range of access control devices use various modalities such as face, fingerprint, mobile credentials, PIN and cards to authenticate users. These access solutions can be seamlessly integrated with various entrance control solutions such as turnstiles, speed gates and interlocking doors.
Suprema devices come with built-in door relays that connect to the relays of entrance control solutions such as turnstiles, speed gates, interlocking doors, boom gates, etc. If Suprema's BioStar 2 is used as the security management platform, for example, the turnstile will be created as a door and no integration will be required for Suprema devices to work with the turnstile. However, if third-party software is used for the security management platform then the Suprema Device SDK will be needed to integrate the Suprema devices into the system.
Suprema also offers a range of controllers and other peripheral devices that can be used when setting up an effective solution for facilitating secure entrance.
CoreStation is an intelligent biometric controller that enables centralised storage of user and access control data including fingerprint/facial credentials and is designed to accommodate enterprise-level systems of up to 500 000 users. It has a multi-port interface that supports locks, sensors, RTE and alarms. With CoreStation there is no Ethernet connection to the edge devices and there is no data stored on the edge devices. Communication is secured through TLS 1.2 and AES-256 encryption.
Door Module (secure multi-door I/O module) provides secure door control of up to four doors via encrypted communication and also contains two Wiegand reader interfaces for use with third-party readers. A wide variety of I/O interfaces allows Door Module to be a part of diverse system configurations. By combining Door Module with a Suprema device one is able to design and implement a centralised access control system with up to 32 doors and up to eight biometric devices through daisy-chain configuration.
Secure Module (compact secure single-door I/O module) provides secure door control via encrypted communication when combined with other Suprema devices. Its ultra-compact form factor allows it to be installed and used in different environments.
Output Module (multiple extension output module) is a multiple output extension module which can control up to 12 output relays. It can also be used as an elevator controller (up to 192 floors) with BioStar 2 system. A total of 31 units can be connected to a master device via RS-485 daisy-chain. The output module also has an anti-passback feature and a fire alarm feature.
With recent changes to health and safety regulations Suprema offers the following to assist in adhering to these measures.
Suprema Thermal Camera combined with Suprema face recognition terminals detect users with elevated skin temperature. The device displays the temperature on a GUI and raises alerts when higher than threshold temperatures are detected. Suprema Thermal Camera easily connects with Suprema face recognition terminals via USB interface. It comes with a bracket for convenient deployment on new and retrofit installs.
Suprema's FaceStation F2 can detect users without masks and when integrated with an entrance control system can prevent entry without compliance. F2 also supports face recognition of users wearing masks.
Credit(s)
Further reading:
Paxton opens first experience centre in South Africa
Paxton News Access Control & Identity Management
The new Paxton Experience Centre in Johannesburg is now open and welcoming security installers and end users who want to see Paxton's products in action.
Read more...
---
Securing a luxurious residential estate
Turnstar Systems Residential Estate (Industry) Access Control & Identity Management
Turnstar Systems recently partnered with Balwin Munyaka Residential Estate to secure the entrance to its Crystal Lagoon, ensuring only authorised residents and guests can access the site.
Read more...
---
Visitor management via QR code
ATG Digital Access Control & Identity Management Products
ATG Digital has launched its QR Code Reader to enhance access control's security and efficiency. The new QR Code Reader enables seamless, contactless access control, creating an efficient user journey.
Read more...
---
District secures activity centre
Paxton Access Control & Identity Management Products
Paxton's Net2 access control solution is a user-friendly and flexible networked access control system, which made installing and managing access control security at an activity centre straightforward.
Read more...
---
GardaWorld partners with Gallagher
Gallagher Access Control & Identity Management
Access control via facial recognition was at the top of GardaWorld's wish list, and Gallagher's integration with IDEMIA's VisionPass played a crucial role in delivering a seamless experience.
Read more...
---
ZK-IWB Series
ZKTeco Products Access Control & Identity Management
Experience the ultimate virtual meeting solution with ZKTeco's ZK-IWB system. Featuring a built-in 13-megapixel UHD camera and 6-microphone array, the solution ensures clear audio and video experiences with an 8 metre pickup distance.
Read more...
---
Security for critical industries
ZKTeco Government and Parastatal (Industry) Access Control & Identity Management
The traditional reliance on human observation and physical presence for security is being complemented and, in many cases, replaced by biometric technology to enhance risk management and ensure comprehensive protection.
Read more...
---
Access to nuclear plants
Suprema Access Control & Identity Management
Korea Hydro & Nuclear Power was in need of a fully redundant access control system that should provide enhanced performance while still being able to interoperate with existing equipment.
Read more...
---
Secure your site during outages
Paxton Access Control & Identity Management
The PaxLock Pro range is our collection of wireless, battery powered smart door handles. They are efficiently designed to consume minimal energy to operate, and the batteries generally last around two years.
Read more...
---
Securing data centres and control rooms
Access Control & Identity Management
The demand for data centres and control rooms to store and manage digital information is at an all-time high, however, the rise in cyber threats and physical security risks has raised concerns about how companies can effectively protect these vital infrastructures.
Read more...
---