printer friendly version
Add video to monitored alarm systems
Issue 3 2021 Perimeter Security, Alarms & Intruder Detection, Products
Most monitored intruder systems are 'blind'; operators cannot visually check what has caused the alarm to go off, meaning they must rely solely on the intrusion alarm system and make a decision accordingly.
There is now an easy way to add visual verification to a new or existing monitored intrusion alarm system. The OPTEX Intelligent Visual Monitoring solution consists of network-based hardware, the OPTEX Bridge and a cloud-based solution that integrates with the monitoring station software platform.
The bridge gateway, available as a 4- or 12-channel model, connects with the alarm panel or panic buttons and pairs each sensor to an ONVIF-compliant camera to enable control room operators to see the cause of an alarm. Through cloud-based software, recorded video and live images are pushed to the operator who can also access the live view of the monitored site and assess the situation. In just a few seconds, the operator can send the event video to the customer or site caretaker for verification and decide whether to dismiss the event or dispatch a security response.
How does it work?
The OPTEX Bridge is a visual verification device that connects on one side to the alarm panel (wired or wireless panel) and on the other connects to ONVIF-compliant cameras or NVR. It will be securely connected to the Internet to communicate to the cloud-based Visual Monitoring portal. The OPTEX Bridge automatically detects cameras or NVRs on the network, allowing a quick and easy installation on site.
Through the Intelligent Visual Monitoring Portal, installers can configure and manage connected devices. It includes interactive features such as site maps where sensors and cameras can be positioned and the detection areas can be overlayed.
The 4-channel bridge enables four indoor or outdoor sensors to be paired up with four IP cameras and the 12-channel bridge provides connection for 12 sensors and cameras. More than one bridge device can be deployed on site to provide a larger visual verification system. The same configuration is possible with panic buttons, but panic buttons and sensors cannot be mixed on the same device as the monitoring logic is different.
IP and communication security
Network security was front of mind in developing the OPTEX Intelligent Visual Monitoring Solution. The OPTEX Bridge sends secure and encrypted data using TLS 1.1 and TLS 1.2 to the cloud and cannot be accessed via the network unless that access has been planned for maintenance purposes. That would be the only time the network port is open while in operation. Such an arrangement provides a very secure system and does not leave the site vulnerable to cyber-attack.
Security and privacy combined
Private property owners have in the past shown reluctance to have their home or business monitored by a third party as they have wanted to protect their privacy. With the Intelligent Visual Monitoring solution this is solved with a privacy feature, where the property owner can choose to have their security system set to privacy mode. Only when there has been an alarm raised, the control room operator will see a silhouette figure until the owner has lifted the privacy mode, will they then see what is going on in the property.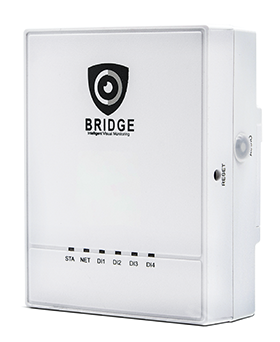 The solution gives the control room operator a better understanding of what is going on at the site being monitored. If the site is equipped with multiple sensors and multiple cameras, the operator can easily access the live views of those cameras, track activity and get a clearer idea on what level of response is needed. How many intruders are there? Are the intruders armed? All these important questions are verified and the response team can be updated to the situation.
Just as important is if the alarm is false. Has a large animal got into the homeowner's garden? Have the children just come home from school without disarming the security system? These nuisance alarms will be quickly determined and would not require any response.
A collaborative approach
The visual verification solution is a collaborative approach to security, between the security company and the customer. The security company has access to a cloud-based portal that delivers a platform to manage all connected systems. Interactive elements allow customisation of site details with map views showing the location of cameras, sensors and detection fields. All devices can be managed remotely.
Alarm zones and sensors are supported by real-time health monitoring, creating reports to show the system is operating correctly.The control room now has video to help more accurately determine what is going on at the monitored site, making the decisions on behalf of the customer, but also working with the customer if the situation needs more clarity, by asking the customer to validate an event.
The solution has already been successfully launched in the United Kingdom, United States and some European countries. Now it is being rolled out in South Africa, with several security companies already adopting the solution, including Marshall Security and Nite Owl Security. OPTEX has also worked closely with Watchmanager, Listener and Patriot to integrate the software with their control room systems.
Further reading:
Turkish university installs IDIS surveillance
CCTV, Surveillance & Remote Monitoring Products
IDIS video streamlines complex surveillance systems for learning institution, upgrading a 350-camera system with 24/7 control room monitoring to transform security for Social Sciences University of Ankara (ASBU).
Read more...
---
Long-distance connectivity with Simplex ES Net Life Safety
Johnson Controls Global Products Fire & Safety Products
ES Net Network Bridge allows fire alarm system data to be transmitted across distant buildings via a customer's existing network infrastructure, improving system-wide monitoring and control in facilities and campuses where life safety networks are often widely dispersed.
Read more...
---
Visitor management via QR code
ATG Digital Access Control & Identity Management Products
ATG Digital has launched its QR Code Reader to enhance access control's security and efficiency. The new QR Code Reader enables seamless, contactless access control, creating an efficient user journey.
Read more...
---
District secures activity centre
Paxton Access Control & Identity Management Products
Paxton's Net2 access control solution is a user-friendly and flexible networked access control system, which made installing and managing access control security at an activity centre straightforward.
Read more...
---
Manage security systems remotely
Hikvision South Africa CCTV, Surveillance & Remote Monitoring IT infrastructure Products
Hikvision launched a new generation of smart managed switches that, in conjunction with the Hik-Partner Pro mobile app, enable installers to remotely deploy and configure security systems with comprehensive operation and maintenance capabilities.
Read more...
---
From overwhelm to oversight
Editor's Choice Cyber Security Products
Security automation is vital in today's world, and Microsoft Sentinel is a widely adopted, but complex answer. ContraForce is an easy-to-use add-on that automatically processes, verifies and warns of threats round-the-clock.
Read more...
---
Synology enhances functions for advanced surveillance integration
Technews Publishing CCTV, Surveillance & Remote Monitoring IT infrastructure Products
With the capability to function as both an API client and server, Surveillance Station offers a versatile platform for integration, whether it's embedding video streams into other platforms or overlaying external data onto recorded video.
Read more...
---
Simplify adoption of Generative AI
News IT infrastructure Products
Nutanix simplifies adoption of Generative AI with Nutanix GPT-in-a-Box, an AI infrastructure solution that accelerates customers' path to GPT and LLMs while keeping organisations in control of their data.
Read more...
---
June Coetzer joins Olarm as Partner Manager
News Perimeter Security, Alarms & Intruder Detection
Armed with a solid background in sales and business development, June Coetzer recently joined Olarm as an additional Partner Manager covering Gauteng and the surrounding areas.
Read more...
---
Transportation security and efficiency
Dahua Technology South Africa CCTV, Surveillance & Remote Monitoring Products
The city of Jesús María in Argentina has invested in a 114-camera monitoring system from Dahua to help provide safety to residents and to support security and emergency assistance departments in case of emergencies.
Read more...
---