printer friendly version
Urban branches bring the human connection back into the suburbs
Issue 3 2021
News
Advances in technology and evolving crime patterns have changed the face of the security industry, introducing a highly systems-driven approach to provide communities with the necessary support and technology innovation.
In this kind of environment, it is sometimes easy to downplay the human connection, but security is personal and communities are not all the same. Automated services definitely have a place, but research shows that when it comes to complex or sensitive interaction, the majority of people still prefer to talk to a human being and when it comes to their own community safety, they want someone who is locally based.
"In our urban areas specifically, we have also seen the value of hyper-localised solutions that are customised for those specific areas. This approach impacts significantly on agility and improved service delivery," says Wahl Bartmann, CEO of Fidelity Services Group. Bartmann says it has necessitated a rethink of how the Fidelity residential business is structured in the bigger suburbs, which has given rise to the launch of Urban branches in the Gauteng regions specifically.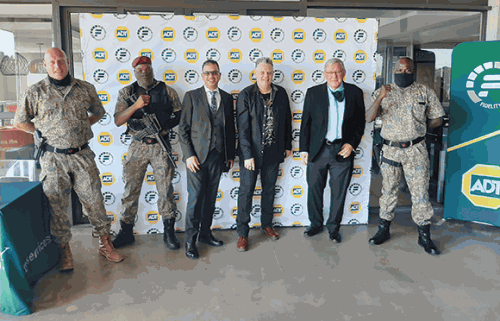 Christo Shepard – team leader Fidelity SIU; Mario Guayo – National Fidelity SIU; Shaun Maharaj – group financial director for Fidelity Services Group; Barney Simon – DJ; Wahl Bartmann – CEO Fidelity Services Group; Cictorino Tjimbundi – Bryanston SIU manager.
"It's the age-old adage, 'the bigger you get the smaller you must become' and that's where the customisation really comes to the fore," he says.
He says a locally-based business centre in these urban footprints is key in ensuring top quality customer service and in delivering a more personalised service. Smaller competitors have got it right in many areas, but they lack the backing and robustness of a larger player. "You have to be able to grow with the area and offer a more mature structure as needs evolve," he explains.
Bartmann says in the new Urban structure there will be a much smaller customer-to-management ratio and each urban branch will be headed up by a branch manager who has full ownership and responsibility for the performance of the branch. All resources in the branch will report directly to the manager, including sales, technical operations, collections and administration.
"This is generally where you can find bottlenecks in a more centralised structure so we are hoping to integrate all these services at branch level," Bartmann says. The branch manager will be supported by community operations managers, who will all be based at the local branch and available to any walk-in customer.
"If any of the team are not available during the time of the walk-in, then an appointment can be made," he says. Solutions will also be tailored to address specific problems in each of these urban areas. "The approach has worked very well in our LSS schemes and even in estates. It helps us align the technology side with sales and operations so everyone has the same objective."
The Urban branches won't have a dedicated monitoring centre. Calls will go through to Fidelity's Auto Dispatch system and be managed accordingly. "With this system, you get emergency assistance at a fraction of the time it takes human-operated radio networks to react. Calls are prioritised by type and customers and vehicles are clustered into segments so the closest vehicle can be dispatched," explains Bartmann.
Depending on the needs of the community, there will be a dedicated customer services centre with a direct telephone number. Where applicable, off-site monitoring of community cameras will be done in the localised customer service centre.
"We are starting off with a total of five branches which will be rolled out by the end of April," he says. Branches in Phase 1 include: Centurion, West Rand, Bryanston, East Rand and Johannesburg South. Phase 2 will be rolled out during the latter part of 2021 and early 2022 and include Pretoria East, Pretoria North, Greenside, Johannesburg North, Garsfontein the far East Rand and Johannesburg Central.
With regard to staffing, Bartmann says the business has been through a rigorous redeployment exercise as well as bringing in new talent with the correct experience. "It is key that we develop the correct culture in each of these branches. The branches need to immerse themselves in the suburbs and really develop an in-depth understanding of the issues so the correct solutions can be introduced and rolled out, either on land via our armed response teams or via our air support crews," he concludes.
Credit(s)
Further reading:
IziCash awarded membership by CIT Association of SA
News
IziCash Solutions, a provider of cash logistics and cash management services to the retail and banking sector, has become a member of CITASA, the Cash-In-Transit Association of South Africa.
Read more...
---
22 TB hard drives from WD
News
Western Digital extends HDD technology and areal density leadership across smart video, network attached storage (NAS) and IT/data centre channel segments.
Read more...
---
From the editor's desk: Maybe I'm too old?
Technews Publishing News
There are many companies these days touting their ability to securely authenticate people via mobile devices (or selfies), claiming that it is secure and easy. Some banks are even allowing people to ...
Read more...
---
ADI Expo Limited Edition 2022
ADI Global Distribution News
ADI South Africa, with its leading suppliers from across the video, intrusion and access control industries, is once again hosting its annual ADI Expo in September.
Read more...
---
Hikvision integration with Page Automation
Hikvision South Africa News
Hikvision has announced the integration of its MinMoe Face Recognition terminals and its Hik-ProConnect online device and service management platform with Page Automation's SmarTTime software.
Read more...
---
ESDA's annual charity fundraiser
ESDA (Electronic Security Distributors Association News Conferences & Events Associations
The ESDA Annual Charity Fundraiser, part of the Electronic Security Distributors Association's Golf Day, will take place at Benoni Lake Golf Course on Wednesday, 21 September 2022.
Read more...
---
Gallagher launches Tech Talk
Gallagher News Access Control & Identity Management Perimeter Security, Alarms & Intruder Detection
Gallagher has announced the launch of its new Security in Focus podcast series called Tech Talk, hosted by chief technology officer Steve Bell.
Read more...
---
IDEMIA and Ideco demonstrate their value stacks
Technews Publishing Ideco Biometrics IDEMIA Conferences & Events Access Control & Identity Management News
Ideco and IDEMIA recently hosted a travelling show where attendees were given an update on the companies, as well as the full value stack they offer.
Read more...
---
Sustainability, trust and predictability
Technews Publishing Bosch Building Technologies Conferences & Events CCTV, Surveillance & Remote Monitoring News Integrated Solutions
The future for Bosch Building Solutions is focused on predictive solutions based on sustainability and trust in an AIoT world of cloud services.
Read more...
---
Networked devices increase cyber risks for building systems
Technews Publishing News
Building managers need an integrated approach with IT professionals and clear lines of responsibility to ensure optimal facilities management and cybersecurity.
Read more...
---