printer friendly version
Controlling pedestrian access
Issue 2 2021
Education (Industry)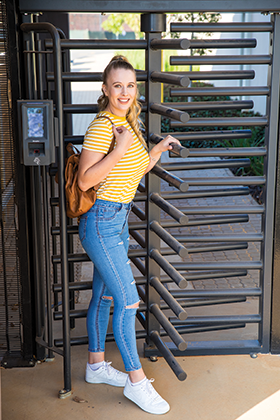 Controlling physical access into tertiary facilities is an ongoing priority. Turnstiles can be used throughout a site to monitor and protect different areas, for example student residences, dining facilities, computer rooms and libraries – wherever there is a need to allow access only to authorised individuals.
"There is a fine balance between ensuring high levels of security, while at the same time not unnecessarily hindering pedestrian traffic flow. This is particularly relevant given the ever-looming presence of protest action at South African universities, where a barrier needs to be created that will curb the influx of protesters while still allowing non-protesting students and educational facility employees through," says Craig Sacks, CEO of Turnstar.
Users of entrance control systems should also have the assurance that a potential intruder will be stopped from entering, without experiencing any frustration that their own free movement is hindered. There has to be little or no delay between an authorised person presenting their credentials at the turnstile and access being granted. The Turnstar Titan industrial turnstiles allow this compromise to be met.
A case in point is the contract recently awarded to Turnstar to upgrade a number of pedestrian entrances at one of South Africa's leading universities. The upgrade included the fitting of over 20 Titan 4 full-height industrial turnstiles. The Titan 4 is geared for secure access and offers long-term reliability, with its 10-year guarantee underlining this fact.
Another regular challenge for South Africans is load shedding. Fortunately, the Titan 4 turnstile can be factory-set for either fail-secure (auto-lock on power failure) or fail-safe (auto-unlock on power failure) operation. The turnstile can also be unlocked by means of the mechanical key override which is supplied standard with the turnstile. A battery backup system is also available on request, which will provide normal operation under conditions of no power. This means that the system will continue to provide uncompromising access control in the event of a power failure.
"In spite of the fact that lockdown restrictions have meant that fewer students are accessing the campus at any one time, controlled access remains top of mind for campus security. The safety and security of students and university staff is a non-negotiable priority, so the Titan 4 turnstiles, in combination with the associated access control software used by the institution, play an important role," says Sacks.
Credit(s)
Further reading:
Securing a luxurious residential estate
Turnstar Systems Residential Estate (Industry) Access Control & Identity Management
Turnstar Systems recently partnered with Balwin Munyaka Residential Estate to secure the entrance to its Crystal Lagoon, ensuring only authorised residents and guests can access the site.
Read more...
---
Capitec installs Speedgate turnstiles
Turnstar Systems Financial (Industry) Access Control & Identity Management Products
Capitec's Head office in Cape Town recently took its security measures to the next level with the installation of three Speedgate secure lanes manufactured and installed by Turnstar Systems.
Read more...
---
Sustainability School opens for enrolment
Education (Industry) News Security Services & Risk Management
Three-part programme, first developed for Schneider Electric employees, is now available for free for companies worldwide. Attendees learn how to future-proof their businesses and accelerate their decarbonisation journeys.
Read more...
---
KWAL raises a glass to security upgrade
Turnstar Systems Access Control & Identity Management Products
The Kenya Wine Agencies Limited (KWAL) was in need of an integrated security upgrade. This is where Turnstar came into the picture to provide a solution that would keep KWAL secure and efficient.
Read more...
---
Impro modernises access control at University of Stellenbosch
Impro Technologies Editor's Choice Access Control & Identity Management Education (Industry) Products
The University of Stellenbosch has been using Impro access control technologies for many years to control access to its various buildings and facilities. It recently decided to upgrade its access technologies and Impro equipment was, again, selected.
Read more...
---
Technology is key to securing physical and cybersecurity
Education (Industry) Security Services & Risk Management
The interpretation of security in educational institutions depends on whom you are talking to and whether their focus is on the physical security of the institution, its assets and its people, or its information and communication technology perspective.
Read more...
---
Heightening physical security at military base
Turnstar Systems Access Control & Identity Management Government and Parastatal (Industry) Products
Turnstar Systems recently installed two 3-metre Velocity Raptor traffic spikes at the South African National Defence Force (SANDF) Randfontein military base on Gauteng's West Rand.
Read more...
---
Turnstar opens an office in the UK
Turnstar Systems News Access Control & Identity Management
Turnstar Systems recently established an office in the Greater Manchester borough in the North East of England, as part of the company's ongoing expansion strategy.
Read more...
---
Secure and private access in the cloud
Secutel Technologies Education (Industry)
Combining the idea of touchless and mobile access control, Secutel Technologies has developed NoKey, a secure keyless access control system using biometrics and BLE technology to ensure the user is present to open the door.
Read more...
---
Fire detection for the smartphone age
Education (Industry)
Fire detection is a crucial aspect of security in educational establishments, but it is only as good as the information it provides; modern connectivity means staff on site can better monitor, maintain and understand their fire detection system.
Read more...
---