printer friendly version
Access control in retail
Issue 1 2021
Retail (Industry)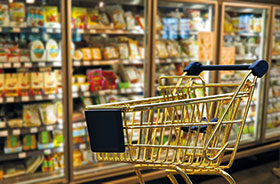 The retail landscape is constantly shifting, and retailers are seeking to both optimise their offering to fit the changing needs of the market, and increase efficiencies in their own operations. The connection of devices and technologies through the Internet of Things (IoT) has brought with it the opportunity to create numerous new functionalities, allowing retailers to apply intelligent technologies to increase the sophistication of processes and address key challenges.
Open IP network access control is one example, and today can mean much more than simply letting people through a door. When network intercoms, cameras and sensors start communicating, and smart analytics are applied, creative solutions can be developed which go beyond the basic functionality of analogue and proprietary systems.
Scalability remains a top priority
One of the challenges faced by retailers is their ability to scale in line with market demand. Being able to quickly increase the size or number of stores provides a competitive advantage, but security solutions must be able to keep pace. With open IP-based access control, scalability and futureproofing is ensured whether there are one or a thousand doors in the system. And adding new network intercoms, other devices or new functionalities is easy should requirements change.
Open common standards and technology platforms are key to making this a reality. Solutions from third-party suppliers can interact to provide solutions which are significantly more than the sum of their parts. These platforms are a giant leap towards making buildings truly smart places, and provide solid foundations for retailers to build on as their needs change.
Managing internal workflows in high-traffic areas
It's not only scalability that presents a challenge for retailers, but the ability to control how different areas are accessed seamlessly and securely within the premises, both in the store itself, stock rooms, and administrative areas. Introducing an IP-based access control system to a proven and agile video platform makes for some interesting use cases in retail. One of them is the possibility to add virtually any type of credential to operate a door or a function.
This concept is already being used in delivery areas, where vehicles are constantly dropping off or collecting goods. Typically, the delivery company registers its vehicle before arriving, and during regular working hours, a gate will open once the licence plate recognition application in the camera identifies the delivery truck.
During the night, an extra layer of security can be added: as soon as the camera recognises the truck, an alarm is triggered to the security centre. An operator then opens the gate remotely after visual verification.
This scenario could be replicated in-store, especially in high-traffic staff areas such as the storeroom. With the help of a QR-code application in a camera, access could be granted to all staff wearing a specific QR-code on their badge or shirt. The benefit here is that staff can easily open doors without contact, for instance when carrying goods between the storeroom and the sales floor. Such touch-free access control also brings benefits in relation to store hygiene and cleanliness.
Supporting security and the customer experience
Automating internal processes also helps ease processes and ensure they are consistent, regardless of the conditions. Activity can become quite hectic inside the store during peak times, which requires staff to focus on delivering high levels of service to customers. As a result, security measures enforced by staff – such as monitoring areas with high-value items – might become secondary. By using the appropriate technology, staff can be better supported when their attention is needed elsewhere.
Combining video, access control and audio with a powerful and easy-to-use action rule engine allows retailers to set up rules and triggers that are normally cumbersome and time consuming to program.
For example, luxury retailers can increase the level of awareness for the staff when opening a drawer of high-value merchandise. Once the drawer is opened, an alert can be shared with employees over the speaker in the staff room. Images from a camera directed towards the drawers can be automatically displayed on the monitor in the back office, allowing staff to remotely monitor activity.
Responding to changing demands around opening hours
Sometimes it is beneficial for retailers to extend their opening hours to accommodate demand. This could be achieved by introducing unmanned opening hours or even a completely unmanned solution. In this case, a unified IP-based system would play an important role.
The store could use a printed QR-code by the entrance that prompts customers to identify themselves with an electronic ID to gain access to the store. Once inside, a targeted marketing message could then be played over the IP audio to further increase the customer experience, together with a welcoming message on in-store monitors.
Should an incident occur, this type of system – where video and access control work seamlessly together – will be invaluable to the investigation. For example, the retailer could search for instances where a cardholder had been denied entry, and not only would they receive a log, but also video material showing the event with a synchronised timestamp. This information removes the need to search and collate different material from two separate databases to create an account of the incident, ultimately saving time and resources.
Intelligent access control is the future of retail
As the retail sector evolves and adapts to changing marketing demand and customer preferences, the desire for integrated, scalable solutions will increase – particularly around access control. Retailers have to be agile and able to respond quickly to optimise their offering for staff and customers alike. Combining video and access control intelligently makes sense, due to the increased functionalities and capabilities it unlocks. In this way, retailers can ensure they are investing in the right technology that will allow them to become and remain competitive.
Credit(s)
Further reading:
Safeguard surveillance devices from cyberattacks
Axis Communications SA Surveillance Information Security
Cybersecurity concerns extend through the organisation and out among its stakeholders and supply chains. It also covers video surveillance, which is critical to any organisation's physical security and asset protection strategy.
Read more...
---
Smart water management
Axis Communications SA Surveillance Integrated Solutions
South Africa is currently facing a water crisis, with scarcity and inefficient water management posing significant challenges to sustainable, consistent access to water. Smart technology and powerful partnerships may offer a proactive solution to SA's water crisis.
Read more...
---
Helping retailers optimise monitoring and security
Guardian Eye Retail (Industry) Surveillance
From a smart retail perspective, it is crucial to understand that monitoring stock and other assets through camera surveillance and a variety of Internet of Things (IoT) sensors stretches further than the stores themselves.
Read more...
---
The right security solution removes the opportunity
Asset Management Retail (Industry)
South African retailers are facing a multitude of challenges, including economic fluctuations, changing consumer behaviour, increased competition, supply chain disruptions, regulatory changes and the need to adapt to digital transformation, not to mention theft.
Read more...
---
AI is getting smarter, and critical infrastructure is set to benefit
Axis Communications SA Surveillance
With technology advancing at an astonishing pace, AI has emerged as a defining trend in today's business arena. Enterprises across all sectors are prioritising this technology, embracing its transformative potential to drive change and growth.
Read more...
---
Modern retail requires modern AI and surveillance
Axis Communications SA Surveillance
Shifting consumer trends and fluctuating business environments demand flexibility, innovation, and an ability to scale operations accordingly; fortunately, advances in new technologies like AI and smart analytics have given way to new tools and resources.
Read more...
---
Improved control with electronic keys
YeboTech Retail (Industry) Access Control & Identity Management Products & Solutions
By adopting an electronic access system, retailers can equip all employees with a Yebotech Key to enhance their ability to assist customers more effectively, leading to increased sales.
Read more...
---
Four intelligent ways to bring shoppers to your mall
Hikvision South Africa Retail (Industry) Surveillance
In this digital age, when footfall is declining and ecommerce is growing, the challenges for shopping malls seem bigger than ever; the fact is, customer experience is critical for retailers to attract more shoppers.
Read more...
---
Retail security and patrol systems
OnGuard Retail (Industry) Security Services & Risk Management Products & Solutions
OnGuard patrol systems provide electronic solutions that help security personnel monitor and manage their patrols within the retail space, typically consisting of handheld devices or mobile applications that allow guards to record their presence at checkpoints.
Read more...
---
Personnel changes at G4S and Deposita
Deposita News & Events Security Services & Risk Management Retail (Industry)
Over the past 36 months, there has been significant volatility across markets and sectors worldwide. In response to these market fluctuations, cash has become an increasingly important payment instrument.
Read more...
---