printer friendly version
3000 doors for Olympic Stadium
Access & Identity Management Handbook 2021
Access Control & Identity Management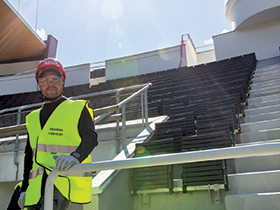 In August 2020, one of Finland's most prestigious buildings came to life as the renewed Helsinki Olympic Stadium reopened its doors to the public. Locking solutions provider Abloy Oy's latest security and access control technology will have a strong presence at the renewed stadium.
The Olympic Stadium has hosted both Finnish and international visitors for over 80 years. For many, the stadium is a place of memories – both big and small – that will not fade even as the years roll by. Now the stadium has been renewed for both future experiences and everyday services.
Since 1938, the Helsinki Olympic Stadium has been and will be Finland's most important event arena, as well as a meeting hub for exercise, sports, entertainment, culture and travel. The stadium not only hosts major events, but is open 360 days a year with something happening every day. These daily recreational activities set requirements on security and access control.
All the different facilities in the stadium will have several uses in the future. On weekdays, citizens and sports clubs can use the facilities for training or as meeting spaces. During events, the facilities have their role in event production.
The logistics of the Olympic Stadium have also been greatly improved as an underground logistics tunnel will be built under the running track. This allows moving around the stadium indoors. The tunnel will also be used as a 400-metre indoor running track. Moreover, the building will have office spaces available for rent.
"Due to the requirements of a multi-purpose stadium, locking and security solutions play an important role. ABLOY solutions will affect the stadium's usability and overall safety significantly," says Ilkka Rautakivi, estate and security manager of the Helsinki Olympic Stadium.
"We estimate that about one million visitors a year will visit the Olympic Stadium. In total, we have about 2500 doors and locking points. They all can be opened with a single key. On top of that, there are about 200 lockers in the changing rooms, which will be equipped with electronic code locks," says Rautakivi.
"The Olympic Stadium is an exceptionally multifaceted building in terms of security solutions. We provided the property with a wider-than-usual range of our solutions. At arenas, it is important to make sure that the emergency exits function perfectly. ABLOY electric locks that secure rapid evacuation can also be found at the Warsaw National Stadium in Poland, which opened in 2012 and accommodates approximately 55 000 people," says Jussi Ahvalo, vice president, International Sales, Abloy Oy.
Secured since 1938
"Abloy and the Olympic Stadium have a long history in common. The building was opened in 1938, and ABLOY locks have ever since secured the premises as well as protected the music and sports enthusiasts visiting. Now the stadium's doors have received the upgrade they deserve, as PROTEC2 CLIQ and ABLOY OS solutions will bring the benefits of electromechanical locking and access control to the stadium," Ahvalo continues.
The Olympic Stadium is part of the vibrant urban environment in Helsinki. The operation of the stadium also has far-reaching economic effects on the whole society.
"After the improvement project, the production impact of the stadium is estimated to be approximately 130 million Euros per year. In addition, the regional economic impact of the events will be approximately 80 million Euros per year. Thanks to the improvements and renovation, it is possible to organise major sports and entertainment events in Finland in the future," says Marju Paju, marketing and communication director of the Helsinki Olympic Stadium.
Credit(s)
Further reading:
Gallagher Security releases Command Centre v9
Gallagher News & Events Access Control & Identity Management Integrated Solutions
Richer features, greater integrations, with the release of Gallagher Security's Command Centre v9 security site management software designed to integrate seamlessly with various systems and hardware.
Read more...
---
Paxton's Net2 secures medicinal cannabis facility
Paxton Access Control & Identity Management Healthcare (Industry) Videos
Paxton's Net2 access control has been installed at Highlands Grow, a fully licensed industrial-scale cultivator, producing cannabis for medicinal and recreational use.
Read more...
---
Lock down your access control with Alcatraz AI
C3 Shared Services Healthcare (Industry) Access Control & Identity Management AI & Data Analytics
Alcatraz AI, represented in South Africa by C3 Shared Services, changes access control by harnessing the power of artificial intelligence and analytics at the edge, where facial recognition becomes the essential credential autonomously.
Read more...
---
Effective access control
Flow Systems Access Control & Identity Management Products & Solutions
Flow Systems has introduced its new Extra Heavy Duty Industrial Rising Vehicle Barrier, which provides a high level of protection. It is a traditional-looking control barrier with the benefits of high-level physical protection.
Read more...
---
Newport Aquarium replaces traditional locks and keys
Paxton Access Control & Identity Management Entertainment and Hospitality (Industry)
Newport Aquarium wanted to replace its old security system with an easy-to-use and high-security access control solution to keep the animals, visitors, and staff safe. The solution was Net2, a PC-based access control system that offers centralised administration.
Read more...
---
Securing easy access
Suprema neaMetrics Access Control & Identity Management
Securing access to hospitals and healthcare institutions presents a unique set of challenges, because these facilities operate 24/7, have highly 'open' access in public areas and require a strict level of security.
Read more...
---
Reliable mass notification
Access Control & Identity Management
The use of voice alarm and voice evacuation systems within the healthcare industry ensures a safer and more reassuring environment in the event of an emergency.
Read more...
---
Protecting our most vulnerable
Access Control & Identity Management
In a nation grappling with the distressing rise in child kidnappings, the need for innovative solutions to protect our infants has never been more critical. South Africa finds itself in the throes of a child abduction pandemic.
Read more...
---
New generation of cyber-focused controllers
Gallagher News & Events Access Control & Identity Management Products & Solutions
The C7000 gives users an opportunity to leverage their hardware and firmware to build a platform designed to catapult their organisation into the future, with cybersecurity baked in from inception.
Read more...
---
New T&A terminal features revolutionary AI technology
Suprema News & Events Access Control & Identity Management AI & Data Analytics
Suprema has launched BioStation 2a, the world's first deep learning-based fingerprint recognition solution, providing powerful access control features and an improved ability to extract templates from low-quality fingerprints.
Read more...
---