printer friendly version
Wireless access at The Leonardo
Access & Identity Management Handbook 2021
Editor's Choice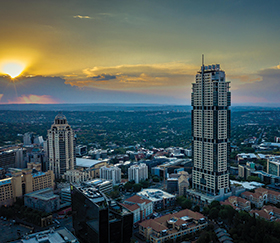 The Leonardo is a mixed-use development located in the heart of Sandton City. It offers luxury accommodation, commercial, retail, restaurants and conferencing facilities. The perfect lifestyle location to wine, dine, work and then relax at the spa.
As a new building, The Leonardo was able to ensure it selected the best products to match the exclusivity and luxury of the development, ensuring it stands out even in the upmarket surrounding area. Since the developer, the Legacy Group, has a number of other properties aimed at the luxury market, the organisation knew what was required to meet the aesthetic standards as well as to ensure a reliable, functional and secure solution.
All the departments within The Leonardo needed a secure and easy-to-operate people management solution that would allow them to carry on with their daily tasks while the system managed the access control to the building. Moreover, the solution needed to be online to enable real-time monitoring as well as remote control.
Johan Troskie, development manager for special projects at the Legacy Group, noted, "We needed an online solution that is mobile driven and requires minimal maintenance."
Selecting Salto
"The Legacy Group was looking for a smart solution that could integrate with the mixture of access points located throughout the building," explained Wouter Du Toit, regional director for Africa at Salto Systems. "It also needed to be aesthetically pleasing and future proof, with the ability to integrate into third-party solutions and be mobile compatible.
"Of course, it also needed to be maintenance cost effective and not carry high yearly overheads and licence fees."
The company suggested a mixture of solutions and a final decision was made to base it on the Pro Access Space platform, which was integrated into the Bosch BVMS. The integration of the two systems was driven by MNS Consulting Engineers and was developed by Pentagon Distribution.
A number of companies tendered for the project, but Salto could check all the boxes and was awarded the project. An existing Salto partner, Zentech, won the tender for the fire and CCTV installation, and was then also awarded the access control portion. Zentech is an experienced system installer with a number of large Salto projects under its belt.
"Ensuring close collaboration with all parties involved creates a foundation for success on such large projects," added Du Toit.
The Leonardo's requirements
In summing up the requirements The Leonardo had at the start of the project, Du Toit highlights the following:
• Reduction in cabling to each access point and a reduction in the number of network points and power points.
• Offline access control while building was still being completed.
• Parking control integrated with a ticket system.
• Lift control to the various sections of the building.
• Lift lobby control to segment sections of the building and allow access only to authorised users.
• Emergency exit control and wireless monitoring of these doors.
• Emergency staircase control to block unauthorised use of staircases.
• Staff, owners, tenants, visitors, and contractor control.
• Full audit trail on each user's movement and system changes.
• Integration capabilities to third-party devices and services.
• Future integration to a hospitality PMS solution.
• Able to work on virtually any access point.
The Salto Pro-Access Space software was deployed. It is a solution that can cater for 4 million users and 64 000 access points in its base version. It runs on an SQL platform and is browser-based to reduce software maintenance.
A BLUEnet wireless network was deployed with Salto's wireless gateways and nodes. AElement Fusion was chosen for residential and office doors because of its minimalistic presence and aesthetic integration to the door, XS4 One hardware was used with the fire escape doors, and XS4 Mini hardware used for all riser access controls. For the cabled solutions, lifts, parking and lobby doors, Salto XS4 IP, auxiliary and relay extension controllers were used with the mullion version of the XS4 wall readers.
It was key to use a hybrid system and reduce the overall cabling and infrastructure needed. By not cabling to every door, the cost of the overall project was significantly reduced, and the access control systems also looked good.
The entire solution is managed from the security control centre with all events reported back live.
An uneventful project
Zentech's Stephan van der Merwe noted, "Overall it was an uneventful project, there were challenges, but everyone worked together to ensure any challenges could be overcome. We have worked with Salto on a number of projects and it is a pleasure installing their solutions, and they have a great tech support team to assist when needed.
"Zentech delivered a secure mobile access control solution that is used in all the access control hardware, making the solution touchless throughout the building. Access can be granted on the fly and it is just as easy to revoke without compromising on the security of the solution. It is easy to manage and deploy with little maintenance required."
Van Der Merwe added: "Zentech found the solution really easy to deploy compared with conventional cabled solutions and the fact that you can mix and match the hardware to suit the access point's requirements made it a sound and cost effective solution. Salto also brings a form of aesthetics to the project that is not seen with conventional wired systems and it is a stable and durable product and a solution that we can easily endorse."
Credit(s)
Further reading:
The human factor side of video management systems
Leaderware Editor's Choice Surveillance Risk Management & Resilience
A video management system (VMS) is central to, and the most vital element to any control room operation using CCTV as part of its service delivery, however, all too often, it is seen as a technical solution rather than an operational solution.
Read more...
---
Get the basics right to win more business
ServCraft Editor's Choice Risk Management & Resilience
The barriers to entry in security are not high. More people are adding CCTV and fencing to their repertoire every year. Cowboys will not last long in a space where customers trust you with their safety.
Read more...
---
All aspects of data protection
Technews Publishing Editor's Choice Information Security Infrastructure AI & Data Analytics
SMART Security Solutions spoke to Kate Mollett, Senior Director, Commvault Africa, about the company and its evolution from a backup specialist to a full data protection specialist, as well as the latest announcements from the company.
Read more...
---
Global strength, local craft
Impro Technologies Editor's Choice
Impro Technologies is a resounding success story. Started in South Africa, the company remains true to its roots and still designs and manufactures its access control systems and solutions in the country.
Read more...
---
South Africans play a role in becoming scam victims
Editor's Choice Risk Management & Resilience
The South African fraud landscape is becoming increasingly risky as fraudsters and scammers look to target individuals with highly sophisticated scams, in an environment where it is becoming increasingly difficult for lawmakers and authorities to bring these criminals to justice.
Read more...
---
Service orientation and attention to detail
Technews Publishing Editor's Choice Risk Management & Resilience
Lianne Mc Hendry evolved from working for an accounting firm to an accomplished all-rounder familiar with the manufacturing, distribution, and system integration aspects of the security industry value chain.
Read more...
---
Are you leaving money on the table?
Editor's Choice Security Services & Risk Management
How many customers have you helped since starting your business? Where does most of your new business come from? If the answer is not from your database's existing customers, you might have a problem.
Read more...
---
Wireless fire tech offers unexpected benefits for load shedding
Technoswitch Fire Detection & Suppression Editor's Choice
For the long-suffering residents of South Africa, the policy of load shedding to help manage demand from the country's ageing and poorly maintained electrical generation and distribution system, is a major inconvenience, and it can be fatal to fire alarm systems.
Read more...
---
Consolidated cybersecurity management
Technews Publishing Editor's Choice Information Security Infrastructure
SMART Security Solutions spoke to Gareth Redelinghuys, Country Managing Director, African Cluster at Trend Micro, to find out what makes Trend stand out from the crowd and also its latest market offerings.
Read more...
---
ADI to close SA operation
ADI Global Distribution Editor's Choice
In a move that will shock the local security industry, ADI Global recently sent an email to its customers notifying them that it will cease its business operations in South Africa.
Read more...
---