printer friendly version
Advances in UV technology for biometric disinfection
Access & Identity Management Handbook 2021
Editor's Choice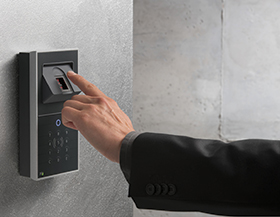 Ideco Biometrics has a new solution for disinfecting biometric sensors by using ultraviolet technologies to destroy most known viruses and bacteria. The company has introduced Steri-C, an ultraviolet disinfection device to ensure the safe use of touch-based fingerprint readers.
Steri-C is easily mountable on existing fingerprint readers and has no adverse impact on the normal operations or accuracy of the fingerprint reader. It offers fast and effective UV irradiation for optimal destruction of all known microorganisms, including the SARS-CoV-2 virus responsible for COVID-19.
Hi-Tech Security Solutions asked Ideco's CEO, Marius Coetzee, how the solution is applied to existing equipment. Coetzee replied that depending on the type of fingerprint reader, the device can either be fixed directly to the reader or attached using a custom-made bracket. "When installing the unit, it is however important to position the UV-C light centre to the surface area of the fingerprint sensor, not more than 25 mm away from the sensor to ensure sufficient UVC irradiation of the sensor."
The device itself is 4,6 mm thick, which ensures it takes as little space as possible and can be used on almost any biometric reader. More specifically, Coetzee explains it will work on any fingerprint reader with a surface area not more than 24 mm x 24 mm. However, he advises that the device is not IP rated and should not be used in direct sunlight or rain.
Backed by research
The use of UV-C (200-225 nm) as a disinfectant is supported by decades of scientific research and has been used for disinfection with applications in water treatment, air systems and surfaces. UV light is able to achieve thorough disinfection far quicker than the other traditional methods; it is highly effective in destroying viruses, bacteria and fungal spores.
Steri-C is based on Ultraviolet Germicidal Irradiation (UVGI) recommendations for medical sanitisation practice according to the International Ultraviolet Association (IUVA) and the FDA. The specific UV-C used by Steri-C was proven effective against the coronavirus by Boston University's National Emerging Infectious Diseases Laboratories.
When viruses are exposed to UV-C, its effects on the molecular structures destroy the structural bonds in the DNA, with a resultant rendering of the virus harmless and stopping its spread.
Coetzee adds that the unit is configured to supply 1,8 seconds of irradiation after every use, which delivers a sufficient dose to ensure the safe use of the fingerprint reader, if installed correctly.
Netcare also recently introduced the Xenex Pulsed Xenon UV disinfection robot, a germ-zapping robot to take the war on 'superbugs' to a new level. The robot emits UV-C spectrum light, which destroys the DNA of bacteria, viruses and fungi to neutralise them and prevent them from replicating.
Fast and effective
Coetzee says Steri-C is ideal to make biometric readers COVID-19 safe and maintain normal biometric operations during high-risk periods. "It is the perfect solution for improving hygiene and to limit contamination. Steri-C has been designed for fast and effective operations, ready to be integrated into your existing fingerprint readers."
The device can be retrofitted to most fingerprint readers available on the market. Disinfection is triggered immediately after every use of the reader. It boasts built-in intelligence to automatically detect when the biometric terminal has been used.
"Steri-C can be pre-installed as a standard feature on biometric terminals purchased from Ideco," he concludes.
Credit(s)
Further reading:
From the editor's desk: A sad but exciting goodbye
Technews Publishing News & Events
      Welcome to the final monthly issue of SMART Security Solutions. This is the last issue of the year and the last monthly issue we will print. We are witnessing digitisation across all industries, and ...
Read more...
---
The human factor side of video management systems
Leaderware Editor's Choice Surveillance Risk Management & Resilience
A video management system (VMS) is central to, and the most vital element to any control room operation using CCTV as part of its service delivery, however, all too often, it is seen as a technical solution rather than an operational solution.
Read more...
---
Get the basics right to win more business
ServCraft Editor's Choice Risk Management & Resilience
The barriers to entry in security are not high. More people are adding CCTV and fencing to their repertoire every year. Cowboys will not last long in a space where customers trust you with their safety.
Read more...
---
All aspects of data protection
Technews Publishing Editor's Choice Information Security Infrastructure AI & Data Analytics
SMART Security Solutions spoke to Kate Mollett, Senior Director, Commvault Africa, about the company and its evolution from a backup specialist to a full data protection specialist, as well as the latest announcements from the company.
Read more...
---
Global strength, local craft
Impro Technologies Editor's Choice
Impro Technologies is a resounding success story. Started in South Africa, the company remains true to its roots and still designs and manufactures its access control systems and solutions in the country.
Read more...
---
Identity verification and management trends
Technews Publishing Information Security
Insights into what we can expect from identity fraudsters and the industry next year, ranging from criminal exploitation of AI and digital IDs to multi-layer fraud protection and the need for more control over personal information sharing.
Read more...
---
South Africans play a role in becoming scam victims
Editor's Choice Risk Management & Resilience
The South African fraud landscape is becoming increasingly risky as fraudsters and scammers look to target individuals with highly sophisticated scams, in an environment where it is becoming increasingly difficult for lawmakers and authorities to bring these criminals to justice.
Read more...
---
Service orientation and attention to detail
Technews Publishing Editor's Choice Risk Management & Resilience
Lianne Mc Hendry evolved from working for an accounting firm to an accomplished all-rounder familiar with the manufacturing, distribution, and system integration aspects of the security industry value chain.
Read more...
---
Are you leaving money on the table?
Editor's Choice Security Services & Risk Management
How many customers have you helped since starting your business? Where does most of your new business come from? If the answer is not from your database's existing customers, you might have a problem.
Read more...
---
Wireless fire tech offers unexpected benefits for load shedding
Technoswitch Fire Detection & Suppression Editor's Choice
For the long-suffering residents of South Africa, the policy of load shedding to help manage demand from the country's ageing and poorly maintained electrical generation and distribution system, is a major inconvenience, and it can be fatal to fire alarm systems.
Read more...
---