printer friendly version
AI surveillance protects valuable stock
Issue 8 2020 CCTV, Surveillance & Remote Monitoring, Retail (Industry)
Criminal offences such as vandalism and theft are common threats faced by retail businesses of all sizes. For stores selling luxury and high-end commodities, owners often need to invest additional manpower and resources to protect their properties. Despite their efforts, preventing crimes and incidents from happening using traditional security measures has proven to be increasingly difficult, especially at night and during non-business hours.
This was the problem faced by the Hyundai 4S store in Somerset West, Cape Town, South Africa. To effectively deal with the situation, the store decided to deploy the advanced AI-enabled WizMind surveillance solution from Dahua Technology in partnership with its distribution partner, TopCCTV Security & Surveillance.
The primary challenge faced was to secure vehicle inventory without creating physical obstructions on Hyundai's outdoor showroom floor.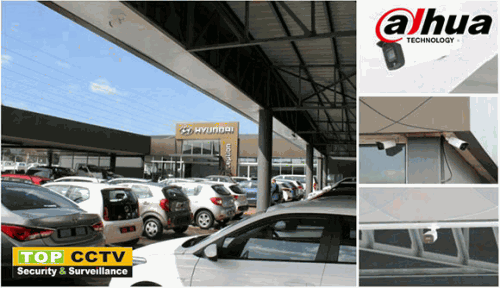 AI solution to the rescue
Featuring perimeter protection and active deterrence enabled by the latest AI technology, a Dahua 5 MP WDR IR Bullet WizMind network camera was selected to safeguard the outdoor showroom of the Hyundai 4S store. Other camera models were also installed for general monitoring of the whole store area.
Based on deep learning algorithms, Dahua's perimeter protection technology can recognise humans and vehicles accurately. By setting intelligent rules that trigger alarms based on human detection, this intelligent device will focus on humans only and identify whether outsiders are trying to enter restricted areas. Combined with active deterrence, once the tripwire is triggered by someone approaching the area, the built-in white light and siren will both turn on to warn off the intruder.
At the same time, a pop-up notification will appear on the screen of the control room to alert the security personnel on duty. With the DMSS mobile app, the real-time alert notification will also send an alert to the user's mobile phone. In addition, this solution also allows simultaneous communication with the perpetrator on site through a horn speaker connected to the NVR's audio output. The siren can also be customised using voice or pre-programmed audio files.
Moreover, video storage is handled by an NVR4216-I, which is capable of high-definition surveillance recording and playback. All of the on-site devices were connected to the Dahua DSS7016 management platform, allowing remote monitoring based on alarm events. The end user can also use the mobile app to connect to the monitoring centre at any time for real-time status updates of the location, even during non-business hours.
Effective results
Compared to traditional security devices that can only provide users with recorded videos as evidence after an incident, the Dahua WizMind surveillance solution offers a modern way to effectively prevent incidents from happening. A virtual wall was also created to help the store deter suspicious individuals through active deterrence; allowing users to intervene using two-way talk and respond in time. Powered by deep learning algorithms, the system accurately filters out false alarms that may disturb users, thereby significantly improving the overall security level of the entire store.
As a result, criminal offences such as vandalism and theft were reduced. The solution also reduced loitering around the store and enhanced the safety of both staff and customers during operating hours. Additionally, its high-definition video playback and storage capabilities offer strong evidence in case of disputes, enabling effective resolution of issues related to buyers and employees.
Credit(s)
Further reading:
Turkish university installs IDIS surveillance
CCTV, Surveillance & Remote Monitoring Products
IDIS video streamlines complex surveillance systems for learning institution, upgrading a 350-camera system with 24/7 control room monitoring to transform security for Social Sciences University of Ankara (ASBU).
Read more...
---
Brighter, greener, and smarter
Dahua Technology South Africa Products CCTV, Surveillance & Remote Monitoring
Dahua Technology released its new Dahua CH II Series Indoor Fine Pixel Pitch LED display, providing visual clarity and promoting energy efficiency and sustainability.
Read more...
---
Smart water management
Axis Communications SA CCTV, Surveillance & Remote Monitoring Integrated Solutions
South Africa is currently facing a water crisis, with scarcity and inefficient water management posing significant challenges to sustainable, consistent access to water. Smart technology and powerful partnerships may offer a proactive solution to SA's water crisis.
Read more...
---
Helping retailers optimise monitoring and security
Guardian Eye Retail (Industry) CCTV, Surveillance & Remote Monitoring
From a smart retail perspective, it is crucial to understand that monitoring stock and other assets through camera surveillance and a variety of Internet of Things (IoT) sensors stretches further than the stores themselves.
Read more...
---
The right security solution removes the opportunity
Asset Management, EAS, RFID Retail (Industry)
South African retailers are facing a multitude of challenges, including economic fluctuations, changing consumer behaviour, increased competition, supply chain disruptions, regulatory changes and the need to adapt to digital transformation, not to mention theft.
Read more...
---
Empowering Istanbul's public transportation
Dahua Technology South Africa CCTV, Surveillance & Remote Monitoring Integrated Solutions
Dahua's intelligent transportation solution, using technologies like DSM and AI-based passenger flow counting, has facilitated an intelligent system upgrade for nearly 6 400 minibuses and electric buses in Istanbul.
Read more...
---
Smart manufacturing redefined
Hikvision South Africa CCTV, Surveillance & Remote Monitoring Industrial (Industry)
AI and intuitive visualisation technology allows managers to monitor manufacturing sites, production, and operational processes, and to respond in real time in the event of an issue – helping to drive efficiency and productivity.
Read more...
---
AI is getting smarter, and critical infrastructure is set to benefit
Axis Communications SA CCTV, Surveillance & Remote Monitoring
With technology advancing at an astonishing pace, AI has emerged as a defining trend in today's business arena. Enterprises across all sectors are prioritising this technology, embracing its transformative potential to drive change and growth.
Read more...
---
Collaboration delivers integrated and holistic security
Guardian Eye CCTV, Surveillance & Remote Monitoring News Integrated Solutions
Guardian Eye and Lytehouse have partnered to integrate their speciality solutions and provide a holistic security offering that overcomes the fragmentation of security systems and services.
Read more...
---
Manage security systems remotely
Hikvision South Africa CCTV, Surveillance & Remote Monitoring IT infrastructure Products
Hikvision launched a new generation of smart managed switches that, in conjunction with the Hik-Partner Pro mobile app, enable installers to remotely deploy and configure security systems with comprehensive operation and maintenance capabilities.
Read more...
---