printer friendly version
AI surveillance protects valuable stock
Issue 8 2020 CCTV, Surveillance & Remote Monitoring, Retail (Industry)
Criminal offences such as vandalism and theft are common threats faced by retail businesses of all sizes. For stores selling luxury and high-end commodities, owners often need to invest additional manpower and resources to protect their properties. Despite their efforts, preventing crimes and incidents from happening using traditional security measures has proven to be increasingly difficult, especially at night and during non-business hours.
This was the problem faced by the Hyundai 4S store in Somerset West, Cape Town, South Africa. To effectively deal with the situation, the store decided to deploy the advanced AI-enabled WizMind surveillance solution from Dahua Technology in partnership with its distribution partner, TopCCTV Security & Surveillance.
The primary challenge faced was to secure vehicle inventory without creating physical obstructions on Hyundai's outdoor showroom floor.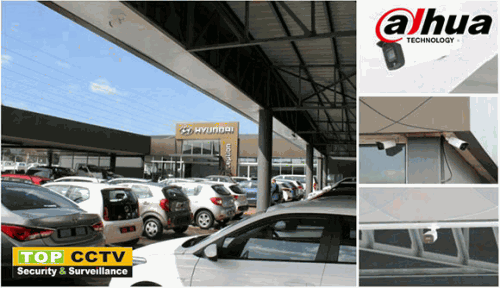 AI solution to the rescue
Featuring perimeter protection and active deterrence enabled by the latest AI technology, a Dahua 5 MP WDR IR Bullet WizMind network camera was selected to safeguard the outdoor showroom of the Hyundai 4S store. Other camera models were also installed for general monitoring of the whole store area.
Based on deep learning algorithms, Dahua's perimeter protection technology can recognise humans and vehicles accurately. By setting intelligent rules that trigger alarms based on human detection, this intelligent device will focus on humans only and identify whether outsiders are trying to enter restricted areas. Combined with active deterrence, once the tripwire is triggered by someone approaching the area, the built-in white light and siren will both turn on to warn off the intruder.
At the same time, a pop-up notification will appear on the screen of the control room to alert the security personnel on duty. With the DMSS mobile app, the real-time alert notification will also send an alert to the user's mobile phone. In addition, this solution also allows simultaneous communication with the perpetrator on site through a horn speaker connected to the NVR's audio output. The siren can also be customised using voice or pre-programmed audio files.
Moreover, video storage is handled by an NVR4216-I, which is capable of high-definition surveillance recording and playback. All of the on-site devices were connected to the Dahua DSS7016 management platform, allowing remote monitoring based on alarm events. The end user can also use the mobile app to connect to the monitoring centre at any time for real-time status updates of the location, even during non-business hours.
Effective results
Compared to traditional security devices that can only provide users with recorded videos as evidence after an incident, the Dahua WizMind surveillance solution offers a modern way to effectively prevent incidents from happening. A virtual wall was also created to help the store deter suspicious individuals through active deterrence; allowing users to intervene using two-way talk and respond in time. Powered by deep learning algorithms, the system accurately filters out false alarms that may disturb users, thereby significantly improving the overall security level of the entire store.
As a result, criminal offences such as vandalism and theft were reduced. The solution also reduced loitering around the store and enhanced the safety of both staff and customers during operating hours. Additionally, its high-definition video playback and storage capabilities offer strong evidence in case of disputes, enabling effective resolution of issues related to buyers and employees.
Credit(s)
Further reading:
Video technology can improve crowd management
CCTV, Surveillance & Remote Monitoring Entertainment and Hospitality (Industry) Products
Stadium operators can use video technology to implement effective crowd management in different areas, avoiding fines, reputational damage and injury or loss of life.
Read more...
---
Security BIS named AxxonSoft's Distributor of the Year 2021
News CCTV, Surveillance & Remote Monitoring
With its focus on AxxonSoft solutions and technical support, Security BIS secured the title of AxxonSoft Distributor of the Year again for 2021.
Read more...
---
Penguins enhance fan experience with smart camera applications
CCTV, Surveillance & Remote Monitoring Entertainment and Hospitality (Industry)
The Pittsburgh Penguins are implementing Azena's application platform for smart cameras in their home arena to provide analytics for heatmapping, queue detection and POS data integration to maximise the gameday experience for fans and stadium management
Read more...
---
Passion, drive and hard work
Technews Publishing Editor's Choice CCTV, Surveillance & Remote Monitoring Security Services & Risk Management
Colleen Glaeser is a leader in the security market, having made her mark in the male-dominated security industry through determination and hard work, along with a vision of making the world a safer place.
Read more...
---
New full-colour Smart Dual Illuminators camera series
Dahua Technology South Africa Products CCTV, Surveillance & Remote Monitoring
Using deep learning to accurately detect targets, the cameras can intelligently switch between the IR mode when there is no target, and full-colour mode when a target is detected.
Read more...
---
2022 trends in video surveillance
Eagle Eye Networks Editor's Choice CCTV, Surveillance & Remote Monitoring Integrated Solutions
Eagle Eye Networks predicts what will impact the video surveillance industry in the coming year and how to seize opportunities and forge a path to success, even amid ongoing uncertainties.
Read more...
---
Dahua launches thermal monocular camera series
Dahua Technology South Africa CCTV, Surveillance & Remote Monitoring
Dahua has launched its Thermal Monocular Camera Series, the M Series, for outdoor scenarios, sporting a 12 µm Vox sensor that offers a maximum resolution of 640 x 512.
Read more...
---
Solar-powered cameras keep construction site safe
Hikvision South Africa CCTV, Surveillance & Remote Monitoring
In the midst of a rise in building material thefts, construction company DECHO used Hikvision's solar-powered wireless cameras to guard the construction site for its much-anticipated Coast Garden project.
Read more...
---
The impact of AI-enhanced video analytics on control room personnel
Leaderware Editor's Choice CCTV, Surveillance & Remote Monitoring
What impact do AI-capable detection systems have on control room staff, and do they mean a change in the demands on operators and the type of people you have in the control room?
Read more...
---
Integrated technology ecosystem for safe hospitals
Avigilon CCTV, Surveillance & Remote Monitoring
SSM Health chooses Motorola Solutions Safe Hospitals' integrated technology ecosystem, an end-to-end security ecosystem that unifies voice, video, data and analytics on one single platform.
Read more...
---