printer friendly version
AX PRO wireless alarm solutions
Issue 8 2020 Perimeter Security, Alarms & Intruder Detection, Products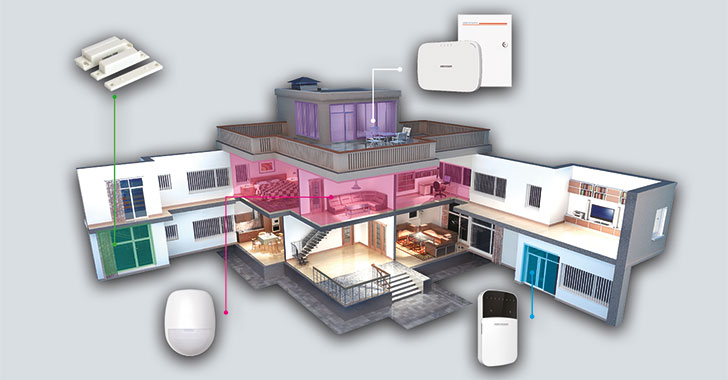 Hikvision announced its new generation of wireless alarm systems – the AX PRO – delivering alarm solutions for both residential and commercial applications.
The newly launched AX PRO product family includes a compact panel hub for a wide range of detectors and peripherals, covering intrusion detection, video verification, smoke detection, flood detection and home automation. Developed with both the installer and user in mind, the system can be configured according to a variety of needs. Installation complexity is minimal so the end user can easily manage the system with its intuitive user interface.
AX PRO panel hub
The AX PRO hub itself supports several protocols for wireless integration, welcoming the connection of up to 210 peripherals. The panel has been designed with dual RF (radio frequency) chips, featuring Tri-X and CAM-X wireless technologies, to block interference across channels and enable high-speed and reliable transmission of alarm messages simultaneously.
Alongside the panel, Hikvision has developed an extensive range of detectors and sensors to tailor the system to different installation needs, such as a combined PIR-Glass Break detector, safety detectors, door contacts, smoke sensor, water-leak detector, etc.
Also available is a wireless passive infrared PIRCAM detector, which detects infrared signals over a 12-metre range and collects snapshots of any moving object. With the PIRCAM, users can view those snapshots of detected activity to verify alarm notifications, receiving alerts even before intruders realise they have been recorded on video. The PIRCAM is also equipped with LED illumination for high-quality imaging in the dark.
Built with practicality in mind, Hikvision has created a wide range of peripherals to maximise user safety and assist their day-to-day activities. Such devices include static and portable panic button options to keep occupants safe, while the wireless LED keypad or ergonomic keychain fob provide multiple control options to suit the user's preferences.
Intruder verification-as-a-service
If customers choose, the AX PRO hub panel can be linked to their IP cameras over the cloud or a sub-stream to initiate Intruder Verification-as-a-Service (IVaaS). This service provides live video verification or 7 seconds of video recording for users to quickly confirm alarm events on the system.
Users will take charge and stay connected using the AX PRO since it is fully compatible with Hikvision's proprietary Hik-Connect app. The app provides voice and video clip notifications for users, and allows them to remotely control and monitor their alarm systems. The AX PRO also supports the Hik-ProConnect app, which can provide full configuration assistance for installers and enable them to offer cloud-based security solutions and services with customers' authorisation.
Credit(s)
Further reading:
Turkish university installs IDIS surveillance
CCTV, Surveillance & Remote Monitoring Products
IDIS video streamlines complex surveillance systems for learning institution, upgrading a 350-camera system with 24/7 control room monitoring to transform security for Social Sciences University of Ankara (ASBU).
Read more...
---
Smart manufacturing redefined
Hikvision South Africa CCTV, Surveillance & Remote Monitoring Industrial (Industry)
AI and intuitive visualisation technology allows managers to monitor manufacturing sites, production, and operational processes, and to respond in real time in the event of an issue – helping to drive efficiency and productivity.
Read more...
---
Long-distance connectivity with Simplex ES Net Life Safety
Johnson Controls Global Products Fire & Safety Products
ES Net Network Bridge allows fire alarm system data to be transmitted across distant buildings via a customer's existing network infrastructure, improving system-wide monitoring and control in facilities and campuses where life safety networks are often widely dispersed.
Read more...
---
Visitor management via QR code
ATG Digital Access Control & Identity Management Products
ATG Digital has launched its QR Code Reader to enhance access control's security and efficiency. The new QR Code Reader enables seamless, contactless access control, creating an efficient user journey.
Read more...
---
District secures activity centre
Paxton Access Control & Identity Management Products
Paxton's Net2 access control solution is a user-friendly and flexible networked access control system, which made installing and managing access control security at an activity centre straightforward.
Read more...
---
Manage security systems remotely
Hikvision South Africa CCTV, Surveillance & Remote Monitoring IT infrastructure Products
Hikvision launched a new generation of smart managed switches that, in conjunction with the Hik-Partner Pro mobile app, enable installers to remotely deploy and configure security systems with comprehensive operation and maintenance capabilities.
Read more...
---
From overwhelm to oversight
Editor's Choice Cyber Security Products
Security automation is vital in today's world, and Microsoft Sentinel is a widely adopted, but complex answer. ContraForce is an easy-to-use add-on that automatically processes, verifies and warns of threats round-the-clock.
Read more...
---
Synology enhances functions for advanced surveillance integration
Technews Publishing CCTV, Surveillance & Remote Monitoring IT infrastructure Products
With the capability to function as both an API client and server, Surveillance Station offers a versatile platform for integration, whether it's embedding video streams into other platforms or overlaying external data onto recorded video.
Read more...
---
Simplify adoption of Generative AI
News IT infrastructure Products
Nutanix simplifies adoption of Generative AI with Nutanix GPT-in-a-Box, an AI infrastructure solution that accelerates customers' path to GPT and LLMs while keeping organisations in control of their data.
Read more...
---
June Coetzer joins Olarm as Partner Manager
News Perimeter Security, Alarms & Intruder Detection
Armed with a solid background in sales and business development, June Coetzer recently joined Olarm as an additional Partner Manager covering Gauteng and the surrounding areas.
Read more...
---