printer friendly version
Seamless whole-home Wi-Fi coverage
Issue 7 2020
Smart Home Automation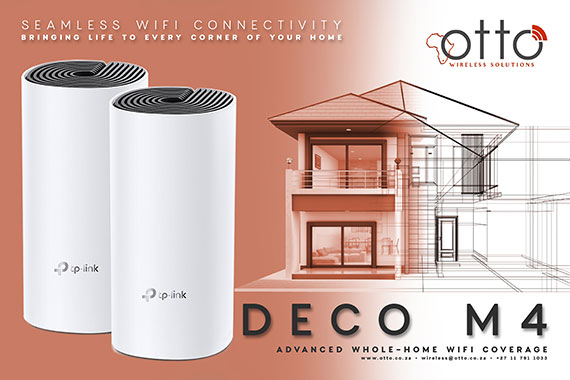 TP-Link's Deco M4 is the simplest way to guarantee a strong Wi-Fi signal in every corner of your home up to 370 square metres (for a 3-pack). Wireless connections and optional Ethernet backhaul work together to link Deco units, providing even faster network speeds and truly seamless coverage. Want more coverage? Simply add another Deco.
TP-Link Mesh means Deco units work together to form one unified network. Your phone or tablet automatically connects to the fastest Deco as you move through your home, creating a truly seamless Wi-Fi experience. Deco M4 provides fast and stable connections with speeds of up to 1167 Mbps and works with major Internet service providers (ISP) and modems.
The system can handle traffic from even the busiest of networks, providing lag-free connections for up to 100 devices. Parental controls limit online time and block inappropriate websites according to unique profiles created for each family member. Setup is easy with the Deco app to walk you through every step.
Credit(s)
Further reading:
Connected-home predictions for 2021
Issue 9 2020
The global smart home market is forecast to grow to $53,45 billion in size by 2022. Veego Software offers five predictions for smart home automation in 2021.
Read more...
---
Protecting you and your home with IoT
25 November 2020 , Smart Home Automation, Smart Home Automation
IoT technology gives people the power to keep a watchful eye on what is important to them, whether they are 200 metres or 200 kilometres away.
Read more...
---
Is working from home the silver bullet you think it is?
Issue 8 2020 , Smart Home Automation
One of its biggest impacts on society and business is WFH, an acronym that came out of nowhere to become a household word.
Read more...
---
Multi-tenant access control
Issue 5 2020, Suprema , Smart Home Automation
Suprema controls access to mixed-use development that is an icon of sustainable environmental growth.
Read more...
---
Collaborative security in communities
Issue 5 2020
Want to change the dialogue around security in South Africa? Work together. Communities can fundamentally change the face of crime.
Read more...
---
Technology and new systems
Issue 3 2020, Fidelity ADT , Smart Home Automation
The SA crime profile, along with its unique socio-economic landscape, means that South Africa's security industry is one of the oldest bespoke private security industries in the world.
Read more...
---
Huawei includes Namola safety app
Issue 1 2020
Huawei has partnered with South Africa's personal safety app, Namola, to ensure that more South Africans have access to the service.
Read more...
---
Do you have the smarts?
November 2019
Melissa Davidson from lighting retailer The Lighting Warehouse offers an overview on their latest smart LED ceiling light, which also acts as a Bluetooth speaker.
Read more...
---
The top five holiday scams
November 2019
The holiday season is a sea of shopping, laughter, gifts and entertainment. It is also a swamp of security risks and hacks and fraudsters, lurking on the edges of the festive fun.
Read more...
---
Be awake to the deepfake
November 2019
SA's Wireless Application Service Providers' Association is advising smartphone users alarmed by the 'deepfake' phenomenon that the expected promulgation of South Africa's Cybercrimes and Cyberbullying Bill is imminent.
Read more...
---