printer friendly version
Seamless whole-home Wi-Fi coverage
Issue 7 2020
Smart Home Automation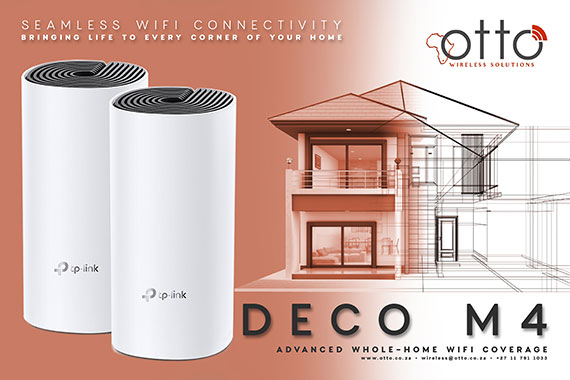 TP-Link's Deco M4 is the simplest way to guarantee a strong Wi-Fi signal in every corner of your home up to 370 square metres (for a 3-pack). Wireless connections and optional Ethernet backhaul work together to link Deco units, providing even faster network speeds and truly seamless coverage. Want more coverage? Simply add another Deco.
TP-Link Mesh means Deco units work together to form one unified network. Your phone or tablet automatically connects to the fastest Deco as you move through your home, creating a truly seamless Wi-Fi experience. Deco M4 provides fast and stable connections with speeds of up to 1167 Mbps and works with major Internet service providers (ISP) and modems.
The system can handle traffic from even the busiest of networks, providing lag-free connections for up to 100 devices. Parental controls limit online time and block inappropriate websites according to unique profiles created for each family member. Setup is easy with the Deco app to walk you through every step.
Further reading:
IoT users' cybersecurity outlook
Smart Home Automation
A new global survey conducted by Kaspersky 'The smart home of almost everything: From the fridge to TV, how we'll embrace the year of the virtual assistant in 2023', explores the key digital habits, obstacles and smart home device usage.
Read more...
---
Intelligent security for high-end complex
Dahua Technology South Africa Smart Home Automation
Residents can enjoy a smart and convenient living experience brought by advanced AI technology, make video conversations with guests, call security personnel for help, or manage all smart home control systems remotely.
Read more...
---
Batteries creating false alarms due to load shedding
Uniross Batteries Smart Home Automation Products
A local security company has solved the problem of receiving false alarms during loadshedding by replacing its customers' 12 V lead batteries with lithium batteries.
Read more...
---
Smart home security
Olarm Smart Home Automation Perimeter Security, Alarms & Intruder Detection Products
The applied use of smart technology within the Olarm ecosystem, through smart features coupled with existing systems, extends the benefits of technology into different spheres.
Read more...
---
All-in-one smart access solution for residential living
Salto Systems Africa Smart Home Automation
SALTO Homelok is set to change residential living with its all-in-one solution that integrates smart access control technology, hardware, cloud software, digital keys, a smart living ecosystem, and global service support.
Read more...
---
Cut the home access fuss with Fluss
Smart Home Automation
The Fluss app integrates with a small device connected to your home or business electrical system that turns your smartphone into a key to open any gate, garage, or door.
Read more...
---
Keeping your home surveillance private
Smart Home Automation
Camect autodetects home surveillance cameras and offers advanced AI and 1 TB of storage in a single box while also ensuring online access and full privacy for its users.
Read more...
---
The smart home according to Astrel
Black Point Tech cc t/a BPT Smart Home Automation
Riccardo Battaini from BPT SA addresses the advantages of living in a connected home, highlighting the capabilities of the Astrel brand.
Read more...
---
Load shedding and home security systems
Smart Home Automation Residential Estate (Industry)
Preventive maintenance action today can help ensure that your security system still operates the way it should tomorrow when Eskom once again turns off the power.
Read more...
---
Seeking alternative power sources
Smart Home Automation Residential Estate (Industry)
Gregor Kuepper highlights some solutions that can keep the lights on and machines running during load shedding and other long power outages.
Read more...
---