printer friendly version
Automation solution has wildlife lodge's guests in the lap of luxury
Issue 7 2020
Smart Home Automation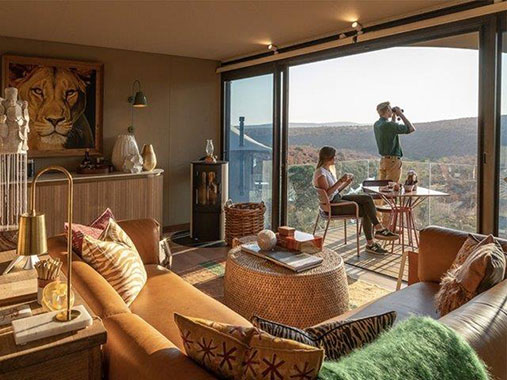 A smart Hager KNX home automation system has been supplied by ElectroMechanica (EM) to its channel partner Integrated Home & Office for the Noka Camp luxury cliff-top lodge in the Lapalala Game Reserve. Completed at the end of last year by Lepogo Lodges, the developer is currently busy with a Phase 2 expansion of the project.
The high-end system contributes to guests' overall comfort and control of their villas and reduces the lodge's operating costs by improving the site's energy efficiency, explains Ryan Whitelaw, product manager for building automation.
Integrated Home & Office installed and programmed the system, which uses the KNX bus system from Hager to control everything from underfloor heating to blinds, air-conditioning, lighting, motorised doors and mosquito netting. Presence detectors on the walkways control the solar-powered lighting for increased energy efficiency.
The Hager KNX system is a highly adaptable solution that is ideal for large-scale residential and commercial projects requiring a wide range of functionalities. Developed for complex and demanding installations, the range of KNX devices offers advanced configuration possibilities in the ETS software.
Hager is a founding member of the KNX open standard, and has been designing robust and reliable KNX devices for over 30 years. Hager's open electrical infrastructure solution provides for a state-of-the-art building automation architecture. It enables digital smart service integration and is open and ready for use by third parties. This not only increases user comfort and satisfaction, it also allows facility managers to optimise the building management.
Berker B.IQ control keypads from Hager were fitted in each villa for centralised control of individual functions. In addition, orion plus distribution boards were also installed in each villa to house the KNX equipment and Hager switchgear.
Featuring sheet steel or glass-reinforced polyester, the orion plus enclosures are suited for the harshest conditions and can be applied for wet and mechanical use. There is an option for a mounting plate or DIN rail, dependent on the automation application and current distribution.
Credit(s)
Further reading:
IoT users' cybersecurity outlook
Smart Home Automation
A new global survey conducted by Kaspersky 'The smart home of almost everything: From the fridge to TV, how we'll embrace the year of the virtual assistant in 2023', explores the key digital habits, obstacles and smart home device usage.
Read more...
---
Intelligent security for high-end complex
Dahua Technology South Africa Smart Home Automation
Residents can enjoy a smart and convenient living experience brought by advanced AI technology, make video conversations with guests, call security personnel for help, or manage all smart home control systems remotely.
Read more...
---
Batteries creating false alarms due to load shedding
Uniross Batteries Smart Home Automation Products
A local security company has solved the problem of receiving false alarms during loadshedding by replacing its customers' 12 V lead batteries with lithium batteries.
Read more...
---
Smart home security
Olarm Smart Home Automation Perimeter Security, Alarms & Intruder Detection Products
The applied use of smart technology within the Olarm ecosystem, through smart features coupled with existing systems, extends the benefits of technology into different spheres.
Read more...
---
All-in-one smart access solution for residential living
Salto Systems Africa Smart Home Automation
SALTO Homelok is set to change residential living with its all-in-one solution that integrates smart access control technology, hardware, cloud software, digital keys, a smart living ecosystem, and global service support.
Read more...
---
Cut the home access fuss with Fluss
Smart Home Automation
The Fluss app integrates with a small device connected to your home or business electrical system that turns your smartphone into a key to open any gate, garage, or door.
Read more...
---
Keeping your home surveillance private
Smart Home Automation
Camect autodetects home surveillance cameras and offers advanced AI and 1 TB of storage in a single box while also ensuring online access and full privacy for its users.
Read more...
---
The smart home according to Astrel
Black Point Tech cc t/a BPT Smart Home Automation
Riccardo Battaini from BPT SA addresses the advantages of living in a connected home, highlighting the capabilities of the Astrel brand.
Read more...
---
Load shedding and home security systems
Smart Home Automation Residential Estate (Industry)
Preventive maintenance action today can help ensure that your security system still operates the way it should tomorrow when Eskom once again turns off the power.
Read more...
---
Seeking alternative power sources
Smart Home Automation Residential Estate (Industry)
Gregor Kuepper highlights some solutions that can keep the lights on and machines running during load shedding and other long power outages.
Read more...
---