printer friendly version
Creston Mercury provides a complete conference room solution
Issue 7 2020
Smart Home Automation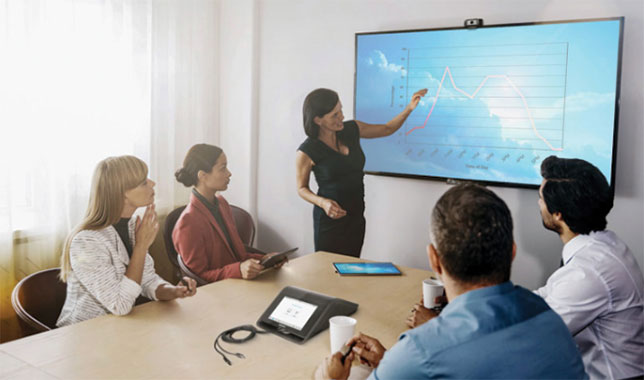 Crestron Mercury is a console-based terminal device engineered to create remote conferencing and collaboration facilities for enterprise and small business applications, and is particularly applicable during our current work-from-home era. It is available in multiple forms, including models for 'Open UC' audio or video conferencing applications, as well as models dedicated for use with the Microsoft Teams IC platform as part of a complete Crestron Flex kit solution. In any huddle space, meeting room, or executive office, Crestron Mercury delivers a distinctively simple and consistent user experience in all the places people work and meet.
Built on the IoT cloud based XiO Cloud platform, the system empowers IT administrators and AV integrators to deploy, manage, monitor, and evolve thousands of networked UC devices – simply, quickly, and securely – all from a single dashboard. By standardising, any organisation can realise a more productive and stress-free workplace through greater acceptance and utilisation of UC technology that's truly easy to use.
The Crestron Mercury Tabletop UC Audio Conference System (CCS-UC-1 W/PS) provides a complete audio conference room solution for open-platform UC applications. In one table-top console device, it comprises a high-performance, full-duplex conferencing speakerphone and touchscreen controller that works natively with any SIP VoIP phone system, Skype for Business VoIP application, or Zoom Rooms conferencing system. It also works with any audio conferencing or softphone application running on a laptop connected via USB, and pairs with any mobile phone via Bluetooth. Integrated room scheduling capabilities and corporate directory access provide knowledge workers with the tools they need to work smart and efficiently.
Mercury transforms any meeting room, huddle space, or executive office into a highly effective collaboration space, enabling people to communicate and work together irrespective of location. Intuitive operation and exceptional full-duplex wideband audio afford a gratifying and productive meeting experience for all participants. The system is secure, easy to deploy and easy to manage with extensive features and capabilities engineered to maximise the value of any investment through increased efficiency and productivity.
Crestron Mercury enables people to work together, regardless of location or web collaboration application:
• Collaborate – use any soft phone, web conferencing, or UC application to collaborate right from your laptop.
• Present – the built-in Crestron AirMedia gateway enables secure, wireless presentation on the room display.
• Call – leverage the precision engineered speaker and microphones to enjoy phone calls that sound like everyone is in the same room. Use the Bluetooth audio to pair with mobile phones, or the built-in full open SIP conference phone to make calls.
• Deploy, monitor, manage and learn: with the Crestron XiO Cloud IoT-based service, users can simultaneously configure and deploy an unlimited number of Crestron Mercury consoles, dramatically reducing installation time. Resolve events remotely to prevent lost work time and gather actionable usage data, all with no programming required.
Further reading:
Changing the battery game
Smart Home Automation
Load-shedding damages gate motor and alarm system batteries but lithium iron phosphate batteries are poised to change the game.
Read more...
---
Make any household device more intelligent
Vox Smart Home Automation Integrated Solutions
Sixth Sense, an Internet-of-Things (IoT) product powered by Vox, has launched a range of low-powered sensors that deliver a variety of practical use cases for the average South African household.
Read more...
---
Security and your smart home
Technews Publishing Vox Olarm Johnson Controls Global Products Smart Home Automation
How can home security be integrated into an automated solution and what additional services, features and functionality can be added to create an integrated smart home.
Read more...
---
How smart are smart homes really
J2 Software Smart Home Automation
Cybercriminals are always on the prowl to access smart devices like wireless security cameras, smart TVs, baby cameras, smart speakers, smartphones or tablets.
Read more...
---
Tips on how to beat load-shedding
Smart Home Automation
You may be wondering how to prepare your house or your business for load-shedding. This guide provides ideas for you to consider, some of which are easy and affordable.
Read more...
---
Make any household device more intelligent with Vox IoT
Vox Smart Home Automation
Sixth Sense, an Internet-of-Things (IoT) product powered by Vox, has launched a range of low-powered sensors that deliver a variety of practical use cases for the average South African household.
Read more...
---
Protect connected devices at home
Kaspersky Smart Home Automation
Kaspersky has announced the release of a new solution to help telecom operators respond to growing consumer demand for the protection of smart home devices.
Read more...
---
How IoT is enabling the rise of smarter homes
Vox Smart Home Automation Integrated Solutions
At its most basic level, an IoT solution comprises three main components: sensors, a data transmission network and a platform to analyse and view the information.
Read more...
---
Enabling smart living
Dahua Technology South Africa Smart Home Automation Integrated Solutions
The Dahua Intelligent Residential Solution (DIRS) aims to achieve smart security, smart living and smart property management by using a combination of cutting-edge technologies.
Read more...
---
Safety, comfort and convenience in the connected home
Legrand Southern Africa Smart Home Automation
As part of Legrand's ELIOT programme, the company offers home automation solutions that encompass advanced technology and modern aesthetics, to meet all control requirements for the connected home.
Read more...
---