printer friendly version
Creston Mercury provides a complete conference room solution
Issue 7 2020
Smart Home Automation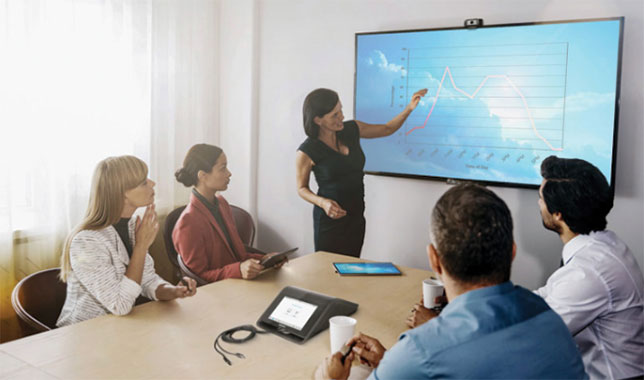 Crestron Mercury is a console-based terminal device engineered to create remote conferencing and collaboration facilities for enterprise and small business applications, and is particularly applicable during our current work-from-home era. It is available in multiple forms, including models for 'Open UC' audio or video conferencing applications, as well as models dedicated for use with the Microsoft Teams IC platform as part of a complete Crestron Flex kit solution. In any huddle space, meeting room, or executive office, Crestron Mercury delivers a distinctively simple and consistent user experience in all the places people work and meet.
Built on the IoT cloud based XiO Cloud platform, the system empowers IT administrators and AV integrators to deploy, manage, monitor, and evolve thousands of networked UC devices – simply, quickly, and securely – all from a single dashboard. By standardising, any organisation can realise a more productive and stress-free workplace through greater acceptance and utilisation of UC technology that's truly easy to use.
The Crestron Mercury Tabletop UC Audio Conference System (CCS-UC-1 W/PS) provides a complete audio conference room solution for open-platform UC applications. In one table-top console device, it comprises a high-performance, full-duplex conferencing speakerphone and touchscreen controller that works natively with any SIP VoIP phone system, Skype for Business VoIP application, or Zoom Rooms conferencing system. It also works with any audio conferencing or softphone application running on a laptop connected via USB, and pairs with any mobile phone via Bluetooth. Integrated room scheduling capabilities and corporate directory access provide knowledge workers with the tools they need to work smart and efficiently.
Mercury transforms any meeting room, huddle space, or executive office into a highly effective collaboration space, enabling people to communicate and work together irrespective of location. Intuitive operation and exceptional full-duplex wideband audio afford a gratifying and productive meeting experience for all participants. The system is secure, easy to deploy and easy to manage with extensive features and capabilities engineered to maximise the value of any investment through increased efficiency and productivity.
Crestron Mercury enables people to work together, regardless of location or web collaboration application:
• Collaborate – use any soft phone, web conferencing, or UC application to collaborate right from your laptop.
• Present – the built-in Crestron AirMedia gateway enables secure, wireless presentation on the room display.
• Call – leverage the precision engineered speaker and microphones to enjoy phone calls that sound like everyone is in the same room. Use the Bluetooth audio to pair with mobile phones, or the built-in full open SIP conference phone to make calls.
• Deploy, monitor, manage and learn: with the Crestron XiO Cloud IoT-based service, users can simultaneously configure and deploy an unlimited number of Crestron Mercury consoles, dramatically reducing installation time. Resolve events remotely to prevent lost work time and gather actionable usage data, all with no programming required.
Further reading:
IoT users' cybersecurity outlook
Smart Home Automation
A new global survey conducted by Kaspersky 'The smart home of almost everything: From the fridge to TV, how we'll embrace the year of the virtual assistant in 2023', explores the key digital habits, obstacles and smart home device usage.
Read more...
---
Intelligent security for high-end complex
Dahua Technology South Africa Smart Home Automation
Residents can enjoy a smart and convenient living experience brought by advanced AI technology, make video conversations with guests, call security personnel for help, or manage all smart home control systems remotely.
Read more...
---
Batteries creating false alarms due to load shedding
Uniross Batteries Smart Home Automation Products
A local security company has solved the problem of receiving false alarms during loadshedding by replacing its customers' 12 V lead batteries with lithium batteries.
Read more...
---
Smart home security
Olarm Smart Home Automation Perimeter Security, Alarms & Intruder Detection Products
The applied use of smart technology within the Olarm ecosystem, through smart features coupled with existing systems, extends the benefits of technology into different spheres.
Read more...
---
All-in-one smart access solution for residential living
Salto Systems Africa Smart Home Automation
SALTO Homelok is set to change residential living with its all-in-one solution that integrates smart access control technology, hardware, cloud software, digital keys, a smart living ecosystem, and global service support.
Read more...
---
Cut the home access fuss with Fluss
Smart Home Automation
The Fluss app integrates with a small device connected to your home or business electrical system that turns your smartphone into a key to open any gate, garage, or door.
Read more...
---
Keeping your home surveillance private
Smart Home Automation
Camect autodetects home surveillance cameras and offers advanced AI and 1 TB of storage in a single box while also ensuring online access and full privacy for its users.
Read more...
---
The smart home according to Astrel
Black Point Tech cc t/a BPT Smart Home Automation
Riccardo Battaini from BPT SA addresses the advantages of living in a connected home, highlighting the capabilities of the Astrel brand.
Read more...
---
Load shedding and home security systems
Smart Home Automation Residential Estate (Industry)
Preventive maintenance action today can help ensure that your security system still operates the way it should tomorrow when Eskom once again turns off the power.
Read more...
---
Seeking alternative power sources
Smart Home Automation Residential Estate (Industry)
Gregor Kuepper highlights some solutions that can keep the lights on and machines running during load shedding and other long power outages.
Read more...
---