printer friendly version
The impact of AI on surveillance
CCTV Handbook 2020
Editor's Choice
Artificial intelligence (AI), deep learning (DL) and machine learning (ML) are popular buzzwords in the security industry (and everywhere else too) that have us expecting real-life science fiction from our hardware and software. But how amazing is the real impact of these technologies on the surveillance market?
One of the primary environments where AI is being seen to make a big impact is in the video analytics (VA) market. AI, if the vendors are to be believed, has made VA far more powerful and accurate in its abilities, leading to fewer false alarms, more accurate recognition of objects, faces and more.
To find out just what is happening in the world of AI, Hi-Tech Security Solutions asked a number of people in the industry who are in the trenches, so to speak, how they view the impact of AI and what they expect to see in future.

Marcel Bruyns.
In a nutshell, Jet Zhu, technical manager for Dahua in Africa says, "To cope with ever escalating complexity of security challenges involving huge flows of people and vehicles, we need something like the fabled omniscient guard, which fortunately has materialised now thanks to deep-learning AI."
When it comes to the impact AI is having right now, in terms of actually making a difference, Gus Brecher, MD of Cathexis Africa says, "AI is having a marked effect in the security world. With the availability of neural networks and more, and more processing power available, more advanced features are becoming available. Face recognition, ANPR and object classification are all being used successfully in many deployments.
"These are being used to create real-time alerts as well as for forensic analysis of recorded video. When used prudently in selected applications and on selected cameras they can add real value."
Cathexis has been working closely with hardware manufacturers to make the best use of GPU (graphic processing unit) availability to enable it to deploy its neural network AI solutions. "We find we get the best 'bang-for-buck' when combining our traditional analytics with AI. For example, we can detect an object entering an area, or crossing a line using our traditional analytics (which uses minimal processing power) and when the event occurs, we then use the AI to determine what that object is."
This ensures that every motion detected is checked, but only raises an alarm if it is a person or vehicle. This methodology helps to keep processing requirements to a minimum while still using the power of AI to enable technology to make the right decisions.
Constant progress
For all the attention and discussion, you could be forgiven for thinking that AI is fundamentally changing every industry and sector, adds Marcel Bruyns, sales manager, Africa at Axis Communications. "Though for the more cynical (and with reference to the Gartner Hype Cycle) you may feel that a lack of demonstrable applications of AI (and the associated machine learning and deep learning) points to either a peak of inflated expectations or even the trough of disillusionment.
"In reality, of course, progress differs from industry to industry and from application to application. In some fields – notably healthcare and specifically cancer detection – AI is already having a significant positive impact. In other areas, progress is steadier. Video surveillance is one of them."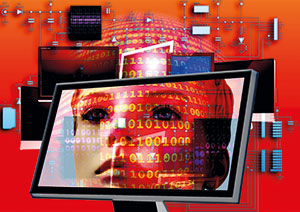 In our industry today, he says machine or deep learning is mostly used for video analytics, but the technology will be an important component in many different applications and products in the future. Over time, it will become a common tool for software engineers and will be included in many different environments and devices. Nevertheless, again, its application will be driven by the most compelling use cases, not by the technology itself.
"There is a temptation in the surveillance and security sector to over-promise in relation to new technologies," Bruyns adds. "This has been true of AI in video analytics and, particularly, in some of the claims made around the current application of deep learning. With AI and deep learning, as with any new technology, we're committed to making sure its implementation is robust, reliable and addresses real customer challenges."
For those uncertain of what deep learning is, Bruyns explains: Deep learning consists of two different phases: the training phase and the execution phase. The former requires a lot of processing power, data and time, so most likely will be run on a server and/or in the cloud, while additional training (fine-tuning) could be done at the edge. The execution phase – that which requires 'trained' data to work – can be done at any level within the system, purely dependent on how much processing power is required and how time-critical the application is.
"Research and progress will continue, steadily, and bring incremental improvements and benefits over the next year rather than radical change."
Axis has already released an AI-enabled camera, the AXIS Q1615-LE Mk III, aimed at city surveillance, transportation and industrial applications. Bruyns says this outdoor-ready camera combines exceptional image quality with powerful processing capabilities thanks to a deep learning processing unit (DLPU). The camera includes advanced security functionality to prevent unauthorised access and to safeguard the system.
Supporting the growth of edge processing, the camera includes the proprietary Axis ARTPEC chip and the aforementioned DLPU. This dual chipset allows analytics to run directly on the edge, resulting in a faster and more scalable system and facilitating complex and powerful analytics. Edge-based automatic incident detection, counting and anomaly detection are a few of the available options.
From seeing to recognising
Looking at what Dahua is doing in the AI space, Zhu says the company's WizMind solutions are already using AI to take its capabilities to the next level. Of the solutions available, AI WizMind provides human-oriented solutions, including face recognition, privacy protection, human video metadata, people counting, stereo analysis, etc. It also boasts multiple vehicle-based AI solutions, such as ANPR and vehicle metadata, illegal parking functionality that provides more attributes of vehicles for easy control, quick search and business analysis. Dahua is also using AI to enhance thermal surveillance, both in terms of distance as well as the COVID-19 screening one goes through when entering a building.
If one asks Alex Penhaligon, project sales manager for Hikvision SA, he says physical security is one of the industries where artificial intelligence technology has been best implemented. "The outstanding performance of deep-learning-based AI technology in image perception and image recognition has effectively promoted the implementation of a large number of applications in the security field.
"The popularisation of security cameras brings huge data storage and data processing challenges to the traditional security industry. Retrieving and monitoring massive volumes of videos manually consumes a lot of manpower and lacks accuracy. The application of AI technology can greatly improve the efficiency of video data processing and retrieval. With the combination of big data and AI technology, security systems are transforming from passive to more proactive solutions and video technology for security is evolving from seeing things to recognising and analysing things."
In the coming years, Penhaligon continues, AI with 'general intelligence' capabilities, that can be widely applied, highly integrated and flexibly adapted in various scenarios, will be the direction of AI development in the security market. In that case, the developed AI algorithm can be applicable in different scenarios for multiple purposes, which will make AI technology more universal and popular in the market.
This has encouraged Hikvision to "keep a very open approach and share our thinking in our AI technology development process with our partners. That is also the reason why we have created the Hikvision AI Open Platform. The platform provides open AI algorithm training capabilities and tools for users to easily create intelligences for their own needs."
What can we expect?
The current state of AI in the surveillance market is still in the starting blocks. Although there are already many advances and improvements in performance that can be ascribed to AI, most of the systems in use are what Penhaligon describes as 'specialised intelligence'. In other words, algorithms are being developed and deployed for specific applications. The future will see more AI systems that will decide what algorithm is best used in different scenarios and adapt as required.
Brecher believes the future will see most deployments of AI technology happening on-site in either edge or server-based applications. In the longer term, we may start to see some cloud-based analytics. "I don't see every camera running AI as this is computationally expensive, so select cameras for select locations are probably where we will be for the short to medium term."
From the Axis perspective, Bruyns expects some of the applications of AI within network video security cameras will include:
• A combination between edge analytics or server-based analytics.
• These AI programs (on camera or server) can be used for simple or advanced purposes that include:
o Recognition of vehicles, objects or humans.
o Trespassing within a predefined area, parking lot, perimeter fence or restricted areas.
o These analytics are intelligent enough to enable alerts when breaches or programmed rules are broken. An example is that a trespasser could enter a predefined area and raise an alarm that could be viewed by the system operators and raise the need for action.
And while Brecher says AI is already helping to reduce false alarms significantly, Zhu adds that a major benefit of the technology will be effectively changing the security function from providing post-incident evidence to warning operators through accurate prediction before events. In other words, the perimeter protection system only sends an alarm when unwanted movements triggered by humans or vehicles occur, saving users from unnecessary actions caused by false alarms.
While those people who get excited by new technology have good reason to be excited by what's coming down the line, it is also worth noting that AI is simply another tool in the arsenal of vendors. AI will not (yet) develop a strategy or product roadmap for companies or customers looking to protect their business, estate or home. Rather, it will provide ways to add value and deliver a better service, enhancing the capacity of service delivery in the safety and security arena. But this is how it has always been in security. You are not safer because you have installed a few cameras, you are safer because the cameras installed have been placed in the correct position and selected because they provide the type of service you require and are integrated into an effective management platform and operate according to a carefully designed security strategy.
For more information contact:
Axis Communications, +27 11 548 6780, terri.miller@axis.com, www.axis.com
Cathexis Africa, +27 31 240 0800, info@cathexisvideo.com, www.cathexisvideo.com
Credit(s)
Further reading:
From the editor's desk: A sad but exciting goodbye
Technews Publishing News & Events
      Welcome to the final monthly issue of SMART Security Solutions. This is the last issue of the year and the last monthly issue we will print. We are witnessing digitisation across all industries, and ...
Read more...
---
Hik-Connect for Teams released
Hikvision South Africa Products & Solutions Surveillance
Hikvision has released an update for its security management platform; Hik-Connect for Teams not only meets the specific needs of individual users, but also caters to various medium-sized businesses (SMBs) and multi-site management scenarios.
Read more...
---
The human factor side of video management systems
Leaderware Editor's Choice Surveillance Risk Management & Resilience
A video management system (VMS) is central to, and the most vital element to any control room operation using CCTV as part of its service delivery, however, all too often, it is seen as a technical solution rather than an operational solution.
Read more...
---
Get the basics right to win more business
ServCraft Editor's Choice Risk Management & Resilience
The barriers to entry in security are not high. More people are adding CCTV and fencing to their repertoire every year. Cowboys will not last long in a space where customers trust you with their safety.
Read more...
---
All aspects of data protection
Technews Publishing Editor's Choice Information Security Infrastructure AI & Data Analytics
SMART Security Solutions spoke to Kate Mollett, Senior Director, Commvault Africa, about the company and its evolution from a backup specialist to a full data protection specialist, as well as the latest announcements from the company.
Read more...
---
Global strength, local craft
Impro Technologies Editor's Choice
Impro Technologies is a resounding success story. Started in South Africa, the company remains true to its roots and still designs and manufactures its access control systems and solutions in the country.
Read more...
---
Edge could help transform South Africa's healthcare
Axis Communications SA Infrastructure
Edge computing has emerged as a game-changing technology for many industries, and the healthcare sector is no exception. In particular, South Africa's healthcare industry could significantly benefit from the potential of this technology.
Read more...
---
Optimise operations in healthcare
Cathexis Technologies Integrated Solutions
Hospitals can see thousands of people gathering daily to provide medical care, seek help, visit loved ones, or undertake essential support or administrative work. Protecting everyone is critical to maintaining a safe environment.
Read more...
---
Identity verification and management trends
Technews Publishing Information Security
Insights into what we can expect from identity fraudsters and the industry next year, ranging from criminal exploitation of AI and digital IDs to multi-layer fraud protection and the need for more control over personal information sharing.
Read more...
---
Safer roads to a sustainable future
Dahua Technology South Africa Surveillance
With the ever-increasing number of vehicles on the road, it is imperative to constantly improve the quality of transportation monitoring and traffic management in urban and rural areas.
Read more...
---