printer friendly version
Take security to the next level
1 September 2020 Smart Home Automation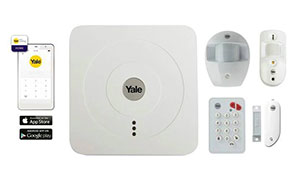 The Yale Smart Home Alarm System takes security to the next level by putting home owners firmly in control. Users can arm, disarm, configure and control their system from their smartphone or tablet using the Yale Smart Living Home app. Yale's Smart Home Alarm sends email alerts, push notifications or even a text when an alarm is triggered for an instant update, making it easy to reap the full benefit of a smart security system.
The kit includes:
• 1x Smart Hub with built-in 94db siren.
• 1x PIR Motion Detector.
• 1x PIR Image Camera.
• 2x Door/Window Contact.
• 1x Keypad.
Kits can be extended to include additional accessories, such as a power switch to turn home appliances on or off remotely, a PIR Image Camera to view images of the inside of your home, or you could even add a Yale Smart Lock to gain remote access to your property.
Pricing and purchase options at https://tinyurl.com/y53pxqkm
Credit(s)
Further reading:
Connected-home predictions for 2021
Issue 9 2020
The global smart home market is forecast to grow to $53,45 billion in size by 2022. Veego Software offers five predictions for smart home automation in 2021.
Read more...
---
Smart home alarm
Issue 9 2020, Yale Security (SA) , Products
The Yale Smart Home Alarm gives you peace of mind that your home is secure and protected.
Read more...
---
Protecting you and your home with IoT
25 November 2020 , Smart Home Automation, Smart Home Automation
IoT technology gives people the power to keep a watchful eye on what is important to them, whether they are 200 metres or 200 kilometres away.
Read more...
---
Is working from home the silver bullet you think it is?
Issue 8 2020 , Smart Home Automation
One of its biggest impacts on society and business is WFH, an acronym that came out of nowhere to become a household word.
Read more...
---
Multi-tenant access control
Issue 5 2020, Suprema , Smart Home Automation
Suprema controls access to mixed-use development that is an icon of sustainable environmental growth.
Read more...
---
Collaborative security in communities
Issue 5 2020
Want to change the dialogue around security in South Africa? Work together. Communities can fundamentally change the face of crime.
Read more...
---
Technology and new systems
Issue 3 2020, Fidelity ADT , Smart Home Automation
The SA crime profile, along with its unique socio-economic landscape, means that South Africa's security industry is one of the oldest bespoke private security industries in the world.
Read more...
---
Huawei includes Namola safety app
Issue 1 2020
Huawei has partnered with South Africa's personal safety app, Namola, to ensure that more South Africans have access to the service.
Read more...
---
Do you have the smarts?
November 2019
Melissa Davidson from lighting retailer The Lighting Warehouse offers an overview on their latest smart LED ceiling light, which also acts as a Bluetooth speaker.
Read more...
---
The top five holiday scams
November 2019
The holiday season is a sea of shopping, laughter, gifts and entertainment. It is also a swamp of security risks and hacks and fraudsters, lurking on the edges of the festive fun.
Read more...
---