printer friendly version
Securing transportation with technology
Issue 7 2020
Transport (Industry)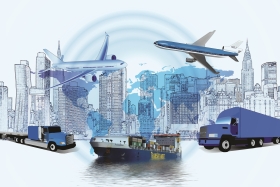 The transport market, unsurprisingly, has also suffered as a result of lockdown regulations and the pre- and post-COVID economic decline in South Africa.
When looking at the technology used to secure goods and people in transit, not only can systems be used for a wider variety of purposes than ever, but we find ourselves in a world where technology can do so much more, and the ability to collect and analyse this data to improve the running of a business is better than ever.
Hi-Tech Security Solutions asked Gary Wels, MD of iCAM Video Telematics for some insight into the market at the moment and what end-user companies are doing to secure their operations – an important question in the rising crime wave we are experiencing.
Wels says the market is definitely changing and tracking and telematics is fast evolving into an integrated IoT solutions and services market. "Some customers are still limiting themselves to tracking platforms, but the amount of information we can collect from the full telematics solution we provide can be analysed to deliver so much more." He adds that more companies are adopting technology and are willing to spend on solutions with the understanding that the results will save expenses in other areas of the business.
"With its business intelligence platform, iCAM is able to extract relevant information that makes the management of fleets simpler and allows clients to manage by exception. In other words, the technology handles enormous amounts of data and only alerts clients when there is an issue that needs attention. All this data can also be used to create in-depth reports that allow management to streamline operations going forward."
Driver assistance
Wells notes that driver monitoring and assistance, known as Advanced Driver-Assistance Systems (ADAS), have also advanced to be almost indispensable additions to transportation companies. Having created solutions that can manage a range of variables, from speed management through to bad driving and so forth, the industry is now focused on getting driver behaviour under control.
ADAS systems can use video cameras in the cab to warn when drivers are falling asleep – a worst case scenario – to when they are losing focus and looking around, or when they are using their cell phones. Allowing unauthorised people into the cab can also be monitored. When the system detects something is wrong, it warns the driver and records the issue in the control room.
The cloud delivers benefits
At the same time, Wels notes that he sees a shift in fleet management to cloud-based systems. This reduces the requirement for in-house technology and the associated skills and maintenance, but still provides the client with relevant feedback in terms of useful information they can use.
He again says that there is a mass of data that can be collected from telematics and other solutions for the transport market, but collecting and analysing this data is a mammoth task. Outsourcing this task to a service provider via cloud services means the client reduces its data processing overhead, but receives relevant information in real-time for immediate action, as well as reports that assist with improving operations and limiting costs.
iCAM Video Telematics focuses on supplying, installing, maintaining and monitoring a variety of systems and services. These include vehicle video systems, tracking and telematics systems, ADAS/driver fatigue, integrated user platforms, reports and business intelligence, monitoring and recovery for the broader fleet, transport, construction and mining industries.
Credit(s)
Further reading:
Free South Africa Market Report webinar from TAPA EMEA
Technews Publishing Editor's Choice News Transport (Industry) Training & Education Logistics (Industry)
October 2023 offers TAPA EMEA members and non-members opportunities to increase their knowledge of cargo crime and supply chain security risks in three countries in Europe, the Middle East & Africa region, where supply chains are most targeted by both organised crime groups and other offenders.
Read more...
---
Tips for successful fleet management
Asset Management, EAS, RFID Transport (Industry)
Fleet Domain, part of the Argility Technology Group, has announced best practices aimed at reducing fleet management costs and delivering a successful fleet management programme.
Read more...
---
Cybersecurity in aviation
Transport (Industry) Cyber Security
Air travel is an integral part of the professional and privates lives of the global population; inevitably, with such large growth, the industrial advancements bring a plethora of cybersecurity requirements.
Read more...
---
Telematics solution for vehicle leasing
News Transport (Industry) Products
Wialon, a telematics and IoT platform with over 3,4 million vehicles and other assets connected across the globe, has launched LeaseControl, a cost-effective telematics solution to protect auto-dealers' financed assets on the lot and after the sale.
Read more...
---
Avoiding human error at ports
LD Africa Transport (Industry) CCTV, Surveillance & Remote Monitoring Products Logistics (Industry)
LD Africa introduced a local port to the AxxonSoft Port Security System ,a solution that helps overcome the element of human error and eliminate paperwork.
Read more...
---
Numerous challenges for transport and logistics
Transport (Industry) CCTV, Surveillance & Remote Monitoring Security Services & Risk Management Logistics (Industry)
Operators are making significant investments in automation and digitalisation in order to address security concerns, improve loss prevention as well as efficiency, and reduce unit order costs.
Read more...
---
Hybrid licence plate recognition
ZKTeco Products Access Control & Identity Management Transport (Industry) Logistics (Industry)
The ZKTeco LPRS2000 is a hybrid-recognition vehicle management terminal that combines the latest high-performance UHF reader.
Read more...
---
A key to urban transport challenges
Axis Communications SA Transport (Industry) CCTV, Surveillance & Remote Monitoring Integrated Solutions Logistics (Industry)
There are many enabling technologies that can impact transportation in South Africa, but a good place to start is by considering the applications for smart physical technology with the ability to collect and respond to data.
Read more...
---
Streamlining processes, integrating operations
Security Services & Risk Management Integrated Solutions Transport (Industry) Logistics (Industry)
With Trackforce Valiant, Airbus now has one single platform that connects its security guards, supervisors and management across its organisation.
Read more...
---
Physical security at distribution centre
Turnstar Systems Transport (Industry) Access Control & Identity Management Products Logistics (Industry)
Turnstar's Velocity Raptors create a high-security physical barrier at Massmart's new 75 000 m2 distribution centre in Riversands, Johannesburg .
Read more...
---