printer friendly version
Management of PPE allocation made simple
Issue 7 2020
Editor's Choice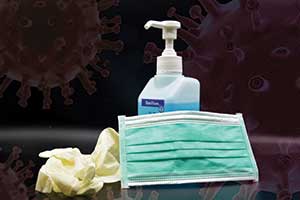 Of all the roadblocks and challenges COVID‐19 has introduced us to over the past few months, one of the tasks organisations have to manage is the issuing of PPE (personal protective equipment) to its staff. The new rules say that companies can have people returning to work, but those companies must ensure a safe workplace, which means making the appropriate PPE available to staff.
Some of these rules would require companies to have hand sanitiser available all over the workplace, and to ensure that masks are worn – and issued. The problem often arises that staff may be issued with PPE, a mask, coveralls, eye protection and gloves for example, and then forget to bring it with them the next day.
They will then ask for another set of PPE to be issued – or possibly just stock up on PPE for other reasons.
While one or two extra masks are not a big issue, where specialised PPE is issued regularly or when hundreds or thousands of people have to use PPE, such as at a university, the costs can quickly soar.
While the costs will vary depending on the supplier and quantities purchased, an indication of the costs per week per employee or contractor are:
• Cloth mask: R25 per mask.
• Coveralls: R286,20 per coverall.
• Mask respirator: R37,80 per mask.
• Eye protection: R100,44 each.
• Gowns: R113,40 each.
This is a problem the University of the Western Cape experienced and it turned to Powell Tronics, the company that provides the university's access control solutions, to see if they could come up with a solution. Powell Tronics developed its Personal Protective Equipment Manager (PPEM) that runs on mobile devices and is integrated into the university's access control system. Now that it is running successfully at the university, Powell Tronics is offering the same solution to anyone that requires it, and it does not need to be integrated into an access control system.
How it works
The PPEM solution is available in Basic and Advanced versions. The Basic version is integrated with Impro access control solutions. When somebody comes to collect their appropriate PPE, their employee number is typed into the mobile app (running on an Android device). If they are a registered member of staff or a student, their image appears on the screen as an additional security check.
The person is then issued the PPE and the time, date and location is noted in the database. If the same individual tries to obtain another set of PPE before the appropriate time for a new set – which the organisation can set – or at a different location, the app will notify the user that stock has been issued to that person and they are not eligible to receive more yet.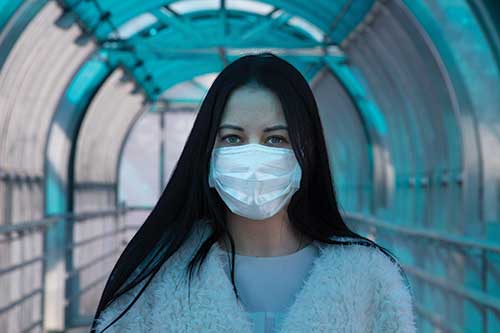 Different employees might require more or less PPE depending on their jobs. This can also be set in the system, allowing people to receive their equipment at different times. Reports can also be generated when required to show how many PPEs were issued, where they were issued and to whom they were issued. This useful data can also be used by the institution as verification that PPE was indeed issued to all staff and contractors, for example.
The advanced version
The advanced version has been expanded to allow for more use‐cases. It will work with Impro's Access Portal, but is also integrated with Microsoft's Active Directory – which means that you don't necessarily need an access control system. In this instance it will check with the organisation's Active Directory database to check if the person is registered.
Additionally, it allows the issuer to capture an image of the person if no picture exists in the database. It can also scan the person's ID barcode, eliminating the requirement to input the employee number. Naturally, the employee number can be used instead of the ID barcode.
Additionally, the PPEM can operate as a stand‐alone application, keeping its own database to record the issuance of PPE. Companies can also add custom logos on the Android app and the web‐based management pages.
An additional report will also be available to management that highlights who was supposed to collect their PPE, but has not done so. This can be enhanced by sending an SMS to people who have not collected their kit.
The Android app can be installed on the devices Powell Tronics supplies for PT-PPE or issues for its visitor management and other solutions, or on any Android phone the customer chooses.
Credit(s)
Further reading:
What South Africans need to know about smart devices
Technews Publishing Editor's Choice
We live in a world surrounded by smart devices, from our pockets to our driveways and living rooms.
Read more...
---
From overwhelm to oversight
Editor's Choice Cyber Security Products
Security automation is vital in today's world, and Microsoft Sentinel is a widely adopted, but complex answer. ContraForce is an easy-to-use add-on that automatically processes, verifies and warns of threats round-the-clock.
Read more...
---
Synology enhances functions for advanced surveillance integration
Technews Publishing CCTV, Surveillance & Remote Monitoring IT infrastructure Products
With the capability to function as both an API client and server, Surveillance Station offers a versatile platform for integration, whether it's embedding video streams into other platforms or overlaying external data onto recorded video.
Read more...
---
Planning for the worst is key to success
Technews Publishing Security Services & Risk Management
Planning for the worst is key to success when disaster strikes. Amidst frequent load shedding and often unpredictable stages of power outages, many businesses are concerned about the possibility of a total blackout.
Read more...
---
SMART Surveillance Conference 2023
Technews Publishing Editor's Choice CCTV, Surveillance & Remote Monitoring Conferences & Events
Some people think the future is all about cloud technologies, but the SMART Surveillance conference demonstrated that AI is making edge surveillance much more attractive, over distributed sites, than ever before.
Read more...
---
Has your business planned for the worst?
Editor's Choice Cyber Security Security Services & Risk Management
Incident response is a specialised part of security, like a hospital's intensive care unit: IR kicks in when the organisation detects a breach of its systems to stop criminals from doing more damage.
Read more...
---
From the editor's desk: Is security the new analogue?
Technews Publishing News
      Back in the old days, when I started with SMART Security Solutions (or Hi-Tech Security Solutions, as it was known then), one of the major 'revolutions' of that time was the imminent demise of analogue ...
Read more...
---
Making a difference with human intelligence gathering
Kleyn Change Management Editor's Choice
Eva Nolle believes that woman should stand their ground as they often bring an entirely different skill set to the table, which enhances the overall service delivered.
Read more...
---
Milestone celebrates women in security
Milestone Systems Technews Publishing Editor's Choice News Conferences & Events
The Milestone Systems' African team wanted to express their appreciation for the incredible contributions of the women in the security industry and held a breakfast in honour of the hard-working women in the industry on 8 August.
Read more...
---
Supporting CCTV intelligence with small and big data
Leaderware Editor's Choice CCTV, Surveillance & Remote Monitoring
The increasing development of AI and its role in enhancing investigation-led surveillance, and the increasing capacity of control rooms and local analysts to deliver data in return, can increase the synergy between intelligence and surveillance.
Read more...
---