printer friendly version
Safe restaurant reopening technology
Issue 7 2020
CCTV, Surveillance & Remote Monitoring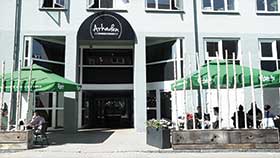 Since the spread of COVID-19 started in Denmark, the Danish government has closed all restaurants, bars and other business areas. In order to comply with the back-to-business policies of the government, Arkaden Food Hall, a popular food court located in Odense, needs to limit the number of guests within a specific area – 308 people in their case.
Being responsible for their customers and staff, the Food Hall deployed the People Counting and Flow Control Solution from Dahua Technology, to ensure a smooth and safe reopening after the pandemic.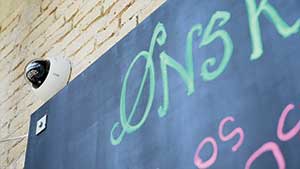 With 14 food stalls and two bars, the Food Hall has two entrances. The people count from these two entrances needs to be combined and displayed on screens to determine if there is any more room for customers to enter or whether they will have to temporarily wait at the door.
The solution
The solution consists of:
• 2 entrances with 5-series IR bullet AI network cameras.
• 2 DPB18-AI media players.
• 2 DHL32-F600 monitors.
• 1 DSS Pro licence for 64 channels and the BI module.
The Dahua AI-powered people counting camera can automatically and accurately calculate the real-time number of people entering the area, avoiding congestion and helping to mitigate the spread of the pandemic.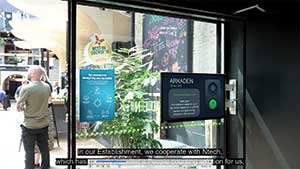 The DSS PRO platform with People Counting and Flow Control, together with monitors and the DPB18A helps send different videos/pictures and editable content for guests to see. When the number of guests exceeds the set value, the platform and monitors will notify and display 'the limit is reached' on the digital signage at the entrance of the food hall, reminding incoming customers to wait at the door. In addition, the people counting cameras are simple and easy to install, which allows the installer to complete the entire project in just one day.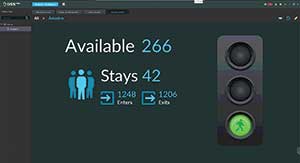 "The People Counting solution has given us statistics and data about the behaviour of our customers, which saves us a lot of resources since we do not have to physically count the number of customers at the door. Furthermore, we can provide them with important information at the entrance using the monitors. There seem to be lots of innovative solutions out there that we would be more than happy to try out since we feel this will benefit us to be smarter and more efficient in many ways," said Sanne Brigsted, business development manager of the Food Hall.
Benefits achieved
Faced with the impact of COVID-19, the Dahua People Counting and Flow Control solutions enhance the safety level and competitiveness of business establishments like Arkaden Food Hall, while creating a comfortable dining environment for their guests. Most importantly, they have helped the location to successfully achieve its primary task of reopening its food hall by allowing an operator to monitor the customer traffic in real-time so that timely security measures can be taken before the place becomes packed with customers.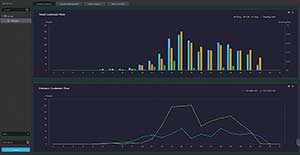 With this smart system, no additional employees are needed to count customers manually at the door, which can significantly reduce labour costs and improve restaurant management efficiency. Moreover, its monitor can serve as a notice board to inform customers or as a multi-purpose advertising screen with event marketing and planning based on the DSS Pro's intelligent data analysis, providing a platform with huge expansion potential and creating business opportunities for the restaurant.
Credit(s)
Further reading:
Turkish university installs IDIS surveillance
CCTV, Surveillance & Remote Monitoring Products
IDIS video streamlines complex surveillance systems for learning institution, upgrading a 350-camera system with 24/7 control room monitoring to transform security for Social Sciences University of Ankara (ASBU).
Read more...
---
Brighter, greener, and smarter
Dahua Technology South Africa Products CCTV, Surveillance & Remote Monitoring
Dahua Technology released its new Dahua CH II Series Indoor Fine Pixel Pitch LED display, providing visual clarity and promoting energy efficiency and sustainability.
Read more...
---
Smart water management
Axis Communications SA CCTV, Surveillance & Remote Monitoring Integrated Solutions
South Africa is currently facing a water crisis, with scarcity and inefficient water management posing significant challenges to sustainable, consistent access to water. Smart technology and powerful partnerships may offer a proactive solution to SA's water crisis.
Read more...
---
Helping retailers optimise monitoring and security
Guardian Eye Retail (Industry) CCTV, Surveillance & Remote Monitoring
From a smart retail perspective, it is crucial to understand that monitoring stock and other assets through camera surveillance and a variety of Internet of Things (IoT) sensors stretches further than the stores themselves.
Read more...
---
Empowering Istanbul's public transportation
Dahua Technology South Africa CCTV, Surveillance & Remote Monitoring Integrated Solutions
Dahua's intelligent transportation solution, using technologies like DSM and AI-based passenger flow counting, has facilitated an intelligent system upgrade for nearly 6 400 minibuses and electric buses in Istanbul.
Read more...
---
Smart manufacturing redefined
Hikvision South Africa CCTV, Surveillance & Remote Monitoring Industrial (Industry)
AI and intuitive visualisation technology allows managers to monitor manufacturing sites, production, and operational processes, and to respond in real time in the event of an issue – helping to drive efficiency and productivity.
Read more...
---
AI is getting smarter, and critical infrastructure is set to benefit
Axis Communications SA CCTV, Surveillance & Remote Monitoring
With technology advancing at an astonishing pace, AI has emerged as a defining trend in today's business arena. Enterprises across all sectors are prioritising this technology, embracing its transformative potential to drive change and growth.
Read more...
---
Collaboration delivers integrated and holistic security
Guardian Eye CCTV, Surveillance & Remote Monitoring News Integrated Solutions
Guardian Eye and Lytehouse have partnered to integrate their speciality solutions and provide a holistic security offering that overcomes the fragmentation of security systems and services.
Read more...
---
Manage security systems remotely
Hikvision South Africa CCTV, Surveillance & Remote Monitoring IT infrastructure Products
Hikvision launched a new generation of smart managed switches that, in conjunction with the Hik-Partner Pro mobile app, enable installers to remotely deploy and configure security systems with comprehensive operation and maintenance capabilities.
Read more...
---
Synology enhances functions for advanced surveillance integration
Technews Publishing CCTV, Surveillance & Remote Monitoring IT infrastructure Products
With the capability to function as both an API client and server, Surveillance Station offers a versatile platform for integration, whether it's embedding video streams into other platforms or overlaying external data onto recorded video.
Read more...
---