printer friendly version
Came Domotic 3.0: smart technology to adapt your home to the lifestyle of the people who live in it
Issue 6 2020
Smart Home Automation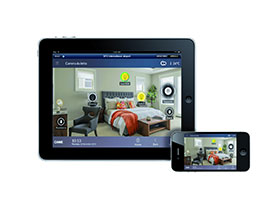 The Came Domotic 3.0 home automation system allows people to manage all the automated devices in their home according to their lifestyle needs. Designed to improve the comfort and wellbeing of people inside the home, the system creates a living space tailored to individual needs, saving both time and energy. It makes it easy for each user to manage the devices installed in their home according to their own habits, controlling them from a touchscreen terminal, or remote connection via a smartphone or tablet.
All the automated devices in a home – from automation to lighting, the video entry system to temperature control, the sound system to the burglar alarm – are fully integrated with each other to manage any space intelligently and offer the ultimate in comfort and security. The new Came home automation system, characterised by ease of programming and complete system connectivity, reflects the focus of the company on technological innovation and design able to add value to the homes they are installed in. Came Domotic 3.0 is ideal for both new and existing buildings, and, thanks to wireless devices, it can be installed without the need for building work.
For more information visit www.camebpt.co.za
Further reading:
Connected-home predictions for 2021
Issue 9 2020
The global smart home market is forecast to grow to $53,45 billion in size by 2022. Veego Software offers five predictions for smart home automation in 2021.
Read more...
---
Protecting you and your home with IoT
25 November 2020 , Smart Home Automation, Smart Home Automation
IoT technology gives people the power to keep a watchful eye on what is important to them, whether they are 200 metres or 200 kilometres away.
Read more...
---
Is working from home the silver bullet you think it is?
Issue 8 2020 , Smart Home Automation
One of its biggest impacts on society and business is WFH, an acronym that came out of nowhere to become a household word.
Read more...
---
Multi-tenant access control
Issue 5 2020, Suprema , Smart Home Automation
Suprema controls access to mixed-use development that is an icon of sustainable environmental growth.
Read more...
---
Collaborative security in communities
Issue 5 2020
Want to change the dialogue around security in South Africa? Work together. Communities can fundamentally change the face of crime.
Read more...
---
Technology and new systems
Issue 3 2020, Fidelity ADT , Smart Home Automation
The SA crime profile, along with its unique socio-economic landscape, means that South Africa's security industry is one of the oldest bespoke private security industries in the world.
Read more...
---
Huawei includes Namola safety app
Issue 1 2020
Huawei has partnered with South Africa's personal safety app, Namola, to ensure that more South Africans have access to the service.
Read more...
---
Do you have the smarts?
November 2019
Melissa Davidson from lighting retailer The Lighting Warehouse offers an overview on their latest smart LED ceiling light, which also acts as a Bluetooth speaker.
Read more...
---
The top five holiday scams
November 2019
The holiday season is a sea of shopping, laughter, gifts and entertainment. It is also a swamp of security risks and hacks and fraudsters, lurking on the edges of the festive fun.
Read more...
---
Be awake to the deepfake
November 2019
SA's Wireless Application Service Providers' Association is advising smartphone users alarmed by the 'deepfake' phenomenon that the expected promulgation of South Africa's Cybercrimes and Cyberbullying Bill is imminent.
Read more...
---