printer friendly version
Wireless networks ideal for mines
Issue 6 2020
Mining (Industry)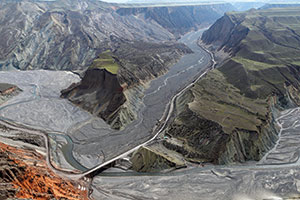 Communication is essential on a mine, whether it is being able to keep in contact with miners underground, or to have a reliable communications network covering the surface area of the mine. In many, if not most instances, mines are inconveniently located to have the communications options city dwellers consider 'normal', which means mines need to make a plan for themselves.
Given the large areas mines cover, a wired communication network is not really viable if one wants to cover the whole area of the mine. For the primary working and processing areas it is potentially viable to lay cables, but is it the best decision for all sorts of communications, from voice to data – which could include surveillance video streams?
Wireless solutions make more sense if a mine, or any environment with large open areas, wants a reliable communications platform. Using 3G or 4G technology is probably the best and easiest solution given its broad rollout in South Africa, but these solutions do not always offer a reliable and predictable service. Moreover, if your service provider has a problem, so do you, notes Ryan Dunford, Radwin product manager at MiRO Distribution.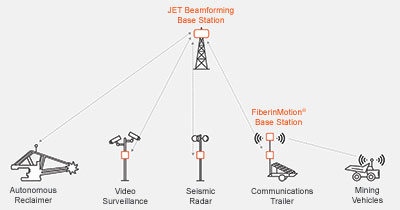 Dunford says a private wireless network from Radwin (although there are many providers out there), uses the unlicensed 5 GHz spectrum and is suitable for creating a strong network backbone that can reliably and securely handle all forms of data. For example, the company's beamforming technology (officially called the JET Smart Beamforming Point-to-MultiPoint technology) ensures that multiple streams of bidirectional data can be handled without interference.
This technology can support bandwidths of up to 1,5 Gbps per sector or 6 Gbps per cell, meaning it can handle almost anything thrown at it, including perimeter surveillance solutions (for example). Users also receive a standard service-level agreement (SLA) which makes it easier to plan the network, knowing what it can deliver in advance.
For outlying areas, or when specific areas need more bandwidth (such as watching illegal miners invading a new area), Dunford says Radwin's FiberinMotion offers a mobile extension to the set wireless network. These mobile base stations can monitor extended areas not covered by the primary base station and can even be driven via solar power while out in the field. FiberinMotion supports up to 750 Mbps and can provide coverage of up to 5 km.
Dunford adds that Radwin's equipment for mines sports an IP67 rating, making it durable in tough outdoor conditions. There are also, naturally, various products that can be selected to meet specific communications needs.
As noted above, Dunford says there are various products that can be used to create communications networks. The key is to understand what each customer's requirements are and to plan efficiently to meet those needs. He adds that MiRO is geared to offer this type of support and more for projects that will make use of wireless networks, ensuring the solution delivers as required.
Credit(s)
Further reading:
Client satisfaction boosted by 85% at Thungela Mine
News & Events Security Services & Risk Management Mining (Industry)
Thorburn Security, a division of Tsebo Solutions Group, has announced its recent collaboration with Kwa-Zulu Natal security company, Ithuba Protection Services, as part of its Enterprise Supplier Development (ESD) initiatives across Africa.
Read more...
---
New data services from HPE
Mining (Industry)
HPE transforms data lifecycle management with new data services; built on HPE Alletra Storage MP offering intuitive cloud experience, high performance scale-out storage, and hybrid data protection delivered through HPE GreenLake.
Read more...
---
AI technology to empower vertical markets
Dahua Technology South Africa Mining (Industry) Surveillance Products & Solutions
Dahua WizMind is a full portfolio of solutions comprising project-oriented products that use deep learning algorithms to provide more business value to its global customers and deliver reliable and comprehensive AI solutions for vertical markets.
Read more...
---
Maximum fire protection for the most dangerous places
Fire & Safety Mining (Industry) Products & Solutions
Africa's heavy mining and resource processing industries are some of the continent's leading economic lights. They also present some of its toughest fire safety challenges on the planet.
Read more...
---
Directory of Product and Solution Suppliers
Mining (Industry)
The Directory of Product and Solution Suppliers for the mining industry includes the details of companies that provide products, advice and services to the mining sector, primarily, but not limited to the areas of security and risk.
Read more...
---
The importance of the operator's frame of reference
Leaderware Editor's Choice Surveillance Security Services & Risk Management Mining (Industry)
The better the operator's frame of reference and situational awareness, and the more informed they are in dealing with CCTV surveillance in the mining industry, the more successful they are likely to be in surveillance.
Read more...
---
The art of drive and focus
Technews Publishing Editor's Choice Mining (Industry)
Riette Smeda did not find security, security found her. In doing so, she found an environment where grit and determination make all the difference in a country where crime pays.
Read more...
---
AI, risk management, and frameworks
Technews Publishing Editor's Choice Security Services & Risk Management Mining (Industry) AI & Data Analytics Risk Management & Resilience
A risk management framework is a basic necessity to meet the always-evolving criminal war against mines, perpetrated by ruthless organised crime gangs that often are better informed and resourced than their targets.
Read more...
---
Complex, but critical partner in security
Technews Publishing Bidvest Protea Coin Editor's Choice Integrated Solutions Infrastructure Mining (Industry)
Smart Security looks at how drones can be applied effectively in mine security operations. The ability to quickly gain a birds-eye view of a situation, whether security, safety or operational in nature, makes drones a significant value-add to mines.
Read more...
---
The data must flow
Technews Publishing Infrastructure Mining (Industry)
Amidst the dirt and dust, the data packets must always be moving in order for mines to remain on top of their environments, their people, their processes and equipment, and most importantly, the safety of everyone on site.
Read more...
---