printer friendly version
Bose introduces new smart speaker and soundbars
Issue 5 2020
Smart Home Automation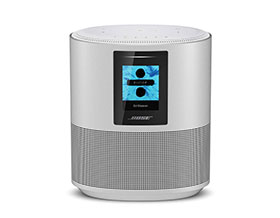 Bose has started the next chapter in its legendary home audio history with a new wireless smart speaker and two new smart soundbars – the Bose Home Speaker 500 for music, and the Bose Soundbar 700 and Soundbar 500 for music and home theatre. Each crushes the limitations of spaciousness from a single enclosure, combining size-defying performance with superior voice pickup and the power of Amazon Alexa now (other voice assistants to follow) and AirPlay 2 for simple streaming from Apple devices added in early 2019.
Engineered from the ground up, the new Bose smart speaker and soundbars use the proprietary mic technology found in Bose headsets and headphones to hear commands better over louder listening levels. With Bluetooth, Wi-Fi, and Alexa built-in, they deliver instant, easy access to millions of songs and tens of thousands of skills for information, entertainment, smart home control, and more. They work brilliantly alone or together as a multi-room system.
"Voice-controlled speakers aren't new, and there are plenty of great options to choose from, but we had a different vision for ours, inspired by what we could do to make the experience better," said Doug Cunningham, category manager in the Bose Consumer Electronics Division. "All of our new smart speakers double up on functionality. It takes just one Home Speaker 500 to deliver true stereo separation – there's no need to pair two. Our Soundbar 700 and 500 are thin and discreet with jaw-dropping surround sound – whether you're streaming Spotify or watching a movie. They combine Bluetooth and Wi-Fi for unbeatable ease of use, can be mixed and matched to play in sync or separately, and with new Alexa functionality and more VPAs on the way, they'll only get better over time."
Voice control — The Bose microphone difference
The new Bose home speaker and soundbars use advanced Bose microphone technology developed over years of research for Bose commercial headsets, consumer headphones, and other applications, past and future. They each feature a custom-designed eight-microphone array precisely positioned for accurate near-field and far-field voice pickup – when it's quiet, noisy, or your music is playing loudly. Whether you're close by or across the room, or a playlist is set for the background, a party, or competing with conversation, they'll hear you the first time.
For more information contact Paul Murphy, Sound Systems, +27 21 421 4289, paul@sound-systems.co.za, www.sound-systems.co.za
Further reading:
Multi-tenant access control
Issue 5 2020, Suprema , Smart Home Automation
Suprema controls access to mixed-use development that is an icon of sustainable environmental growth.
Read more...
---
Collaborative security in communities
Issue 5 2020
Want to change the dialogue around security in South Africa? Work together. Communities can fundamentally change the face of crime.
Read more...
---
Technology and new systems
Issue 3 2020, Fidelity ADT , Smart Home Automation
The SA crime profile, along with its unique socio-economic landscape, means that South Africa's security industry is one of the oldest bespoke private security industries in the world.
Read more...
---
Huawei includes Namola safety app
Issue 1 2020
Huawei has partnered with South Africa's personal safety app, Namola, to ensure that more South Africans have access to the service.
Read more...
---
Do you have the smarts?
November 2019
Melissa Davidson from lighting retailer The Lighting Warehouse offers an overview on their latest smart LED ceiling light, which also acts as a Bluetooth speaker.
Read more...
---
The top five holiday scams
November 2019
The holiday season is a sea of shopping, laughter, gifts and entertainment. It is also a swamp of security risks and hacks and fraudsters, lurking on the edges of the festive fun.
Read more...
---
Be awake to the deepfake
November 2019
SA's Wireless Application Service Providers' Association is advising smartphone users alarmed by the 'deepfake' phenomenon that the expected promulgation of South Africa's Cybercrimes and Cyberbullying Bill is imminent.
Read more...
---
Reasoning with crime is like reasoning with death
November 2019
Have you noticed how many excuses a person or a management team can lay on the table when it comes to security?
Read more...
---
Not-so-safe travels
November 2019, Kaspersky
Kaspersky research of the RevengeHotels campaign aimed at the hospitality sector, has confirmed that in Latin America, Europe and Asia have fallen victim to targeted malware attacks.
Read more...
---
Digitise your access control
October 2019, dormakaba South Africa
With Evolo, you can open your doors using anything from an access card, key fob, or even a smartphone without any extra hardware.
Read more...
---