printer friendly version
Bose announces portable home speaker
Issue 5 2020
Smart Home Automation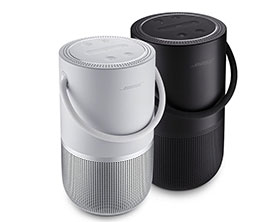 Bose announced the Bose Portable Home Speaker, an ultra-versatile, compact speaker that combines the convenience of battery power, the simplicity of Bluetooth, and the ease of voice control in a modern new design. The new portable speaker also delivers improved 360-degree sound, deeper bass and light weight to effortlessly take with you from room to room.
The Bose Portable Home Speaker is available in Triple Black and Luxe Silver. It has up to 12 hours of battery life to last from morning to night with zero wires. Use Bluetooth to instantly stream tracks from your phone or tablet. Using Wi-Fi, just say the word and a Bose proprietary voice pick-up system works with the Google Assistant and Amazon Alexa, both built-in, to access playlists, podcasts, news, weather, smart home devices, and more. Choose AirPlay 2 to play music from Apple devices, or Spotify Connect to listen directly from the Spotify app. And hear it all through a new Bose acoustic package that makes everything sound better.
"Every Bose smart speaker is Bluetooth and Wi-Fi enabled, but the Portable is the first to offer a rechargeable battery, along with a list of features everyone wants and loves," said Ben Burns, senior product manager for Bose speakers. "We lived with it like anyone else would – with our families and friends, away from work – to make sure it was the kind of product we wanted to use, day after day. It was. And we think people who take it home will feel the same way."
There are buttons on top for basic functionality, including Bose's proprietary mic-off feature, which cuts power to the microphones, eliminating any possibility you can be listened to or recorded, along with power, volume, play/pause and skip tracks, wake or dismiss virtual assistants, and Bluetooth source. The Bose Music app offers additional functionality, making setup and updates easy and intuitive. Browse content, switch music services, create a multi-room system with other Bose smart speakers and sound bars, and download software for new features.
The speaker is cylindrical and wrapped in a seamless, anodised aluminium enclosure shaped precisely to enable its audio performance. Inside, three passive radiators, a high-excursion driver, and a proprietary deflector distribute clear, lifelike sound evenly in every direction, including size-defying bass. Unlike conventional speakers, there's no sweet-spot for placement or listening, it delivers the same jaw-dropping experience wherever it is, wherever you are. And while the left and right channels in standard one-piece systems can cancel each other out – leaving audible gaps in music – the Portable speaker won't. Bose mono-signal technology makes corrections in real time, so you hear everything the artist recorded.
The new Bose Portable is water-resistant with an IPX4 rating to survive spills, splashes, and rain; and rugged enough to withstand drops, knocks, and hits. It comes with an integrated handle for convenience, and can charge through standard USB-C, or a charging cradle that's sold separately.
For more information contact Paul Murphy, Sound Systems, +27 21 421 4289, paul@sound-systems.co.za, www.sound-systems.co.za
Further reading:
Multi-tenant access control
Issue 5 2020, Suprema , Smart Home Automation
Suprema controls access to mixed-use development that is an icon of sustainable environmental growth.
Read more...
---
Collaborative security in communities
Issue 5 2020
Want to change the dialogue around security in South Africa? Work together. Communities can fundamentally change the face of crime.
Read more...
---
Technology and new systems
Issue 3 2020, Fidelity ADT , Smart Home Automation
The SA crime profile, along with its unique socio-economic landscape, means that South Africa's security industry is one of the oldest bespoke private security industries in the world.
Read more...
---
Huawei includes Namola safety app
Issue 1 2020
Huawei has partnered with South Africa's personal safety app, Namola, to ensure that more South Africans have access to the service.
Read more...
---
Do you have the smarts?
November 2019
Melissa Davidson from lighting retailer The Lighting Warehouse offers an overview on their latest smart LED ceiling light, which also acts as a Bluetooth speaker.
Read more...
---
The top five holiday scams
November 2019
The holiday season is a sea of shopping, laughter, gifts and entertainment. It is also a swamp of security risks and hacks and fraudsters, lurking on the edges of the festive fun.
Read more...
---
Be awake to the deepfake
November 2019
SA's Wireless Application Service Providers' Association is advising smartphone users alarmed by the 'deepfake' phenomenon that the expected promulgation of South Africa's Cybercrimes and Cyberbullying Bill is imminent.
Read more...
---
Reasoning with crime is like reasoning with death
November 2019
Have you noticed how many excuses a person or a management team can lay on the table when it comes to security?
Read more...
---
Not-so-safe travels
November 2019, Kaspersky
Kaspersky research of the RevengeHotels campaign aimed at the hospitality sector, has confirmed that in Latin America, Europe and Asia have fallen victim to targeted malware attacks.
Read more...
---
Digitise your access control
October 2019, dormakaba South Africa
With Evolo, you can open your doors using anything from an access card, key fob, or even a smartphone without any extra hardware.
Read more...
---