printer friendly version
Bang & Olufsen debuts Beovision Harmony at Milan Design Week
Issue 5 2020
Smart Home Automation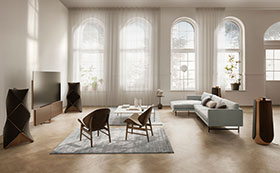 Bang & Olufsen recently unveiled Beovision Harmony – a TV experience that elevates the design of any living space and fills it with spectacular sound. When Beovision Harmony is turned off or just playing music, the thin screen rests close to the floor, partially covered by two meticulously crafted oak and aluminium fronts, which house the powerful sound centre. When Beovision Harmony is turned on, the two fronts fan out – like a butterfly opening its wings – and the screen rises to the perfect viewing height. Turn off the TV, and the finely choreographed sequence plays out in reverse.
"Pristine picture performance combined with truly immersive sound ensures a mesmerising viewing experience. But the presence of a big screen is rarely a welcoming addition to living spaces. With Beovision Harmony, we wanted to create a meaningful object for interiors that reduces the visual presence of the TV and transforms it into something that people will develop an emotional attachment to," says John Mollanger, Bang & Olufsen's executive vice president of Brand and Markets.
The crafted oak and aluminium fronts house sublime technical instruments, delicately tuned by hand and ear to reveal all details of music and sound. The intricate grading pattern is carefully designed to maximise acoustic performance of the three-channel, fully active DSP-based sound centre. Paired with LG's top-class 77" OLED screen – featuring brighter, self-illuminating pixels and stunning colour – this paragon of home décor and luxury entertainment brings new life to movies, sporting events and must-see shows.
Standing on the shoulders of giants
The concept behind Beovision Harmony builds on some of Bang & Olufsen's most cherished products. The Capri series, introduced in 1959, was designed to fully integrate with the living room. Hence the TV was built in teak, which was the preferred wood for furniture at the time. The 1964 Beovision Capri 611 FM SJ TV even integrated both a TV and a radio into a single cabinet, allowing people to hide the electronics completely when not in use.
"We have been sharing an obsessive passion for almost 100 years, and it has been a mission of ours to perfect the techniques used to reproduce sound and vision and to embody it in a design that people are proud to have in their homes. Wood has always been an important aspect of Nordic architecture and furniture design because of its individual character, robustness and versatility, and we are proud to carry this forward in our Beovision Harmony," says Mollanger.
Home-filling entertainment
Beovision Harmony is designed as a centrepiece for home entertainment. Boasting a robust speaker system with serious sound capabilities, Beovision Harmony offers impressive music streaming with integrated music services like Tune-In and Deezer. You can also stream directly from your smartphone via Apple Airplay 2, Chromecast built-in or Bluetooth. Beovision Harmony also comes with LG's most recent webOS 4.5 platform, which allows you to access your favourite media service providers such as Netflix, Amazon and YouTube.
Beovision Harmony also integrates seamlessly with Bang & Olufsen's growing collection of multi-room products. For those looking to immerse themselves in first-class surround sound, Beovision Harmony comes with a built-in 7.1 surround sound decoder, making it possible to connect up to eight Beolab speakers such as Beolab 18, Beolab 50 and Beolab 90.
All sources and connected devices can be controlled with the Beoremote One – a beautiful piece of technology that has been ergonomically designed and crafted from a single piece of extruded aluminium.
Pricing and availability on request.
For more information contact Shane Farey, Bang & Olufsen, +27 11 462 7441, shane.farey@beo-sa.com, info@beo-sa.com
Further reading:
Multi-tenant access control
Issue 5 2020, Suprema , Smart Home Automation
Suprema controls access to mixed-use development that is an icon of sustainable environmental growth.
Read more...
---
Collaborative security in communities
Issue 5 2020
Want to change the dialogue around security in South Africa? Work together. Communities can fundamentally change the face of crime.
Read more...
---
Technology and new systems
Issue 3 2020, Fidelity ADT , Smart Home Automation
The SA crime profile, along with its unique socio-economic landscape, means that South Africa's security industry is one of the oldest bespoke private security industries in the world.
Read more...
---
Huawei includes Namola safety app
Issue 1 2020
Huawei has partnered with South Africa's personal safety app, Namola, to ensure that more South Africans have access to the service.
Read more...
---
Do you have the smarts?
November 2019
Melissa Davidson from lighting retailer The Lighting Warehouse offers an overview on their latest smart LED ceiling light, which also acts as a Bluetooth speaker.
Read more...
---
The top five holiday scams
November 2019
The holiday season is a sea of shopping, laughter, gifts and entertainment. It is also a swamp of security risks and hacks and fraudsters, lurking on the edges of the festive fun.
Read more...
---
Be awake to the deepfake
November 2019
SA's Wireless Application Service Providers' Association is advising smartphone users alarmed by the 'deepfake' phenomenon that the expected promulgation of South Africa's Cybercrimes and Cyberbullying Bill is imminent.
Read more...
---
Reasoning with crime is like reasoning with death
November 2019
Have you noticed how many excuses a person or a management team can lay on the table when it comes to security?
Read more...
---
Not-so-safe travels
November 2019, Kaspersky
Kaspersky research of the RevengeHotels campaign aimed at the hospitality sector, has confirmed that in Latin America, Europe and Asia have fallen victim to targeted malware attacks.
Read more...
---
Digitise your access control
October 2019, dormakaba South Africa
With Evolo, you can open your doors using anything from an access card, key fob, or even a smartphone without any extra hardware.
Read more...
---