printer friendly version
Mesh Wi-Fi made easy
Issue 5 2020
Smart Home Automation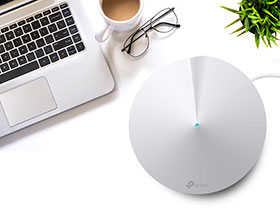 Running a smart environment on a Wi-Fi backbone requires a good Wi-Fi mesh system, with low latency, and reliable handover between Wi-Fi access points. The reality is that most smart systems are still considered a high-end luxury, and exist in smart homes more often than in smart offices. This makes the choice of Wi-Fi system quite complex because it needs to tick a number of boxes:
• Affordability.
• Reliability.
• Aesthetics.
• Family firewalling.
• Ease of use/installation.
This is where the TP-Link Deco system comes into its own. It is a scalable solution, meaning the system can start within a budget, and grow larger over time. Installation is a breeze – new devices are added to the network at the click of a button via a smart app.
Users are configured with their devices dropped into their portfolio, and each individual's portfolio has separate, specific rules to manage the sort of content which is available to the user, the times of day they can access the network, and the duration for which each user can access the network per day. Devices can be prioritised, allowing the all-important streaming services to receive priority bandwidth when lots of devices are online. The entire network can be managed remotely, as long as the admin's cellphone has an Internet connection. Multiple packaging options, from ceiling mount to desk mount, deliver a discreet, aesthetic solution.
It's no wonder the Deco system is setting the benchmark for smart home environments.
Credit(s)
Further reading:
Multi-tenant access control
Issue 5 2020, Suprema , Smart Home Automation
Suprema controls access to mixed-use development that is an icon of sustainable environmental growth.
Read more...
---
Collaborative security in communities
Issue 5 2020
Want to change the dialogue around security in South Africa? Work together. Communities can fundamentally change the face of crime.
Read more...
---
Technology and new systems
Issue 3 2020, Fidelity ADT , Smart Home Automation
The SA crime profile, along with its unique socio-economic landscape, means that South Africa's security industry is one of the oldest bespoke private security industries in the world.
Read more...
---
Huawei includes Namola safety app
Issue 1 2020
Huawei has partnered with South Africa's personal safety app, Namola, to ensure that more South Africans have access to the service.
Read more...
---
Do you have the smarts?
November 2019
Melissa Davidson from lighting retailer The Lighting Warehouse offers an overview on their latest smart LED ceiling light, which also acts as a Bluetooth speaker.
Read more...
---
The top five holiday scams
November 2019
The holiday season is a sea of shopping, laughter, gifts and entertainment. It is also a swamp of security risks and hacks and fraudsters, lurking on the edges of the festive fun.
Read more...
---
Be awake to the deepfake
November 2019
SA's Wireless Application Service Providers' Association is advising smartphone users alarmed by the 'deepfake' phenomenon that the expected promulgation of South Africa's Cybercrimes and Cyberbullying Bill is imminent.
Read more...
---
Reasoning with crime is like reasoning with death
November 2019
Have you noticed how many excuses a person or a management team can lay on the table when it comes to security?
Read more...
---
Not-so-safe travels
November 2019, Kaspersky
Kaspersky research of the RevengeHotels campaign aimed at the hospitality sector, has confirmed that in Latin America, Europe and Asia have fallen victim to targeted malware attacks.
Read more...
---
Digitise your access control
October 2019, dormakaba South Africa
With Evolo, you can open your doors using anything from an access card, key fob, or even a smartphone without any extra hardware.
Read more...
---