printer friendly version
GSM boosters
Issue 5 2020
Smart Home Automation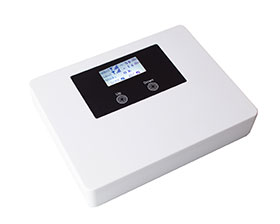 Imagine you purchase a fast car, and as you turn onto the highway, you find you need to enter it through a narrow gate, which leads to a sand track for you to drive on, alongside the highway. This is the feeling that many GSM and LTE customers still get when trying to use LTE as their backbone for their home or small office smart environment. Ideally, one would want to use fibre, but the reality is it is not always readily available, and the general consensus for the next best option is LTE.
This is where Otto Wireless Solutions' ICASA approved, non network-locked boosters come in. The products have two incredible features which have led to their mass adoption:
• Failsafe DIY installation – the devices are smart and will detect an incorrect installation. They will shut themselves down and display a message on the screen, explaining how to resolve the problem. You cannot cause interference on the mobile network.
• Castellation – for a small environment, use one booster. For a large environment, use as many as you need, to cover the desired floor space. The devices are smart, they see one another, and adjust their gains dynamically, as more devices are installed in the environment. This is a key, unique feature of the product – it prevents interference on the service provider network.
In order to make installation easy, the products are packaged into a number of DIY options.
Credit(s)
Further reading:
Multi-tenant access control
Issue 5 2020, Suprema , Smart Home Automation
Suprema controls access to mixed-use development that is an icon of sustainable environmental growth.
Read more...
---
Collaborative security in communities
Issue 5 2020
Want to change the dialogue around security in South Africa? Work together. Communities can fundamentally change the face of crime.
Read more...
---
Technology and new systems
Issue 3 2020, Fidelity ADT , Smart Home Automation
The SA crime profile, along with its unique socio-economic landscape, means that South Africa's security industry is one of the oldest bespoke private security industries in the world.
Read more...
---
Huawei includes Namola safety app
Issue 1 2020
Huawei has partnered with South Africa's personal safety app, Namola, to ensure that more South Africans have access to the service.
Read more...
---
Do you have the smarts?
November 2019
Melissa Davidson from lighting retailer The Lighting Warehouse offers an overview on their latest smart LED ceiling light, which also acts as a Bluetooth speaker.
Read more...
---
The top five holiday scams
November 2019
The holiday season is a sea of shopping, laughter, gifts and entertainment. It is also a swamp of security risks and hacks and fraudsters, lurking on the edges of the festive fun.
Read more...
---
Be awake to the deepfake
November 2019
SA's Wireless Application Service Providers' Association is advising smartphone users alarmed by the 'deepfake' phenomenon that the expected promulgation of South Africa's Cybercrimes and Cyberbullying Bill is imminent.
Read more...
---
Reasoning with crime is like reasoning with death
November 2019
Have you noticed how many excuses a person or a management team can lay on the table when it comes to security?
Read more...
---
Not-so-safe travels
November 2019, Kaspersky
Kaspersky research of the RevengeHotels campaign aimed at the hospitality sector, has confirmed that in Latin America, Europe and Asia have fallen victim to targeted malware attacks.
Read more...
---
Digitise your access control
October 2019, dormakaba South Africa
With Evolo, you can open your doors using anything from an access card, key fob, or even a smartphone without any extra hardware.
Read more...
---