printer friendly version
Bluetooth tracking device helps users find their items
Issue 5 2020
Smart Home Automation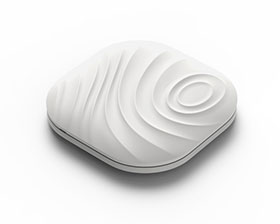 Nordic Semiconductor announced that Beijing, China-based wearable electronics firm Beijing Zizai Technology has released a range of wireless trackers featuring Nordic's nRF52810 Bluetooth Low Energy (Bluetooth LE) System-on-Chip (SoC), that helps users prevent the loss of personal items.
The 'Nut3' key finder comes in a compact 38 by 38 by 7 mm form factor and can be attached to the user's key fob or other personal items. Once paired with the user's Bluetooth 4.0 (and later) smartphone using wireless connectivity enabled by the Nordic SoC, from the iOS- and Android-compatible 'Nut' app the user can find and ring the Nut3 device easily, set alerts if the device and the smartphone become separated by a certain distance, as well as record the location where the device became disconnected. Nut users can also create a 'lost and found' community to help one another locate missing items.
Because the nRF52810 SoC's S132 SoftDevice high-performance Bluetooth LE protocol 'stack' supports both Central and Peripheral roles, Nut3 not only emits an alarm if separated from the user's smartphone, but can also call the paired smartphone with the press of a button if the user knows where the tracker is but cannot find the mobile. The nRF52810 is also available with the memory-optimised S112 SoftDevice if Peripheral-only operation is required.
The Nut3 is powered by a single CR2032 coin cell battery, providing up to 12 months' battery life between replacement in standard operation, thanks, in part, to the ultra-low power characteristics of the Nordic SoC. The nRF52810 has been engineered to minimise power consumption with features such as the 2,4 GHz radio's 4,6 mA peak Rx/Tx currents and a fully automatic power management system that reduces power consumption by up to 80 percent compared with Nordic's nRF51 Series SoCs.
Nordic's nRF52810 multiprotocol SoC combines a 64 MHz, 32-bit Arm Cortex M4 processor, with a 2,4 GHz multiprotocol radio (supporting Bluetooth 5, ANT, and proprietary 2,4 GHz RF protocol software) featuring reduced radio energy consumption, with 192 KB Flash memory and 24 KBv RAM. Nordic's unique software architecture provides clear separation between the RF protocol software and the developer's application code. This simplifies development, and ensures the SoftDevice doesn't get corrupted when the customer is developing, compiling, testing, and verifying their application code
"Nordic has provided great support during our development work," says Michael Tian, CEO of Beijing Zizai Technology. "All the development tools and technical documents are extremely helpful, and if we did have questions the Nordic DevZone community quickly answered them. At the same time, Nordic provided extensive technical support throughout R&D; and production."
Further reading:
Multi-tenant access control
Issue 5 2020, Suprema , Smart Home Automation
Suprema controls access to mixed-use development that is an icon of sustainable environmental growth.
Read more...
---
Collaborative security in communities
Issue 5 2020
Want to change the dialogue around security in South Africa? Work together. Communities can fundamentally change the face of crime.
Read more...
---
Technology and new systems
Issue 3 2020, Fidelity ADT , Smart Home Automation
The SA crime profile, along with its unique socio-economic landscape, means that South Africa's security industry is one of the oldest bespoke private security industries in the world.
Read more...
---
Huawei includes Namola safety app
Issue 1 2020
Huawei has partnered with South Africa's personal safety app, Namola, to ensure that more South Africans have access to the service.
Read more...
---
Do you have the smarts?
November 2019
Melissa Davidson from lighting retailer The Lighting Warehouse offers an overview on their latest smart LED ceiling light, which also acts as a Bluetooth speaker.
Read more...
---
The top five holiday scams
November 2019
The holiday season is a sea of shopping, laughter, gifts and entertainment. It is also a swamp of security risks and hacks and fraudsters, lurking on the edges of the festive fun.
Read more...
---
Be awake to the deepfake
November 2019
SA's Wireless Application Service Providers' Association is advising smartphone users alarmed by the 'deepfake' phenomenon that the expected promulgation of South Africa's Cybercrimes and Cyberbullying Bill is imminent.
Read more...
---
Reasoning with crime is like reasoning with death
November 2019
Have you noticed how many excuses a person or a management team can lay on the table when it comes to security?
Read more...
---
Not-so-safe travels
November 2019, Kaspersky
Kaspersky research of the RevengeHotels campaign aimed at the hospitality sector, has confirmed that in Latin America, Europe and Asia have fallen victim to targeted malware attacks.
Read more...
---
Digitise your access control
October 2019, dormakaba South Africa
With Evolo, you can open your doors using anything from an access card, key fob, or even a smartphone without any extra hardware.
Read more...
---