printer friendly version
New features from Nexia
Issue 5 2020
Smart Home Automation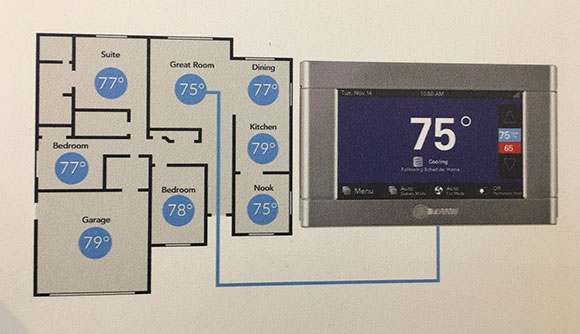 Smart home technology leader Nexia has announced breakthrough feature and product innovations – RoomIQ and Trane XL724. Nexia, the smart home system that gives those with active lifestyles a better way to do everyday tasks and spend more time enjoying life, showcased these innovations at the Z-Wave Experience House. RoomIQ, a feature for Trane and American Standard HVAC comfort systems, uses the Nexia-enabled thermostat and Nexia smart home triggers to customise the heating and cooling experience.
RoomIQ goes beyond scheduling and adapts the comfort control to occupied rooms. It customises comfort levels using cues from the Nexia system – motion detection, flip of light switches or any trigger the user chooses – to determine when a room is occupied and then ensures the comfort in those rooms takes priority over unoccupied rooms. RoomIQ will work simultaneously with Trane's new ZSENS930 wireless temperature sensor. Small enough to fit in the palm of a hand, this sensor reports the temperature and humidity data that lets RoomIQ determine what temperature set-point meets the needs at that moment. When used in conjunction with the RoomIQ feature, the HVAC system can average temperatures between selected rooms to help the system reach ideal comfort conditions. For example, during the day a home may be controlled based on comfort in the common areas downstairs, and at night control the comfort of the bedrooms upstairs. These low-cost wireless sensors are Z-Wave compatible and designed to be paired with Trane's existing line of thermostats and HVAC systems. Users can conveniently configure and control their ideal comfort conditions with their iOS or Android smartphone via the Nexia app.
The Trane XL724 is a programmable, touchscreen thermostat with Wi-Fi connectivity that can remotely control a home's temperature to help suit the user's lifestyle and reduce energy consumption. The thermostat can be easily controlled from a smartphone, tablet or computer and is fully compatible with Nexia Diagnostics for remote monitoring by licensed HVAC professionals. It also allows users basic control of their home's heating and cooling by creating up to four different schedules within a day and advanced control via the power of Nexia's geofencing feature.
For more information visit www.nexiahome.com
Further reading:
Multi-tenant access control
Issue 5 2020, Suprema , Smart Home Automation
Suprema controls access to mixed-use development that is an icon of sustainable environmental growth.
Read more...
---
Collaborative security in communities
Issue 5 2020
Want to change the dialogue around security in South Africa? Work together. Communities can fundamentally change the face of crime.
Read more...
---
Technology and new systems
Issue 3 2020, Fidelity ADT , Smart Home Automation
The SA crime profile, along with its unique socio-economic landscape, means that South Africa's security industry is one of the oldest bespoke private security industries in the world.
Read more...
---
Huawei includes Namola safety app
Issue 1 2020
Huawei has partnered with South Africa's personal safety app, Namola, to ensure that more South Africans have access to the service.
Read more...
---
Do you have the smarts?
November 2019
Melissa Davidson from lighting retailer The Lighting Warehouse offers an overview on their latest smart LED ceiling light, which also acts as a Bluetooth speaker.
Read more...
---
The top five holiday scams
November 2019
The holiday season is a sea of shopping, laughter, gifts and entertainment. It is also a swamp of security risks and hacks and fraudsters, lurking on the edges of the festive fun.
Read more...
---
Be awake to the deepfake
November 2019
SA's Wireless Application Service Providers' Association is advising smartphone users alarmed by the 'deepfake' phenomenon that the expected promulgation of South Africa's Cybercrimes and Cyberbullying Bill is imminent.
Read more...
---
Reasoning with crime is like reasoning with death
November 2019
Have you noticed how many excuses a person or a management team can lay on the table when it comes to security?
Read more...
---
Not-so-safe travels
November 2019, Kaspersky
Kaspersky research of the RevengeHotels campaign aimed at the hospitality sector, has confirmed that in Latin America, Europe and Asia have fallen victim to targeted malware attacks.
Read more...
---
Digitise your access control
October 2019, dormakaba South Africa
With Evolo, you can open your doors using anything from an access card, key fob, or even a smartphone without any extra hardware.
Read more...
---