printer friendly version
Watching the game
April 2019 Entertainment and Hospitality (Industry), CCTV, Surveillance & Remote Monitoring
We know that surveillance installations at casinos keep an eye on the gamers and staff at the tables, but what else is it used for in casinos? According to the hype, surveillance today can detect left objects, find lost children and identify people in an instant with facial recognition, but do these new systems provide the quality and accuracy casinos require?
After all, unless you've been excluded, the companies want people to enjoy the timeless nature of the gaming floor while also taking part in the broader ecosystem of restaurants, theatres, shops and so on. The trick is to create the impression of a carefree environment for visitors, making sure they can go about their business without undue interference from the criminal element. At the same time, while the environment should look like a great place to spend time, criminals need to know that they are under observation and that it will be difficult for them to get away with any crimes, no matter how petty or serious.
Naturally, this type of security setup requires more than just surveillance cameras, it is a mesh of integrated technologies and people working together that makes the difference. Nevertheless, surveillance plays
an important role in these locations and Hi-Tech Security Solutions asked two companies experienced in delivering solutions to the casino industry for their insights on what cameras can do.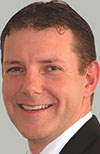 Stuart Rawling.
"When it comes to securing casinos and other entertainment locations, surveillance operators need innovative solutions that keep guests, employees, and assets safe," says Stuart Rawling, Pelco's director of segment marketing. He says video analytics, facial recognition, and AI will make a major difference in the gaming industry.
What is available today?

Konrad Hechtbauer.
Konrad Hechtbauer, managing director of Dallmeier International, says, "Our Smart Casino Solutions focus on the three essential casino areas gaming, surveillance and marketing. The new Dallmeier surveillance solution requires significantly less screens so that casinos can cover much larger areas with the same number of operators. This leads to a much better understanding of large spatial contexts and reduced total cost of ownership."
He adds that AI supported analytics semi-automate many surveillance functions, such as tracking objects and helping to reduce the number of false alarms.
For casino marketing aspects, the intelligent combination of video technology-based data capture functions, such as people counting or the data from Casino Automation Technology with other data sources, allows casinos to make much more informed decisions based on the behaviour and preferences of their visitors and players.
For gaming, Dallmeier's Casino Automation Technology (CAT), provides casinos with a toolbox of AI-based techniques to automate and optimise many aspects of their gaming operations.
Rawling explains that video analytics are leading the way in terms of Pelco's solution focuses and within that, capabilities like people counting can provide surveillance personnel with an estimate of how many people are in a given area. This can further determine the number of surveillance cameras and staff needed to secure the space efficiently. For example, the GFC Professional 4K camera offers coverage equal to four 1080p cameras, which can in turn help decision makers determine staffing budgets.
Putting on your game face
We hear a lot about facial recognition these days and there are many success stories of picking suspects out of crowds while on the move. Is it really that accurate when used in a casino environment and are these venues using facial recognition to identify people on a list, whether a blacklist or a VIP list?
"In terms of facial recognition technology, we're not yet at a point where we can pinpoint a single suspect in a crowd of a million people," notes Rawling. "However, it provides security operators with a probability that determines how likely the person detected is actually the person of interest. Where it does work is in casinos and other entertainment locations where cameras can help security personnel look for 'persons of interest'."
Artificial intelligence and gambling
Artificial intelligence (AI) is all the rage today in every industry, so we can assume it is in the casino world as well. But, as with facial recognition, there is a difference between what the vendors claim their AI can do and what happens in the real world.
AI has massively improved object recognition and alerts, but that's not where AI is going to make a difference, according to Rawling. "Instead, AI will make big waves in pattern analysis, or the ability to analyse a macro level of behavioural patterns in a casino and make security recommendations to the appropriate personnel."
"CAT is the first gaming automation system that is live in a production environment," adds Hechtbauer. "It is currently available for Baccarat and Blackjack, and uses AI technologies and standard full HD IP cameras to recognise chips and cards, provide real-time information about bet position and bet value, game pace and float value etc. CAT allows for a highly increased game pace, a much more effective protection from fraud and an accurate player rating, to name just a few key functionalities.
"By intelligently combining video technology-based functions (e.g. people counting, crowd analysis, face recognition and many more) with AI based gaming automation technologies and other analysis techniques, casinos can significantly improve their overall profitability."
Where to put it all?
It's no surprise that high-quality surveillance footage takes up a huge amount of storage that needs to be examined and dissected when looking for people or incidents, as well as in real time. This makes it imperative that storage solutions are widely available to the casinos that offer reliable storage as well as functions that help reduce the amount of storage without decreasing the quality of the video.
"Many casinos still install huge numbers of PTZ and fisheye cameras, creating a more complex environment with questionable image quality and security effect," suggests Hechtbauer. "With the new 360-degree version of Dallmeier's Panomera camera technology, casino operators can cover much larger areas with the same number of operators, while significantly improving overall security due to a 360-degree, high resolution view of the overall scene. In case of an incident, multiple operators can zoom in at the same time, resolving complex scenarios, but without losing the overall picture both in live and recording as it is the case with PTZ cameras."
Rawling says that H.265 and Pelco Smart Compression can save security operators up to 85% in storage and bandwidth costs, which lowers the total operational cost of their surveillance system. "One way we can dramatically improve efficiency in recalling security video is being able to use natural language search. By describing what we're looking for, the video management system should pull up video that corresponds to the request."
Going beyond storage, Rawling adds that surveillance solutions like VideoXpert VMS give security professionals the ability to experience maximised visibility and enhanced detection. "Pelco offers the entertainment industry an end-to-end video surveillance solution that keeps all of their security needs in mind. After all, our video surveillance solutions are trusted by large entities worldwide that use hundreds to thousands of our cameras and video management platforms."
"Casino operators are increasingly looking into advanced and innovative technologies that will help them improve their operations and reduce cost on a large scale, reduce the impact of human error and provide them with operational advantages in a more competitive environment," concludes Hechtbauer. "Having the first AI-based gaming automation technology solution in the industry in operation was certainly a major breakthrough, not only for us as a solution provider, but for the industry as a whole."
For more information contact:
Dallmeier Southern Africa Office, +27 11 510 0505, dallmeiersa@dallmeier.com, www.dallmeier.com
Pelco by Schneider Electric, +27 11 254 6400, gilbert.muller@schneider-electric.com, www.pelco.com
Credit(s)
Further reading:
TAPA: The role of an effective treasury function in business risk management
June 2019, Technews Publishing , News
Neil Le Roux, the Founder of Diligent Advisors will speak at the TAPA SA (Transported Asset Protection Association) annual conference on 26 July 2019.
Read more...
---
iLegal 2019: Putting a face on surveillance services
August 2019, Technews Publishing , News, Conferences & Events
iLegal 2019 will be held on 12 September 2019 at The Rosebank Crowne Plaza in Johannesburg. iLegal is the surveillance industry's premier one-day conference hosted jointly by Hi-Tech Security Solutions and Dr Craig Donald.
Read more...
---
Residential Estate Security Conference 2019: Making AI work for you
August 2019, Technews Publishing , News, Conferences & Events
Gerhard Furter will deliver the keynote at the Residential Estate Security Conference 2019, providing a brief introduction into what AI really is and its application in estates.
Read more...
---
From the editor's desk: The difference between potential and skills
August 2019, Technews Publishing , News
This issue of Hi-Tech Security Solutions includes our annual Local Manufacturing feature and it's great to know that local security manufacturers are still going strong, even if the general manufacturing ...
Read more...
---
Why rehearsals and drills for crises and evacuation are so important
August 2019, Leaderware , CCTV, Surveillance & Remote Monitoring, Security Services & Risk Management
The rehearsal of concept (ROC) drill has been used extensively in the military, but is just as important when facing risks in organisations and institutions to protect people on the ground.
Read more...
---
Milestone partners prove their skills
August 2019, Milestone Systems , News, CCTV, Surveillance & Remote Monitoring, Training & Education
Within the span of one week in mid-May, the Milestone Learning & Performance group celebrated important benchmarks: 200 000 course registrations and tutorial views, and 10 000 certifications.
Read more...
---
ONVIF Hosts 20th Developers' Plugfest
August 2019 , News, CCTV, Surveillance & Remote Monitoring
ONVIF, the global standardisation initiative for IP-based physical security products, hosted its twentieth ONVIF Developers' Plugfest in early June in Tokyo.
Read more...
---
Licence plate recognition camera
August 2019 , Products, CCTV, Surveillance & Remote Monitoring
VIVOTEK has introduced a new licence plate recognition camera featuring built-in licence plate recognition software and edge-computing capability.
Read more...
---
iLegal 2019: Enhancing and empowering your control rooms
July 2019, Technews Publishing , News, Conferences & Events
iLegal 2019 will be held on 12 September 2019 at The Rosebank Crowne Plaza in Johannesburg. iLegal is the surveillance industry's premier one-day conference hosted jointly by Hi-Tech Security Solutions and Dr Craig Donald.
Read more...
---
Residential Estate Security Conference 2019: Managing for efficiency
July 2019, Technews Publishing , News, Conferences & Events
The Residential Estate Security Conference 2019 will be held on 20 August 2019, once again at the Indaba Hotel in Fourways, Johannesburg.
Read more...
---