Impro Technologies
April 2005, CCTV, Surveillance & Remote Monitoring
"Securex 2005 served as fantastic reassurance that our product design path is the right one. Without a doubt the security industry as a whole is moving toward seamlessly integrated systems," says Barry East of Impro Technologies. He says the end-user has educated himself as to the benefits of an integrated system causing pull-through sales for companies that have kept up with the trends and have an integrated offering.
The IXP400 was very well received as a result of its integrating possibilities both on a hardware and software level. In particular the fact that the graphic user interface can display a multitude of integrated systems (which include CCTV, fire and intrusion) on its floor plan simultaneously. Even more impressive is the fact that the system can call multiple cameras (dome or standard) from any event that can occur in the access control system, creating a truly integrated system. The future looks bright for this powerful product and no doubt time will show how its versatility can be used to solve complex security applications.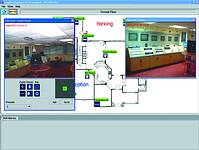 ImproNet GUI with integrated CCTV
Making its debut at the Securex show this year was the IXP120. It has been designed for use in the one to three door markets, both commercial and residential, with special attention given to its remote site monitoring capabilities. The software can monitor an unlimited number of sites and each controller has multiple communication options that include RS232, RS485, USB, Modem or TCP\IP. The powerful software suite is a downscaled version of the dominant IXP200 system and offers advanced features yet to be seen in this market segment.

Controller and remotes
For more information contact Barry East, Impro Technologies, 031 700 1087, www.impro.net