DVR vs NVR
March 2009, CCTV, Surveillance & Remote Monitoring
Phil Ridgeon discovers why investing in NVRs is better than spending money on DVRs.
Why are NVRs better than DVRs? It would seem appropriate to start this article by clearly defining, for the purpose of the article what I mean by DVR and NVR so that my arguments can be applied against a clearly defined base.
Let us define DVR as digital video recorder, a device which normally records analogue cameras ie, cameras which generate 1 V peak-to-peak composite video signals. IP cameras can be recorded on DVRs but this is not common; as a codec is needed for each camera to convert the IP video stream back to an analogue signal so it can be recorded, an expensive process. DVRs are characterised by having the following internal components:
* An analogue to digital converter, or encoder, which converts the composite analogue video signals into the digital domain.
* Digital storage, usually hard disks, where the digital representation of the analogue signals are stored ready for use.
* A database, relating the digital information to references; time, alarms and other metadata, enabling the video information to be retrieved and displayed quickly and easily.
* Digital to analogue conversion and replay controls. These are usually found more in smaller, standalone DVRs and less common in enterprise level DVRs.
* An operating system, which runs the whole DVR.
* A computer network interface, found in more recent DVRs, to allow the DVR to be interrogated remotely.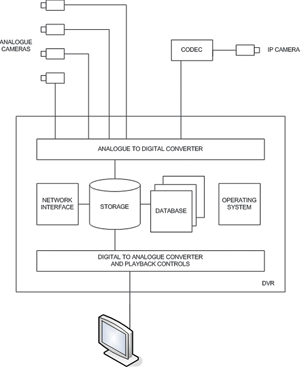 Figure 1. Typical DVR block diagram
DVRs are also characterised by having an input for every camera connected ie, there is a direct connection, typically by BNC, UTP or fibre between each camera and the DVR. For example a 16 channel DVR will have 16 physical connections, one for each of the cameras.
Let us move on to the NVR. Similarly NVR is defined as network video recorder, a device for recording digitised IP video streams, originating either from analogue cameras connected via IP encoders and/or IP cameras where the IP video streams are created inside each camera. NVRs are characterised by having the following internal components.
* Digital storage, usually hard disks, where the digital IP video signals are stored ready for use.
* A database, relating the digital information to references; time, alarms and other metadata, so that the video information required can be retrieved and displayed quickly and easily.
* Digital to analogue conversion and replay controls. These are usually found more in smaller, standalone NVRs and less common within enterprise level NVRs.
* An operating system, which runs the whole NVR.
* A computer network interface, which is the primary input for IP video streams in to the NVR and also the primary way of connecting playback equipment in large systems.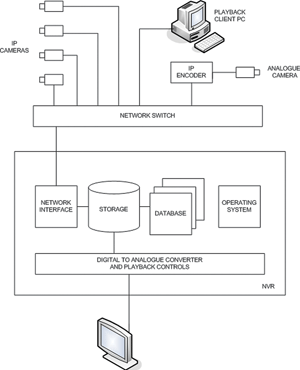 Figure 2. Typical NVR block diagram
As mentioned above; the difference between NVRs and DVRs is that NVRs have a single common input, a network connection, for all the IP video inputs. This common connection is also used for the connection of playback client PCs. A network switch connects individual IP cameras, IP encoders and playback PCs to this common single connection.
Why are NVRs better?
1. NVRs are less expensive than DVRs.
As you can see from the difference between the internal components there is actually less inside an NVR than a DVR, as all of the analogue to digital encoding takes place outside of an NVR in the IP cameras and IP encoders. Essentially, the very minimum that one needs in an NVR is a single network connection, operating system, database and some storage and that is it. The operating system and database can be software only meaning that only a minimum amount of hardware is needed. The analogue to digital conversion circuit needed in the DVR is completely eliminated, saving cost.
2. NVRs are more reliable than DVRs.
This relates to the first advantage. The more components there are in any electronic device the more there is to go wrong and the lesser the reliability of the device. As NVRs are simpler devices with fewer parts they are inherently more reliable than DVRs as there is less to go wrong.
3. NVRs can produce more detailed images than DVRs.
DVRs record analogue video signals. The maximum resolution able to be recorded is that produced by the analogue cameras themselves. For a black and white (or monochrome) camera the maximum resolution available is about 600 television lines (TVL), (the number of TV lines is the number of black-to-white transitions which can be identified across the TV screen). For a colour camera the limit, until recently, was about 450 TVL. However, the recent introduction of day/night technology where image processing or mechanical switching gives colour pictures in the day and monochrome pictures at night, now delivers an overall resolution of about 540 TV lines. The limitations in resolution for analogue composite video signals are a consequence of bandwidth limits for monochrome and by the presence of the colour burst and filters needed for colour.
This level of detail can be captured effectively by the current generation of DVRs which have a recording resolution of 4CIF (704 pixels horizontal by 576 pixels vertical). In effect, there is little logic in increasing the number of pixels in a DVR because there is no more detail available from the camera, through the limitations imposed by the analogue composite video signal. Multiplying the horizontal and vertical pixels – 704 x 576 gives a total of 405 – 504 pixels or 0,4 megapixels (a megapixel is one million pixels).
This is much lower than we are accustomed to these days with lowly camera phones which have 3 megapixel (MP) cameras in them let alone digital stills cameras which have resolutions of 10 MP. This is the reason that we still have the problem of effective zooming in on a playback image generated by a DVR viewing a wide-angle surveillance scene. We struggle to see the fine detail in the scene because the number of pixels on the screen diminishes very quickly and the image becomes blocky or pixellated.
The current generation of megapixel CCTV cameras have resolutions of 1, 2, 5 or even 10 MP, delivering much more detail than analogue cameras. The limitations imposed by analogue composite video signals means that composite video cannot be used to send megapixel images from one place to another. Instead megapixel camera manufacturers have chosen computer network connection, or IP, as the output connection for megapixel cameras. Effectively, this means that NVRs which can record IP video streams can record megapixel cameras, but DVRs cannot. In this way NVRs can deliver much more high-definition recordings than DVRs, allowing fine detail to be discerned from a surveillance view even when the image is zoomed in digitally.
4. NVRs are more flexible in their application than DVRs.
As we can see from above; NVRs can record analogue cameras (via IP encoders) and IP cameras of both standard and megapixel resolution. DVRs can only practically record analogue cameras. This allows NVRs to be used for a wider range of applications than DVRs. For system integrators, CCTV installation and maintenance companies or even end users this means that a smaller spares holding is required because only NVRs need to be supported even if both analogue and IP cameras are installed.
A second part of this flexibility comes from the very nature of the simplicity of NVRs themselves, as mentioned earlier. Essentially an NVR is a network input, operating system, storage element and a database. These are all characteristics of digital data storage servers which are used in all sorts of other applications in computer networks. This means that standard computer parts and assemblies can be used in NVRs and one is not tied to proprietary electronic hardware as one is with a DVR.
The analogue to digital conversion circuits in DVRs are all proprietary, meaning that when you buy a DVR you are buying a black box from a manufacturer and for any service, repair and maintenance you must go back to that manufacturer alone.
An NVR can consist of off-the-shelf hardware, such as server PC and hard disk storage array which can be purchased and maintained from multiple different sources. The only proprietary bit is the NVR software which runs on the server PC (and client PCs used to replay the recordings). It is true that there will be software licence costs, perhaps with annual maintenance charges but the tie in to buying and maintaining NVR hardware can be broken.
In addition, large purchasers of IT hardware can leverage volume purchasing advantages from their existing or preferred sources of IT hardware. The opportunity also emerges for advantageous new business and purchasing models in the supply of NVR systems through different schemes for the purchase of NVR software licences.
5. NVRs can offer reduced time to repair and higher availability than DVRs.
The fact that proprietary hardware ties repair to the manufacturer also ties the speed of repair to the capability of that manufacturer. Nearly all manufacturers offer just return to base repairs. A few offer 24 hour repair turn-around times but typically repair times are much longer, requiring end users to have to invest money in service spares to keep their cameras recording while a faulty DVR is repaired.
The opportunity that NVRs offer to use off-the-shelf IT hardware also opens the door to the level of service available in the IT industry by IT manufacturers. For example, rather than return to base, some IT manufacturers, such as IBM, offer repair on-site with a 4-hour response time, at a very reasonable cost. This is practically unheard of from DVR manufacturers.
To summarise, NVRs are indeed better than DVRs in many ways. NVRs are less expensive to buy than DVRs and there are different ways in which you can buy them. NVRs are more reliable than DVRs but when they do go wrong the opportunity exists to get them repaired and working again much more quickly. NVRs can produce more detailed video information than DVRs as a consequence of being able to exploit megapixel camera technology. Finally, because NVRs, as I have explained, are more flexible and so can be applied more universally they deliver lower costs of ownership and an improved return on investment.
For more information contact Lisa Karam, Out The Square, +27 (0)11 886 9931, lisa@outthesquare.co.za