printer friendly version
Safe and relaxed
March 2011 CCTV, Surveillance & Remote Monitoring, Entertainment and Hospitality (Industry)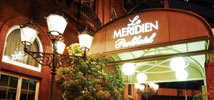 IP cameras made the grade in Frankfurt.
In a recent study on solutions in video surveillance technology, Frost & Sullivan looks at the role of high-resolution systems in modern day public safety situations in general and on the hospitality sector in particular.
According to Frost & Sullivan, hotels are not designed with a high level of security in mind. They are built to accommodate the travelling public, and high-end resorts and facilities around the world have typically focused on comfort rather than safety. At the same time, as diplomatic embassies and missions around the world have gradually become armed fortresses, and as airports and other transport hubs have deployed state-of-the-art security measures, terrorists are looking for alternative targets. Hotels have become one of the softer options.
Following the recent attacks in Mumbai, Frost and Sullivan is of the opinion that a growing number of corporations with significant numbers of travelling executives are demanding evidence of higher levels of security from international hotel chains. With security features becoming as important to frequent travellers as comfort features, hotel chains are increasingly considering them as marketing tools in the battle to attract customers.
Using high-resolution digital cameras equipped with hemispheric technology, a traditional event recording physical security system can be transformed into a real-time security application, enabling the seamless and discreet live tracking of images from command and control centres. Counter-terrorism teams can access these images directly from different cameras on an individually addressable basis, and they can be streamed to mobile response units via portable devices like PDAs, so that the security teams know exactly where the intruders are and where they are going.
Security in practice
This technology also supports many other key day-to-day applications that are essential to hotel security officers, such as access control, perimeter protection and employee tagging, all of which can significantly enhance guest and staff security and smoothly integrate with various identity verification procedures throughout the hotel. Frost & Sullivan recognises that in this context, Mobotix has a well-established record of success in the hospitality sector. In the middle of the hectic Frankfurt banking district lies the Le Méridien ParkHotel Frankfurt. A reliable security system, which remains discreetly in the background, is indispensable for making guests feel at ease in the three-hundred-room building.
When Le Méridien recently decided to update its video surveillance system, the task fell to chief engineer Zlatko Hizman, responsible for building services at the hotel. After investigating the market in detail, Hizman recommended an IP camera system from Mobotix to hotel management. Previously, 21 analogue cameras were in use, yet several factors hastened the replacement of this antiquated solution: the maintenance required, the low resolution of the cameras, the large memory requirement and the complex evaluation procedure for recordings, to name but a few. Hizman believed the time was right for the introduction of an IP-based alternative, capable of fulfilling both immediate and future requirements.
Significant cost savings
A special feature of Mobotix cameras is their low power consumption of just 3 Watts. Thanks to the extremely wide operating temperature range of -30°C to +60°C, there is no need for the camera case to be heated, cooled or ventilated, even in difficult environmental conditions. Given that up to 12 conventional cameras are required to record the same variety of detail as one Mobotix IP camera, the potential for making savings becomes even more obvious.
Last but not least, the power feed via the Ethernet cable (Power over Ethernet) for up to 20 cameras from one network power rack provides significantly more performance than using individual power supplies. Compared with conventional solutions offering a comparable resolution, a system such as the one used at Le Méridien ParkHotel Frankfurt delivers savings of several thousand Euros over its lifetime, while making a contribution towards the environment.
Reliable and future-compatible
As chief engineer, Hizman explained: "The network-based video surveillance and recording solution from Mobotix is much more user-friendly and offers significantly better live and stored image quality than conventional analogue alternatives. We also expect a significantly higher degree of reliability and therefore lower maintenance costs. The fact that the software in the cameras and the MxControlCenter can be updated free of charge at any time also ensures the value of our investment in the future".
Credit(s)
Further reading:
Drones and cybersecurity?
October 2019 , CCTV, Surveillance & Remote Monitoring
Hacker drones can eavesdrop electronically on conversations, can perform network attacks, or can create fake wireless access points.
Read more...
---
Body-worn cameras transforming security
October 2019 , CCTV, Surveillance & Remote Monitoring, Security Services & Risk Management
Police Service Northern Ireland now has over 7 000 officers using 2 500 cameras covering approximately 173 000 incidents each year.
Read more...
---
Camera Selection Guide 2019
CCTV Handbook 2019 , CCTV, Surveillance & Remote Monitoring
The Camera Selection Guide 2019 includes a range of IP, analogue, thermal and speciality cameras aimed at a broad range of surveillance functions.
Read more...
---
Intelligent analytics and the brains to match
September 2019, Bosch Building Technologies , CCTV, Surveillance & Remote Monitoring, Integrated Solutions
What if the brains behind our security cameras could be trained to improve their cognitive ability to pay attention, learn, and problem-solve according to specific rules and situations?
Read more...
---
AI-powered autonomous Drone-in-a-Box
September 2019 , CCTV, Surveillance & Remote Monitoring, Integrated Solutions
Organisations in the mining, energy and industrial, oil and gas, ports and terminals sectors can optimise security and business operations, whilst reducing risks and operational costs
Read more...
---
Cybersecurity for video surveillance systems
September 2019, Mobotix , Cyber Security, CCTV, Surveillance & Remote Monitoring
Video surveillance systems are increasingly accessible over any IP network, which has led to the rise of potential cyberattack.
Read more...
---
What are the cybersecurity issues in video surveillance?
November 2019, Axis Communications SA , Editor's Choice, CCTV, Surveillance & Remote Monitoring, Cyber Security
he importance of the data captured by surveillance cameras – and what can be done with it – has led to a new breed of cybercriminals, looking for insights to steal and sell.
Read more...
---
The safe city and its need for interoperability
November 2019 , Integrated Solutions, CCTV, Surveillance & Remote Monitoring
Interoperability continues to present one of the greatest challenges, particularly with video management systems, video recording devices and cameras.
Read more...
---
A platform approach to safer and smarter cities
November 2019, Milestone Systems , CCTV, Surveillance & Remote Monitoring
Selecting the right platform to manage the vast data collected from smart and safe cities is critical to the ultimate success of the project.
Read more...
---
Creating safe cities with smart technology
November 2019, Secutel Technologies , CCTV, Surveillance & Remote Monitoring
In a digital age, where resilience and responsiveness are paramount to fighting crime and creating a safer world, CCTV systems are becoming part of every city's infrastructure.
Read more...
---